5POINTZ GRAFFITI IN NEW YORK: WHAT HAPPENED?
If you like art or New York city, you surely know 5Pointz graffiti, an outdoor art exhibition space that was located on Davis Street. Keep on reading, because in this post we are going to talk about this street art and graffiti art, what happened with it?
What was 5Pointz?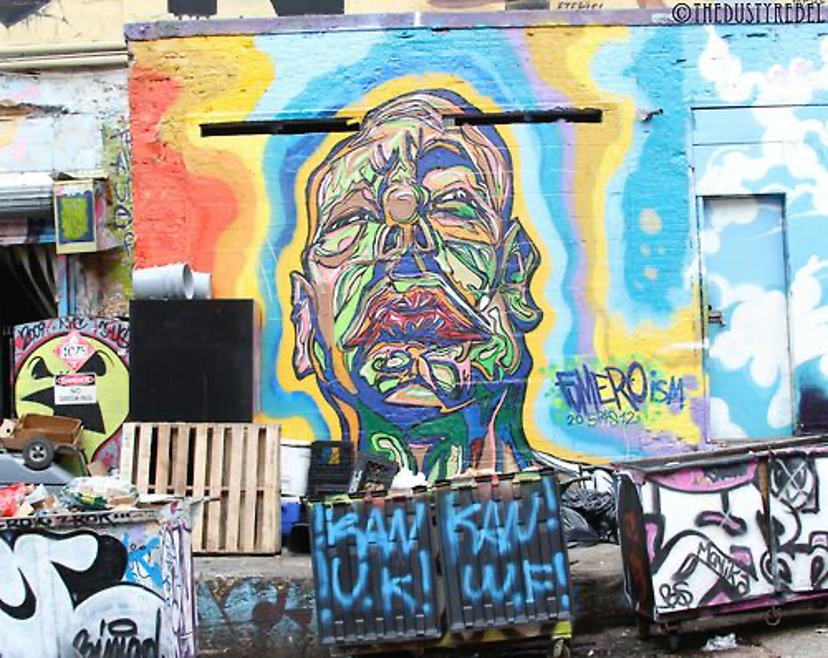 Font: Pinterest https://bit.ly/3m9veWa 
5Pointz was an outdoor art exhibition space at 45-46 Davis Street in Long Island, New York, where colorful murals of aerosol art were displayed on the exterior walls of an old warehouse. These murals were created by artists from around the world.
The graffiti space was massively publicized by Jonathan Cohen, a graffiti artist under the name "Meres", who classified the exhibition as "the graffiti Mecca". In fact, due to the rapid growth in reputation as one of the epicenters of graffiti, the industrial complex began to attract aerosol artists from all around the world. Even the elusive British street artist Banksy participated in 5Pointz! 
What did its name mean? 
Font: Pinterest https://bit.ly/3F0GnA1
Its name, "5Pointz", refers to the five boroughs of New York: Manhattan, Brooklyn, Queens, Bronx, and Staten Island. That's why it was born as a place where urban artists from all over the city could legally go to paint. That's how it started, as a Mecca for graffiti in New York, and it didn't take long for it to attract people from all over the world who wanted to leave their signature on its walls.
This, of course, attracted a lot of visitors and tourism for art lovers, including prominent artists, musicians, filmmakers, photographers, and entire buses full of fans wanting to see the more than 1500 colorful graffiti. The site was featured in many tourist guides, as well as serving as a backdrop for movies and music videos, notably Joss Stone, who filmed the video of him "Tell Me 'Bout It" on an outside staircase.
What happened with 5Pointz
The owner of the building was Jerry Wolkoff, who gave it away for free in 2001 when there were still businesses and workshops inside. After a fire in 2009, they decided to dismantle it, leaving only a large canvas that was changing from time to time. So what happened? The generous owner changed his mind and wanted to convert it into two luxury apartment towers, as happened with the entire surrounding area.
They were fighting for more than a year so that this didn't happen "what the owner does not understand is that 5Pointz is a brand and an icon, and if it breaks down, it will be a great loss", said Marie Flageul, one of the representatives of the art center. "5Pointz is the United Nations of graffiti".
But it was not enough, in 2013, the City Council approved the Wolkoff demolition plan and, on November 12th, 2013, a federal judge dismissed the appeal filed by the 5Pointz group trying to preserve the space for its artistic interest. The owner assured that the new construction would have a wall for the artists to repaint.
What do you think about this? Was it cold-blooded murder?