ALASKA HIGHWAY: HISTORY AND WHAT YOU HAVE TO VISIT!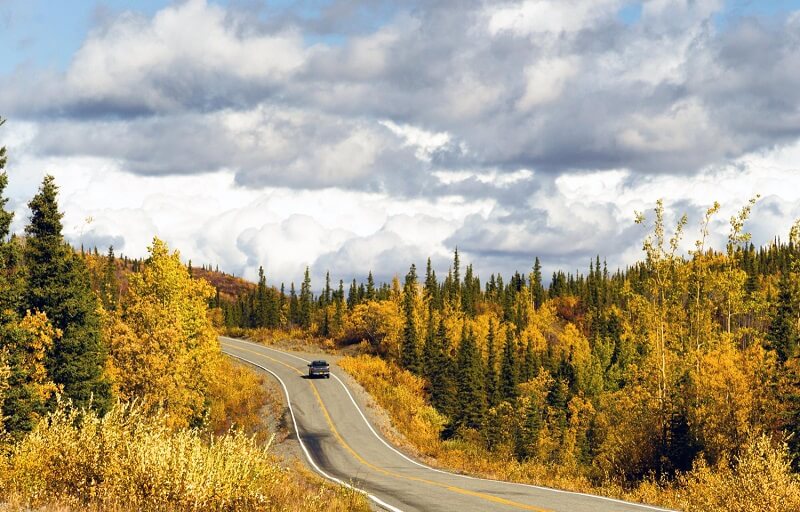 If we recently talked about the best places to visit in Canada, today we want to propose a historical route! Keep reading because you'll want to plan your next vacation on Alaska Highway!
Alaska Highway
The Alaska Highway is a road that begins in Canada and ends in the United States, the story is basically that it began to be built in 1942 and due to the large route that had to cross, it was a very complicated construction at that time. It was the first road that connected Alaska with the world.
In each of the towns that the highway crosses, you will find small museums where tribute is paid to all the workers who under extreme conditions achieved an enormous feat, key points of the construction are mentioned, and some replicas of the bridges that were there at the beginning. Currently, the road is completely paved and is perfect to be done by car, motorcycle or bicycle, the best time to travel it is in summer and in winter you have to be very careful with the layers of ice that form on the road.
Important facts to know before starting your trip on the Alaska Highway
Go prepared with oil for your vehicle, depending on the last time you have done the change you'll most likely have to do it at least on your return from the Alaska adventure. Our recommendation is to travel with enough oil for this route. At least in Alaska and Northern Canada, there is no multigrade oil for gasoline, only for Diesel and although it's assumed that nothing happens, it's best to bring enough of the one you normally use.
The Alaska Highway route ends before reaching Fairbanks, so if you're looking to touch the Arctic Ocean, you can take the route from Alaska to reach Prudhoe Bay. Although being there, you have to pay a tour to get to the Arctic as it's private or from Canada, and free to get your feet wet in the coldest ocean from Tuktokyaktuk.
Check the location of gas stations, there are quite long stretches where you have to fill up gas in a certain place, so don't panic if you find houses that sell you super expensive gas, it's the only option!
To sleep in your adventure to Alaska you have to check in detail the places where it's allowed to "overnight", even if the road is far away and desolate, there are many places where it is completely forbidden to spend the night and the fines are very high.
The most dangerous thing on this route isn't people but wildlife, so find out how to protect yourself from bears, moose, buffalo, etc. There will be 2,500 km of the route in a single trip, which means that in a round trip you'll be doing more than 5,000 km in a wild route. Are you prepared for everything there is to visit on the route of the Alaska Highway?
Alaska Highway route
Dawson creek
The first of this series of important points in the What to visit on the Alaska Highway begins with Kilometer Zero!
Everything in life always has a beginning, and in this case, the Alaska Highway begins in Dawson Creek. This town is located in British Columbia, and it was there that the first stone was laid for this mythical sign.
Fort Nelson
Depending on your speed, we recommend you to get to Fort Nelson, it's 453 km ahead of Dawson Creek and this stretch is perhaps the most boring as there isn't much to see.
Here the mountains and nature are still a bit hidden. And well, the interesting part of Fort Nelson is to know that it's an industrial town and most travelers use it just to rest and buy more supplies for the next days of driving, also inside the town there is a very interesting and fun museum of old cars and objects.
Muncho lake and northern rockies lodge
The next point that is highly recommended is to stop and rest. It's approximately 3 hours from Fort Nelson (239 km) and although you'll constantly see lakes along the way, this one, in particular, is impossible not to identify because its color is a very particular and surprising blue. It's a mirror of the landscape!
With all that there is to visit on the Alaska Highway route, we're sure that you'll fall in love with all the wild landscapes that you will encounter.
Liard river hot springs provincial park
We continue the route until we find the natural springs of the Liard River, a hot spring of almost boiling water that is completely wonderful, located 66 kilometers from Muncho Lake and is the perfect place to spend the day.
These hot springs are inside a rest center, to enter just to bathe you have to pay 7 dollars per person, but you also have the option to sleep inside the place and which costs 12 dollars per person.
Sign post forest at Watson lake
After a good swim in the Hot Springs, you'll find a forest full of signs, the famous Sign Post Forest that was started by a U.S. soldier named Carl Lindley. Located in the middle of the construction of the Alaska Highway in 1942, when there was no technology, surrounded by only nature and bears, cold and completely away from everything, obviously gave him the famous "Homesick".
Whitehorse, Yukon Territory
219 kilometers ahead is the great capital of Yukon, Whitehorse. It's a strategic point to get the Internet, wash clothes, find hot water to bathe, and rest for a couple of days.
Destruction bay
On this last trip is where the great mountains of Kluane National Park appear. There are 22,015 square kilometers of glaciers, marshes, mountains, and dunes far from everything. Mount Logan and Mount St. Elias, the second and third-highest peaks in North America, will be seen all along the Alaska Highway route.
Alaska beaver creek border
And one of the best things to do on the Alaska Highway route is to cross the border.
Just past Beaver Creek, 195 km after Destruction Bay, is the most important sign of our trip. We arrived in Alaska! But that doesn't mean that the Alaska Highway is over.
Tok
You can't sleep at the border, so we recommend you go all the way to Tok. Here you can stop to go to the supermarket and sleep!
Delta junction
And continuing towards the goal, you'll have to advance 173 km more, and you'll finally be able to reach the second goal of this trip, to finish the Alaska Highway! At the Visitor Center, they give you a certificate of completion of this mythical highway. From here begins the next stretch, to know the Arctic Circle!