APPLE TV VS CHROMECAST: WHICH ONE SHOULD YOU USE?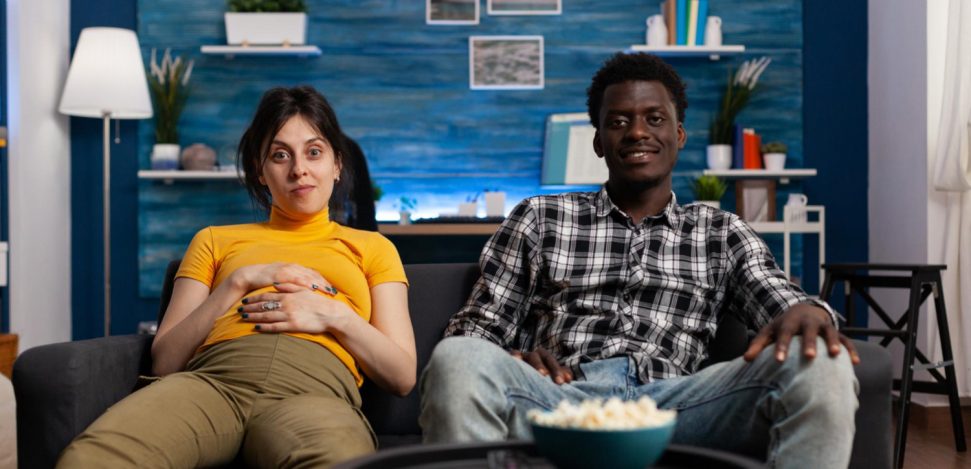 Apple TV has never attracted much attention, as there are brands on the market that are specialized in just that. But when it comes to Apple TV and Chromecast, that's a different story. If you are between these two products, today you are in luck, we're going to solve all your doubts 😉.
All the features: Apple TV vs Chromecast, who wins? 
Design and control
Despite having the same purpose, the Chromecast and Apple TV are very different in many ways, starting with the design!
Chromecast has a stick design, so when connected directly to the HDMI port it's very well hidden behind the TV or monitor, and although it has a power adapter to provide power through the plug, there is the possibility of purchasing an additional adapter to be powered through the USB connection of the TV, leaving a cleaner configuration.
Apple TV, on the other hand, is more classic in that respect: a small black box to place on the furniture, under the TV, or on the wall with a bracket if the TV is wall-mounted. The HDMI cable isn't built into the device but is purchased separately, so the user must buy one that is fully compatible for the best possible experience (HDMI 2.1), of a certain length, and plugged into a wall socket.
Both can be controlled by remote control, mobile app, or via voice assistants for certain tasks. 
Operating system
Another key point of difference is the operating system. Apple TV uses tvOS, which is, as usual, a proprietary Apple development. Chromecast uses Android TV. Each has its advantages and disadvantages and is closely related to the user's other devices such as iPhone or an Android phone. 
Both platforms have their own catalogs of apps for virtually endless entertainment. However, it's a hallmark of tvOS that you can only access what Apple allows to be on the App Store. On Android TV you can find software such as Kodi, a popular media center that is highly configurable, or emulators of classic platforms such as the SNES.
Connectivity
It's gotten to the point where the fewer wires, the better, right? Both Apple TV 4K and Chromecast can connect to the internet wirelessly via Wi-Fi, and add peripherals using Bluetooth. 
The importance of the ecosystem
It's no secret that Apple's ecosystem is its main advantage over other manufacturers. While Huawei, Samsung and Google are gradually integrating device-to-device communication, they aren't at the level of what the Cupertino-based manufacturers currently have. With an iPhone, iPad, Mac and using HomeKit as a home automation system, the safe bet is the Apple TV media center.
However, the versatility of Chromecast is a big plus. Having a Gmail account is almost a "must" in 2022. If it's not because you have an Android smartphone, it's because you're a YouTube user, or you have all your files on Google Drive. In addition, you can send content from both Android and iOS devices such as tablets or mobile phones, not to mention computers with the Google Chrome browser or Microsoft Edge, being able to duplicate your screen as well.
In addition, Google's home automation platform and its Home speakers are very popular, and being able to control playback or ask for a particular movie to be played using the voice command "OK, Google" without pressing any buttons is convenient, eye-catching and more accessible to a wider range of people's pockets. 
Are you a fan of Google devices? Find out all the information about Google Pixel 6!
Apple TV or Chromecast: Which one has the best price?
A product can be very good and offer brutal performance, but if its price is high and the user believes that he can find another that fulfills more or less the same functions, it's likely that he'll end up buying the alternative. And that's what's happening with Apple TV. Apple offers two differently priced storage configurations, starting at 199 euros. If you look around the industry, there is a lot on offer at a much lower cost.
The success of Amazon's Fire TV Stick and Xiaomi's Mi Box is largely based on their value for money. They aren't as powerful as Apple TV, but they're very good for their main use, which is the playback of streaming content. And Chromecast is going for a more contained price point to take a piece of the pie that these products share.
Just saying… For the price of one Apple TV, you can buy three Chromecasts 😅
We know it isn't an easy choice. There are many factors and variants to pay attention to. If we look at the economic issue, Chromecast wins hands down. If we look at the one with the best picture quality and experience playing content because of the automatic frame rate adjustment, Apple TV is the way to go.
Which option would you choose?