BEST AMERICAN GRAFFITI FILMING LOCATIONS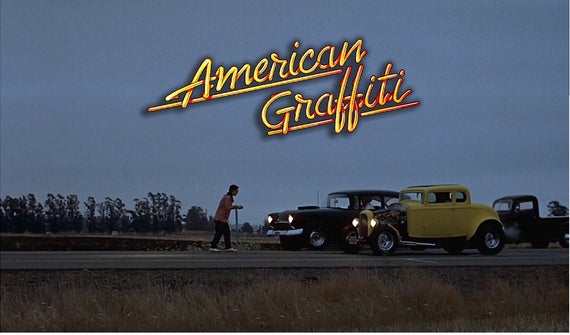 Behind many of the best films are great real locations that we can pass through every day. Like music, acting or actors, location is another of the most important aspects of audiovisual work. Therefore, in this article, you are going to discover some of the best locations that you can see in American Graffiti.
What is American Graffiti?
For those people who do not know what American Graffiti is but want to discover everything that is hidden behind this film, we will start this article by explaining what American Graffiti is.
American Graffiti is an American film from 1973, it is considered to be one of the masterpieces of director George Lucas. Through this, he tells the story of a group of young people and their adventures during the night in the city of Modesto, California.
George Lucas is said to do a great job on this movie because of the way he portrays the life of America's teenagers in the 1960s. Also, this narrative combines it with a perfect soundtrack featuring some of the biggest hits. Rock and Roll from the 1950s.
All of this makes American Graffiti a huge success and also one of the most profitable films ever made.
Where was American Graffiti filmed?
Although the filming of American Graffiti was not easy, the film managed to mark a before and after in American youth cinema and for this reason, we have selected this film to comment on some of the best places where this masterpiece was shot.
The stories and locations in this movie are so important because, as we've mentioned, American Graffiti is set in Modest and this is the hometown where George Lucas lived in his youth. Despite this, it was not possible to shoot in the city, since its streets and buildings had lost all the original essence of the sixties. In this way, the filming was shot in different locations in Concord, Berkeley, Petaluma or Mill Valley.
Petaluma Boulevard North
The first place we want to highlight is Petaluma Boulevard North. This one, although in reality it functions as a sports and diving store, in the film it really appears as a liquor store. If you are a big fan of the movie or remember any of the scenes, you may remember how Toad tries to buy something from Old Harper in this store.
Petaluma High School
Being an adolescent series, we could not fail to include in this list the location of Petaluma High School. Although it may seem like a simple building, in reality it has become a landmark building and one of the most important settings in this film.
Mcnear's Mystic Theater
The last American Graffiti location that we want to highlight in this article is Mcnear's Mystic Theater. This one is located in the historic center of Petaluma, in California. If you go to this site, you will be able to see and recognize the background of the American Graffiti movie when the police car is destroyed.