BEST INSTAGRAM WALLS IN CHICAGO: HERE ARE 7 AWESOME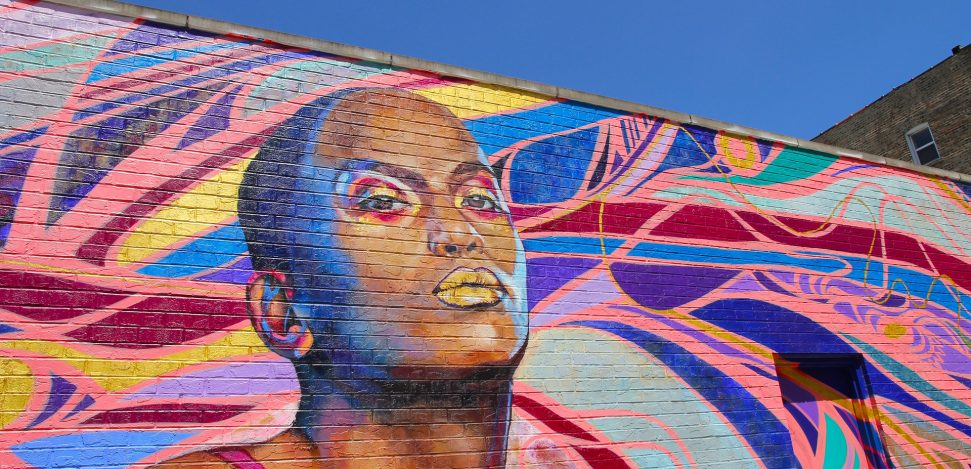 If you like colorful and striking walls, the kind that amazes you at first glance, you have to visit Chicago! In addition, if you are also a fan of Instagram, there you will find the best murals to take the best photos. Therefore, in today's post, we want to talk about the best walls in Chicago that, surely, will surprise you!
The top instagrammable walls in Chicago
Greetings from Chicago by Victor Ving y Lisa Beggs
This mural is undoubtedly one of the most recognizable street art of Chicago and it's perfect to share it on Instagram with a creative posture! It's located in Logan Square and it was the first official mural on the road by Victor Ving and Lisa Beggs. 
This couple has traveled to 20 states and featured more than 40 different postcard walls. This mural brings color to local communities, and it also becomes part of the city highly appreciated on social media, specifically on Instagram. 
Where can you find it? 2226 N Milwaukee Avenue, Chicago. Write it down because you will love to photograph yourself there!
Robin Williams by Jerkface and Owen Dippie
Surely you have seen this wall on Instagram! It's a mural of Robin Williams where you can see the actor surrounded by blue color and drawings of Aladdin from the Disney movie. This character has the voice of Williams, one of the most popular film roles.
Jerkface and Owen Dippie compiled the mural in 10 days and a lot of people think that this mural was created to raise awareness about suicide prevention. 
You can't miss this piece of art, the blue and the drawing of Williams is spectacular, you will succeed on Instagram! 
It is located here: 2047 N Milwaukee Avenue (North Side), Chicago.
Vivian Maier By Eduardo Kobra
This Vivian Maier mural is located on Milwaukee Ave and in Wicker Park and is one of the most famous in Chicago. It was painted in 2017 by Kobra.
This work represents Vivian Maier, a photographer who was only when she died that she became popular. Her photographs went viral and this mural represents all of them and all of her unappreciated efforts during her life.
Currently is a very important work for the neighborhood and is an essential Instagram photo for many tourists!
It's located at 1651 W North Avenue, Chicago.
Moose Bubblegum Bubble By Jacob Watts
This is one of the most marvelous artworks of all Chicago, is the result of a competition launched by a campus of Colombia in 2014. The artist that made this mural was the winner of this competition. Soon after, a recreation of Jacob's artwork was installed on the side of the campus building.
This is nowadays one of the most photographed murals in Chicago! Go to 33 E. Congress (South Wall), Chicago and photograph you too!
Chicago Bears Tribute By Liz Flores
This incredible mural grew out of a collaboration between the Chicago Truborn Gallery and the Bears of the National Football League.
The painter did a very good job, creating human forms with a creative and spectacular type of drawing. People consider, especially the Uptown neighborhood, that it represents a connection of the Bears to the community, the city, and the fans.
It's located at 4637 N Clifton Avenue, Chicago and you must go to see it because we are sure that you will inevitably want to take a picture of it!
Turquoise Titan By Oscar Joyo
This work by Oscar Joyo is radiant! It's a portrait with many colors that radiate outwards. He has different murals around Chicago and these always attract attention for their colors and everything that transmit. 
With each element of the mural, a charming and enigmatic piece is created. You must go see it if you pass through Chicago, surely you won't hesitate to share it on Instagram stories!
It's located at 426 N Peoria Street, Chicago.
In Dreams By Jennifer Cronin
The "In Dreams" mural is essential if you are a hunter of the best murals in the world. It's a fascinating piece, it expresses realism that attracts with a single glance. Every detail and every element radiates by itself.
According to the artist Cronin it expresses "the infinite capacity of the human mind and imagination to dream something beautiful."
You will find this mural in Ravenswood and Farwell, Chicago
Do you know another mural that must be on this list? Let us know!