DO YOU DARE GO CAVE DIVING? 5 RULES TO DO IT SAFELY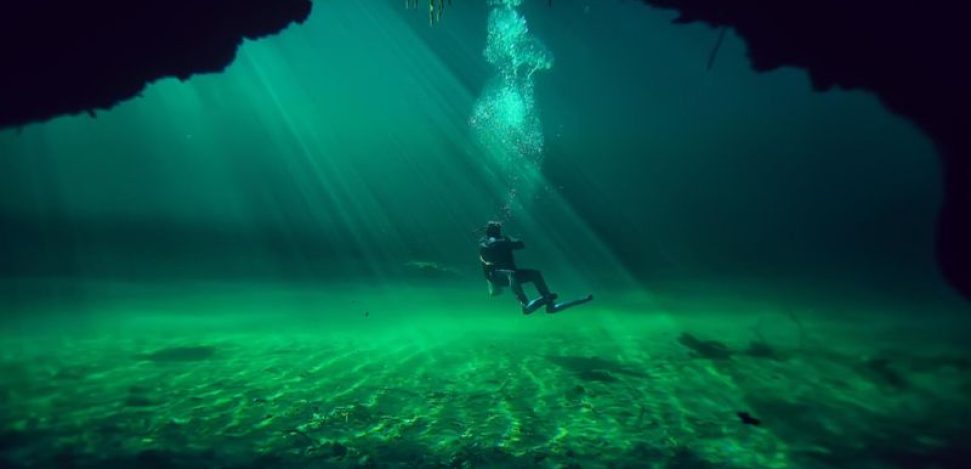 According to experts, less than one percent of recreational divers have the knowledge, skills, acknowledgment of propulsion or flutter kick techniques, judgment, or scuba diving certifications in caves to practice it as safely as possible. This could be the reason for the relatively high number of fatal cave diving accidents.
If you fancy trying cave diving, keep reading!
The most important safety rules for Cave Diving
In north-central Florida (USA) there are underwater caverns and caves with crystal clear water, which are very popular with diver-visitors. If divers follow the important safety rules, diving in this environment is almost as safe as open water diving.
However, if basic safety rules are not followed, the result can be fatal. Since 1950 nearly 400 divers have perished in Florida's caves and caverns. The vast majority of these divers had no formal cave diving training.
Use three light sources
Although much improved in recent years, underwater lights remain one of the least reliable of all dive equipment. Even for the best underwater torches, the question is not whether the torch will fail, but when. Being trapped in total darkness in an underwater cave due to torch failure is not a fatal problem in itself.
However, it is a serious factor. Loss of sight contributes to disorientation, which gives us a sense of panic. In these conditions, divers often make mistakes that they would not normally make with good natural light.
A diver who has lost the light will have trouble finding the lifeline, a rope to the exit of the cave. Even if the diver is in physical contact with the lifeline, it takes much longer to reach the daylight. The question is whether the diver has enough breathing gas to reach the exit.
Try an experiment: measure the time it takes to walk from the point where you are now to the nearest exit. Repeat it with your eyes closed. You will probably take longer with your eyes closed. Also, if you see the nearest exit, you can hold your breath, but with your eyes closed (or without the light) it is much more difficult because you don't know exactly where you have to go.
Because of the danger posed by loss of light, we recommend that divers carry at least three dive lights – one main light and two safety lights for each diver. Although almost all cave divers experience a dive light failure, the chance that a dive team with three lights each will be without light is close to zero.
Remain within the limits of breathing apparatus functioning!
Although only one in ten deaths is certified cave divers, 90 percent of these deaths occur due to exposure to depths of more than 131.234 feet / 40 meters (beyond these depths, nitrogen becomes toxic). The main effect of nitrogen toxicity is narcosis. At these depths, factors such as nitrogen narcosis, high partial pressures of carbon dioxide – and physiological mechanisms (which experts have yet to understand) – can lead directly to a diver's death, or contribute substantially to his or her death.
With the increasing use of various gasses for breathing, other than air, there has also been an increase in deaths caused by oxygen toxicity – exposure to excess oxygen (Nitrox – too oxygen-rich mixture in deep water) and hypoxia (lack of oxygen, breathing Trimix in very shallow water).
For these reasons, the major technical diving training organizations recommend that divers keep within a limit of 1.4 atmospheres during diving, to avoid the risk of O2 toxicity that occurs at deeper depths (generally greater than 1.4, but this limit is set for safety) and a limit of 1.6 atmospheres during decompression. They further recommend that divers do not exceed a depth of 130 feet – equivalent to nitrogen narcosis.
It's important to note that, while small groups of highly trained and experienced divers explore some cave systems at depths over 100 meters, recreational divers can spend a lifetime exploring Florida's most popular cave dive sites and never need to exceed a depth of 130 feet.
Keep two-thirds of your gas to get out of the cave
Over the years there have been several fatal cases in caves where the victims either knew how to get out of the cave or had a good chance of finding their way out. They simply did not have enough breathing gas to do so.
Recreational divers, in particular, tend not to think about resurfacing until the pressure in their scuba cylinders is reduced to between 500 and 1000 psi. It seems like a no-brainer, but if divers use 2,000 psi or more to enter a cave, it is going to be very difficult to get out of the cave to the surface with only 1000 psi or less.
If we take into account unforeseen events such as loss of visibility, the need to share gas with other drivers, etc., the chances of the diver surviving in such circumstances are very slim. Trained divers know that they must maintain a reserve of at least two-thirds of their gas volume to get out.
Always use a guideline that will lead you directly to the cave entrance!
Many fatal accidents occurred when the diver lost orientation. A diver, entering the cave, thinks this is the only way out, the only tunnel. Imagine his surprise when, turning to exit, the diver discovers multiple corridors! Suddenly he is confused.
Another serious problem is the fact that inexperienced and disoriented divers often choose clear water to return to. They often assume that swimming in clear water will lead to a safe place, at the exit of the cave. Ironically, this decision will lead them further away from the entrance. Many of the divers who died in caves had enough breathable gas to exit the cave but were unable to locate the cave exit and all the gas was wasted looking for the exit.
So, among the most important of all the rules of cave diving is: always use guide lines that will lead you directly to the cave entrance!
Be Cave Diving trained, have the proper training!
The one thing that nine out of ten cave diving victims have in common is a lack of proper Cave Training, and knowing how to move in this unique environment in the safest possible way. So, be smart and investigate Cave Diving Courses if you want to start cavern diving.
Many victims are simply unaware of the need to carry sufficient lights, follow the rule of thirds or use a guideline. Even in some cases, the victims had cave diving certification or training. But this is not enough!