Mallorca Beaches: The Jewel of Balearic Islands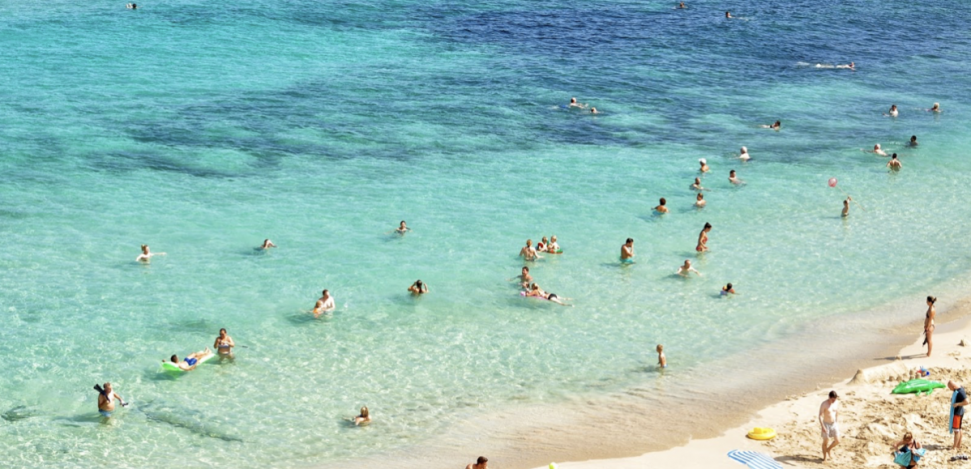 Mallorca has become one of the paradises of Spain and it is that on this island, there are some of the most beautiful and spectacular beaches in the country and the Balearic Islands. If you have still not been lucky enough to visit this wonderful island, we recommend that you continue reading this article so that you discover Mallorca beaches and some of the most impressive places in all of Spain.
Top 10 best beaches in Mallorca
If you are still planning your summer holidays, without a doubt this article is for you since we will comment on some of the best beaches in Mallorca that you should visit. Get ready to visit precious sandy beaches which are truly hidden gems of the Mediterranean Sea!
The first one we want to recommend, and include in this top 10, could not be other than Cala de Sa Calobra. Its original name is Cala Torrent de Pareis, although everyone knows it as we have mentioned above. It is a small cove with crystal clear water, perfect for snorkeling and enjoying a great paradise. We recommend that you go early in the morning so that you can enjoy the cove in the best way.
Calo des Moro is possibly one of the most popular beaches on the island of Mallorca since it is considered to be the closest thing to a swimming pool surrounded by nature. The access to this beach is not one of the easiest but the cliffs and the famous pine trees of this island make it worth the trip. Calo des Moro stands out for being a white sand beach with transparent and calm waters. As in Cala de Sa Calobra, it is recommended, especially in July and August, to go first thing in the morning.
The next beach that we want to include in this top 10 of the best beaches in Mallorca is Es Trenc. This, unlike those mentioned before, is characterized by being one of the longest virgin beaches on the island. It is known above all by its fine white sand and by its turquoise waters. Without a doubt, Es Trenc beach is reminiscent of the beaches of the Caribbean.
Cala Agulla is undoubtedly another of the beautiful beaches that could not be missed in this article. It is possibly one of the coves with the most crystalline and shallow waters on the entire island. Cala Agulla is located in the north of the island and is a perfect natural space for diving, snorkeling, or simply relaxing under the pines.
Another of the beaches that we want to comment on is Cala Fornells. This beach is located in the south of the island and it is perfect to spend a quiet day with your partner or friends. It is important to note that it is a small cove so we also recommend going early to get a good spot on the sand.
We have selected the next beach since it is one of the few totally virgin coves that currently remain on the island. Specifically, we are talking about Calo des Màrmols, or Cala Màrmols, and to access it you will have to walk a long way, it is more than an hour unless you take a boat. Due to the walk that must be done to reach Cala des Màrmols, you will be able to enjoy great tranquility in a place where the transparent blue waters stand out above all.
Cala S'amarador is located in the Mondragó Natural Park, located in the south of Mallorca. The beaches that are within this natural park are famous for their white sand, the cliffs, and being surrounded by great vegetation. La Cala S'Amarador in particular stands out for being a virgin paradise of turquoise waters where you can enjoy a great day of absolute calm.
We have decided to include Playa del Mago for all those nudists who want to enjoy one of the best beaches in Mallorca. Playa del Mago is undoubtedly one of the most famous nudist beaches but it is also one of the smallest. If you get a good place you can enjoy a great beach day, and you will have practically everything you need to make this happen.
The next beach is Cala Tuent. This is located in the Sierra de Tramuntana of the island and although this area is not the most coastal, we wanted to include Cala Tuent for its impressive landscape. It is well-known for being one of the secluded beaches in Mallorca. To access this cove you will have to travel a narrow and difficult path, but without a doubt, it is worth it. Cala Tuent stands out for being a virgin beach surrounded by forests.
The last beach we want to comment on is Cala Varques and we decided to leave it for the end since it is undoubtedly one of the most spectacular beaches on the island of Mallorca. It is a cove completely surrounded by cliffs and it is the favorite for many people since it is not very easy to find, therefore it is not saturated with people, even in high season. Cala Varques stands out for being possibly one of the most spectacular coves on the island thanks to its white sand, turquoise water, and calm atmosphere. And if you are eager for another kind of holiday, we invite you to explore
our special cool plans
we love to search for you! As a bonus, if you want to discover more Mallorca beaches, you should explore Cala Mondrago, Cala Mesquida, and Cala Banyalbufar. We assure you that you won't regret it!
Last Minute new From Roll & Feel Sign-up
Stay in touch with our latest
news