GREAT VIDEO GAME MUSIC TO LEVEL UP YOUR DAY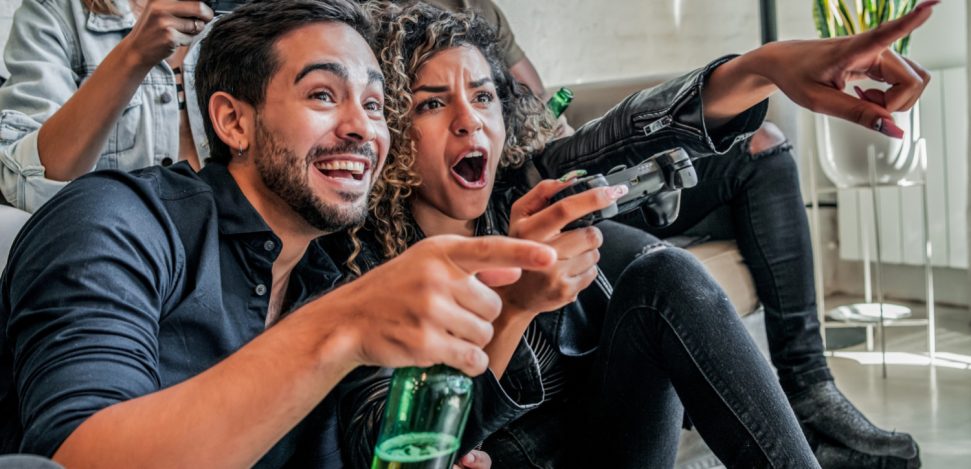 Music is another artistic expression that is not only part of our daily lives but is also present in many other aspects and products that we frequently consume. The world of videogames has always stood out above others and is that currently when we play video games, visual graphics and music have become two essential elements.
Do you want to know the best video game music of recent times? Read on because we will discover 8 of the best original soundtracks!
The 8 best music in video games
Soundtracks in video games have become another of the most important elements to achieve a better experience during the game, a big challenge for sound and music game composers. Next, we will comment on 8 of the best music that you can find in video games but also that you can listen to in your day-to-day.
Bastion
The first music we want to recommend in this article is what you can listen to while playing Bastion. The creator of the incredible soundtrack of this game is the well-known composer Darren Korb.
Through this music, he reflects the beginning and his rock roots although he adapts it to an acoustic hip hop sound to accompany what the game reflects, an apocalyptic world. To achieve this, he introduces and mixes different sounds with an acoustic guitar.
The Elder Scrolls V: Skyrim
Another of the best video game soundtracks that we could not fail to include in this post is the one that belongs to the video game The Elder Scrolls V: Skyrim. For many, it is one of the best music of recent years as it is a soundtrack capable of captivating players.
It is considered to be one of the most epic and memorable soundtracks of the moment since few video games created orchestral and enveloping music. This makes the music included in The Elder Scrolls V: Skyrim stand out from the rest.
Red Dead Redemption
The next video game soundtrack that we want to mention is the one created for Red Dead Redemption. We wanted to select this since the music in this game has huge importance and it is not an easy task.
Red Dead Redemption belongs to the Western genre, a world well known to everyone but also a very open genre. Bill Elm and Woody Jackson are in charge of putting music to this video game, accompanying the players as they spend hours and hours touring landscapes.
Final Fantasy
Final Fantasy is one of those video games that are even better thanks to its music. Undoubtedly, the soundtrack created for this game has become over the years a great reflection of identity and through Final Fantasy XV the cycle is completed.
Specifically, it is believed that the latest installment of Final Fantasy XV is one of the best soundtracks of the entire saga as the creation of Yoko Shimomura can not disappoint anyone. It is characterized by being a soundtrack based on the rhythms of pop, rock, and even small details of orchestral pieces.
Super Mario Bros
If we talk about the best soundtracks and music of video games, we cannot miss Super Mario Bros since it has become in all respects one of the great icons of the industry.
Even if you don't like video games, it is nearly impossible that anyone who has ever heard it does not instantly recognize the peculiar music of Super Mario Bros.
The great composer of some of the most recognizable music in the world is Koji Kondo. This one was inspired by the rhythm of the game itself while it was being developed to create very catchy rhythms. The soundtrack of this video game is made up of 6 themes that have the same characteristics and the one known as Ground Theme stands out above all.
🤩If you are a Mario Bros fan, do not miss this post about Pyra and Mythra!
Dark Souls 3. Yuka Kitamura and Motoi Sakuraba
The music created for Dark Souls 3. Yuka Kitamura and Motoi Sakuraba is considered one of Hidetaka Miyazaki's great masterpieces. This music is characterized by being dark and gloomy, thus reinforcing the aesthetics of the video game.
The melodies that accompany each of the scenes are capable of reflecting and transmitting a sense of tension and fear. As a consequence of this, the music created is considered to be a real wonder.
Max Payne 3
The soundtrack of Max Payne 3 is another one that could not be missing from this list. Health was the group in charge of composing the music and sound for this video game and managed to create a perfect mix of dance, noise, and punk for Max Payne 3.
Through this electronic music, Health has managed to perfectly transmit the essence of the video game, and therefore, tribal rhythms, electronic sounds, and even mysterious pianos make so much sense in this soundtrack.
The Last of Us II
The last music we want to highlight and include in this article is the one included in The Last of Us II. Gustavo Santaolalla together with Mac Quayle have created the perfect music to accompany all the action parts that take place in the video game.
Specifically, they made minimalist and dark music perfect to create an ambient sound that accompanies each of the moments of the game. Also, to intensify different situations, guitar sounds are included.
What about you? Which video game music is your favorite?