GALAXY Z FLIP REVIEW: THE FIRST FOLDABLE YOU MUST BUY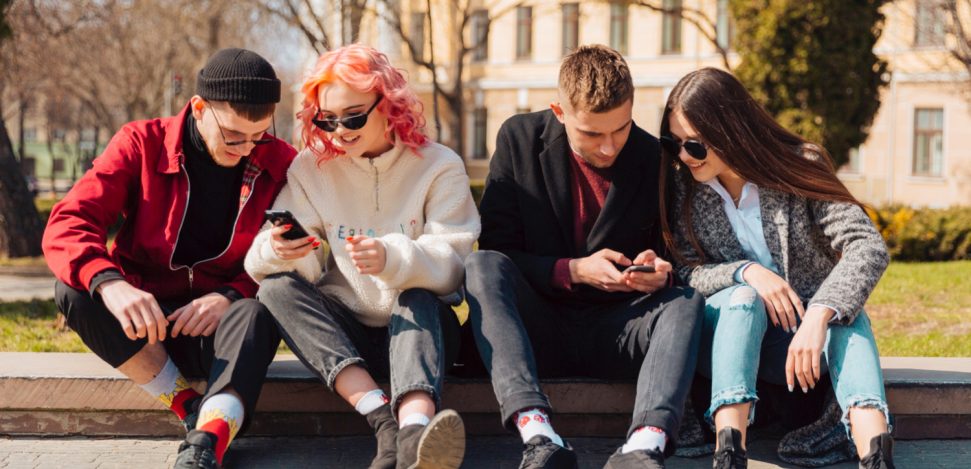 We recently talked about Apple AirTags, a very good technology. But today we bring you a different, powerful, comfortable, and extraordinary product. We are talking about the Galaxy Z Flip, the first folding mobile that will leave you astonished! That's why in today's post we are going to make a review of this smartphone, don't miss it!
Samsung Galaxy Z Flip Review
Design
When the phone is folded, you can see the "Samsung" logo very elegantly on the hinge. You have to know that the sides and the hinge are made of unpolished aluminum.
On the lid, both the front and the back, we find the glass. There is a total of 6.9 mm thick when the mobile is open and at the bottom, you can find the speaker, two microphones, and the USB-C.
The fingerprint reader is on the right side, don't expect a fingerprint on the touch screen! As for the volume control, it's in a slightly strange position, at the top… You will have to make a slightly strange movement. Even so, there are wonderful things that you are going to love, such as the IPX8 resistance, which means that it's 100% resistant to water (not dust), or the screen protector that is already applied (we recommend not removing it!).
The design won't disappoint you because it will sit great in your hand! Imagine having a mobile with a large screen and being able to store it in your pocket easily!
Screen and Sound
The screen is 1.9 ", enough for the type of mobile it is. In addition, it allows you to make videos with the screen as a reference.
It contains a 6.7 "AMOLED panel with a very high level of brightness and saturated colors. The screen brightness is 1,678 lux with a deviation of 5.3 lux.
You will be amazed when you watch panoramic videos with this panel and this screen, it feels great! Considering that it's a longer panel than normal, something good had to have!
As for the sound quality, it's incredible! We recommend you to watch your favorite series with this screen and this sound, you will appreciate having this mobile in your hands!
And surely you wonder if with the folded mobile you will be able to listen to music, the answer is yes, but you have to keep one thing in mind: the bending can affect the sound a bit, but not in an exaggerated way.
Performance
Samsung has triumphed with the Snapdragon 888: UFS 3.1 memory and 8 GB of RAM! Even so, you have to know that it has a drawback: it's a chip that gets very hot with Apps that weigh a lot like with a game. 
But there is not much else to complain about, an Android 11 mobile with the latest version of OneUI, which works perfectly. It will give you the feeling of traveling through it in a very fluid way as if it were a Premium mobile. You will also love the speed it has, although it doesn't have the best on the market in terms of its rivals.
Considering the fingerprint to unlock the phone, it works perfectly! And one thing that's cool is that you can open the camera 90º to be able to put your phone on a table and see everything live.
Finally, it contains NFC, it's specifically located in the lower half.
Autonomy
Charging is not its strong point, 3,300 mAh of battery capacity. We won't fool ourselves, it's usually like that with a large mobile screen and a very high brightness.
Also, the battery is divided into two, the largest of which is 2,370 mAh. In this way, autonomy, as we have said, is not its strong point, approximately 5 hours and 18 minutes with 100% brightness. If it's true that it may last longer depending on the brightness and other aspects such as location.
The mobile charges up to 15 W, being able to charge the entire battery in an hour and a half. Samsung has not forgotten about wireless charging, it can be done in 10W! And there is also the option of reverse charging, but we don't recommend it, since its autonomy is not powerful.
Camera 
In the batteries, there were excuses for them not to have more autonomy, such as that there was no room for a larger one. But from the camera? Is it worth it in the quality price? As with autonomy, the camera is not its strong point at all.
The mobile has two cameras, the sensor is small, 1″ and 2.55″, with 12 megapixels and an aperture of f / 1.8.
You could say that during the day the results are good, but for example, if you want to take a photo of a very close element, it's very difficult to focus on it. Could we get these same results with a cheaper mobile? Yes.
As for at night and indoors, noise control is quite good, but colors are often different from reality. The wide-angle is one cool thing is also 12 megapixels, and it has good light control, but the same thing happens at night, its performance drops a lot.
As for the front camera, it's 10 megapixels, and although the touch of watercolor is exaggerated, it's correct for selfies or video calls.
Let's go to the best of the best, the video! We already know that Samsung's video quality is incredibly good. In this case, we can record in 4K30 with the front camera, and at 4K60 HDR10 + with the rear camera.
Final review
Samsung knows that this mobile is not for everyone, if you are a person who wants a mobile that becomes a tablet, this mobile is totally for you.
The best advantage is that you have a huge screen that can be stored in a small pocket, it's easy to transport without attracting attention. In addition, the panel won't disappoint you, since it's of very good quality: it will give you performance and good sound.
The weak points are the cameras, although they are not of poor quality, the price is not worth the photos it takes. However, the video is spectacular! 
And the battery… could be the worst of this mobile, especially if we compare it with other products on the market.
What do you think of this mobile? Do you think it's worth it?