GLITTER HAIR EXTENSIONS: GIVE YOUR HAIR A TOUCH OF SHINE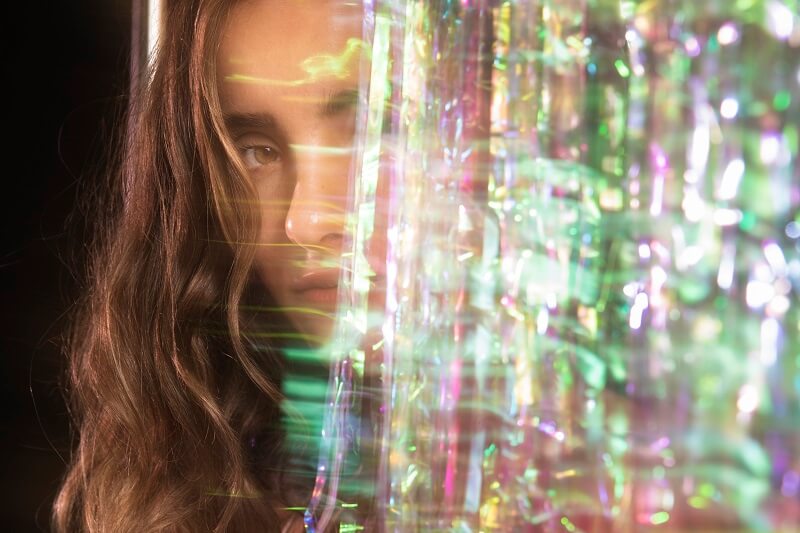 Want to add a touch of glitter to your hair without having to compromise its health or style? Glitter hair extensions may be the perfect solution for you. These small shiny hair strips can be easily added to give your hair a unique and eye-catching touch.
Glitter extensions come in a variety of colors and styles, so you can customize your look to suit your personality. Plus, they're a safe, non-invasive way to experiment with your hair without having to color or cut it. Here's everything you need to know about these versatile extensions.
Glitter in hair: What's it for?
Glitter in the hair has become an increasingly popular trend in the fashion industry. In addition to adding a touch of glitz and glamor to your hairstyle, you can also use it to express your creativity and personality.
Generally, people wear extensions to have longer, thicker, and softer hair, but, with glitter extensions, they can add color. The flashes of light that glitter produces in the hair serve to highlight a hairstyle on special occasions such as weddings, birthdays, etc.
In addition, they also offer you the opportunity to add bold colors to your hair without having to commit to permanent hair color. In short, these extensions offer a myriad of uses that can be put to good use with a little imagination.
Flashes of light made from natural hair
Today there are two types of glitter extensions that we can use depending on the results we expect: natural or synthetic hair. Extensions made from natural hair are usually used to enhance color in the form of highlights and streaks.
Some of the most common colors used in this type of extension are orange, blue, silver, green, red, pink, and purple, mixed with ashy tones. By intertwining light-colored glitter with dark hair, you will achieve a stunning effect that will undoubtedly make you the center of attraction.
On the other hand, if you are a person who likes strong colors, you can use glitter in your hair instead of dyeing it. This way, you will be taking care of your hair, since you are not subjecting it to the harsh process that is used when applying a permanent hair dye.
On the other hand, if you want to enhance lighter hair, you can combine dark-colored glitter extensions for stunning effects. Thanks to natural hair extensions, you will have long, thick, and colorful hair without compromising your hair health.
If we talk about prices, natural hair glitter is more expensive than synthetic hair glitter, but its life span is much longer. If you want to have beautiful hair without abusing colors, these extensions are ideal for you.
Glitter made from synthetic hair
In addition to natural hair extensions, we can also find glitter made from synthetic hair. Being artificially manufactured, these extensions offer a wider variety of options to enhance the beauty of your hair.
Synthetic glitter is not only more attractive than natural hair but also provides much brighter colors. However, because they are made of synthetic fibers, you can't use blow dryers or flat irons to straighten them, as this would destroy the extension.
This is a limitation if you have straight or wavy hair because in that case, you will have to use natural hair extensions. But not everything is a disadvantage in this type of extension: synthetic glitter has several advantages that we can take advantage of.
Firstly, these extensions are cheaper than natural hair extensions, which makes them very affordable. Secondly, you can get synthetic glitter in a variety of lengths for you to use at your convenience.
Lastly, these extensions offer a wide range of shades and bright colors with which you can unleash your creativity and imagination. If you like strong and bright shades, synthetic hair glitter extensions are for you.
Sparkles in the hair. Who wears them?
Nowadays, glitter extensions are widely used by those who want to change their look temporarily or have fun with different styles. Thanks to the great variety it offers, they have gained popularity in many sectors of the population who use them for different purposes such as:
Artists. Artists are public figures who rely heavily on their personal appearance. For this reason, they are always revamping their look and using the latest fashion trends to achieve this. Thanks to glitter extensions, artists can change their hairstyles, achieving very striking styles with very little effort. These make glitter their favorite choice to change the way they present themselves to their followers.
Fashionistas. As you may know, fashion is constantly evolving and new trends appear with each passing day. This includes not only the way you dress, but also the way you style your hair and the colors used. Currently, hairstyles with bright colors are in fashion and bright hair strips are an easy way to achieve them.
People who want to renew themselves. All of us, without exception, have wanted to renew our appearance at some point in our lives. One of the easiest ways is to change our hairstyle, including hair color. Glitter extensions allow us to do so without exposing it too invasive treatments such as bleaching or permanent dye.
Glitter extensions. How to care for them?
The care of glitter extensions depends on the type you are using. Synthetic hair extensions do not require special care, since you can only use them a few times.
However, synthetic hair extensions need to be cared for as if they were your own hair. If you want your extensions to stay beautiful and shiny, you'll need to moisturize them regularly.
In addition, it's highly recommended that you wash them with special shampoos and conditioners for colored hair. This way, they will keep their shine and color for much longer, and you can change your look whenever you want.