HOW TO GET RID OF A NOSE-PIERCING BUMP? TOP TIPS!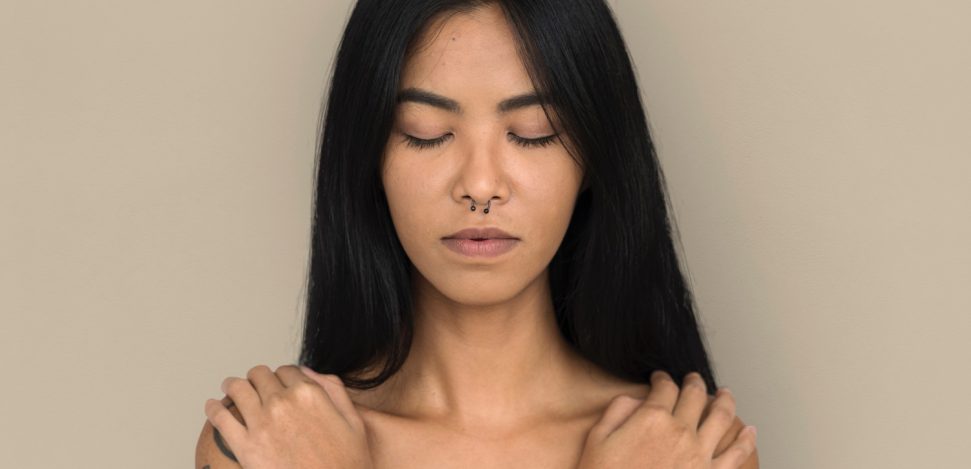 If we recently helped you to disinfect your piercing, today we want to help you to know how to get rid of that bump that sometimes appears in the nose piercing. Is it infected? 
Do you have to remove your jewelry? Let's take a look at it! 😉
What you should know about nose piercings
Nose piercings aren't known for having a fast healing process. It's normal for a nose piercing to take up to six months to fully heal!
During this time, you'll see several things that may make you uncomfortable, especially since it's such a visible spot on your face. You may end up with:
Redness
Swelling
Some bleeding
Pus
And even scabs
Occasionally, you may also discover something else, something you weren't expecting at all: a big swollen ball! 💔
And that swollen ball is usually either:
A pustule
A granuloma
A keloid
Allergic reaction
Sign of an infection
So you can find out exactly what you're suffering from, let's take a closer look at each of the suspects! 
A Pustule
As the name implies, this nasal ball is filled with pus. Pustules can be extremely painful. If they don't go away on their own, it's best to see your piercer, or doctor before they get out of hand. 
Some pustules are not painful at all, but may simply cause itching or a burning sensation.
They are caused by benign infection or by trauma, such as a piercing pull. This is one of the reasons why it's so important to be careful with your new nose ring, especially if you like to play sports!
A Granuloma
The date of your piercing can help you determine if you have a granuloma. These granulomas don't tend to appear immediately after a nose piercing. It usually takes several weeks to a month and a half for these discomforts to appear.
Granulomas occur when the tissue surrounding the piercing area continues to regenerate, and this is usually due to the body dealing with trauma or an inflammatory reaction.
Having a granuloma doesn't automatically mean you have an infected piercing, but granulomas can easily become infected after forming. In this way, it's essential to clean the piercing thoroughly until it's completely healthy and healed.
Also, if you have granuloma, you will find that it doesn't take much to make it bleed. They can also scab over. 
How to treat it: The best is to leave the piercing alone and let your body heal on its own! It may take a few months to go away on their own. Also, you can see a dermatologist for medical advice. 
A Keloid
Keloid is a fancy term for a scar. But it's no ordinary scar, it's like a scar on steroids! A keloid is very thick and often very visible. And it forms around the piercing.
Why do some people end up with keloids on a nose piercing and others don't? Unfortunately, it's a real draw. Some people are more prone to develop this type of scarring.
If you see something around your piercing, and you're not sure if it's a keloid, don't hesitate to see your piercer! 😉
How to treat it: Keloid balls can be extremely difficult to remove without the help of a dermatologist or surgeon. Since keloids are essentially clumps or scar tissue, they are very unlikely to go away on their own. Although they may fade very slightly over time.
Surgery to remove scar tissue is a common practice for removing keloid scars that have become too large and bulky. There are even other treatment options:
Retinoid cream
Steroid injections
Silicone gel application
Allergic reaction
Allergic reactions cause swelling and inflammation, which can create a lump or a bump. These reactions can be caused by an allergy, for example, to the metal of the jewelry. The most common are cobalt and nickel. 
Lumps of this style are usually small and produce itching and irritation. 
How to treat it: Hypoallergenic piercings such as titanium or surgical steel should always be used. Switching to a less irritating metal can then make the bump go away, as it will soothe the skin. 
Infection
If you do not clean a new nose piercing regularly, bacteria can enter the open wound and cause an infection! In most cases, the infected area becomes red and swollen, and the nose may be more sensitive.
A small red bump may appear around the piercing, especially if pus is trapped under the skin.
How to treat it: Some infections can be dangerous without medical treatment. If you feel pain and see pus, the best thing is to see a doctor. To avoid it, clean your piercing twice a day with a saline solution! And wash your hands first! 
How to care for your nose piercing
Remember, cleaning the piercing at least twice a day with water mixed with salt solution or antibacterial soap is very important!
Do this for two months until the piercing is no longer sensitive to the touch. Some piercings take up to six months to heal.