IS GRAFFITI ART? REASONS TO LOVE IT!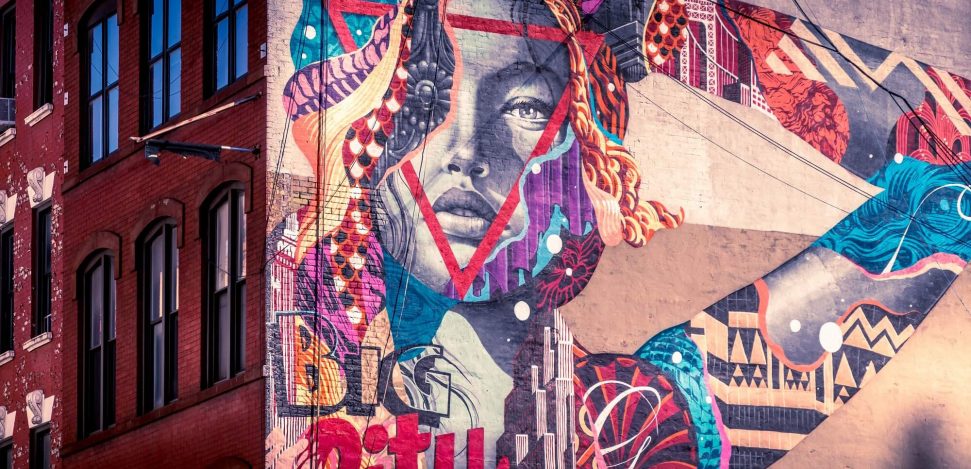 Is Graffiti art or vandalism? This is undoubtedly the eternal doubt about graffiti. Many people think that doing graffiti is vandalism done by young people just to litter the city without any artistic or expressive purpose. In today's article, we precisely come to dismantle all these myths to show that graffiti is also a very valid form of art and above all, spectacular public art.
What is graffiti and how it started?
To show that graffiti is an art, we will start this article by explaining what is considered graffiti and the origin of this type of art.
In addition to 3D art, photography, or even sculpture, urban art also encompasses graffiti art. This type of art consists of making drawings, murals, and paintings in public places such as buildings, subway trains, cars, or roofs.
The art of graffiti began in the United States, in New York City, under the direct influence of hip-pop in the 60s. The first artists began to paint their signatures on the streets of the big city, and little by little this spray-painted art began to grow more and more.
One of the great first artists was TAKI 183, a courier delivery man who was dedicated to painting the places where he moved between deliveries. Thanks to him, many young people influenced by rap music and hip-hop began to paint public spaces around the city.
Why is graffiti art?
All those who think that graffiti is not art should know that artists use public property as their canvas to express all their ideas and their human creativity. Graffiti is one of the most imaginative urban artistic expressions that currently exist, since there is no type of established rule.
Through this type of art, the rebellion of young people is reflected, the nonconformity of many of them, and the concern for social issues that affect the entire society. If something characterizes graffiti, it is the artistic freedom that it offers to artists. Possibly, for this reason, it has become one of the best expressions most used by young people in the art world.
The 5 best graffiti artists
Like all artistic trends, graffiti also has numerous artists who stand out thanks to their great works. Next, we will comment on some of the best graffiti artists from around the world, so you can enjoy their art.
Banksy is undoubtedly one of the best graffiti artists in the world, but you can discover other forms of graffiti and great artists who are also very relevant, so we have decided not to include him in this small list.
Blu
The first artist we want to comment on, like Banksy, has not wanted to reveal his identity at any time. Specifically, we are talking about Blu, one of the Italian street artists best known for his great works. Blu stands out above all for making works that cause great controversy, since through his graffiti he expresses political messages focused especially against globalization and capitalism.
Os Gemeos
If you like urban art, you cannot miss the work of the twins Gustavo and Otavio. Two brothers from Brazil are considered the greatest representatives of street art and graffiti. Os Gemeos stands out above all for having their style, making very colorful works, and introducing very representative yellow characters in their drawings as they represent and describe Brazilian culture.
Vhils
The next artist we want to highlight is the Portuguese Alexandre Farto or better known through his alias Vhils. This graffiti artist stands out because he has turned the city into his main resource to create his works since his main objective is to use urban spaces to create pieces that attract people's attention.
JR
Another of the most spectacular graffiti artists that you should know is JR. This, in addition to being an urban artist, is a French photographer who began in the great world of graffiti in his teens. JR considers the street to be the largest gallery in the world and therefore uses the different city walls to exhibit his art. This artist stands out above all for combining the art of photography and graffiti to create true works of art.
Okuda San Miguel
The last artist that you cannot miss is Okuda San Miguel. This, like many artists, uses their graffiti to raise relevant issues such as existentialism, the universe, false freedom of capitalism. His works are characterized above all by showing the conflicts of the human being through gray colors and abstract forms. It could even be considered that his art belongs to the artistic current of Surrealism.
Do you like the graffiti in your city? Have you ever made one?