MOHAWK HAIRSTYLE: LEARN HOW TO DO IT STEP BY STEP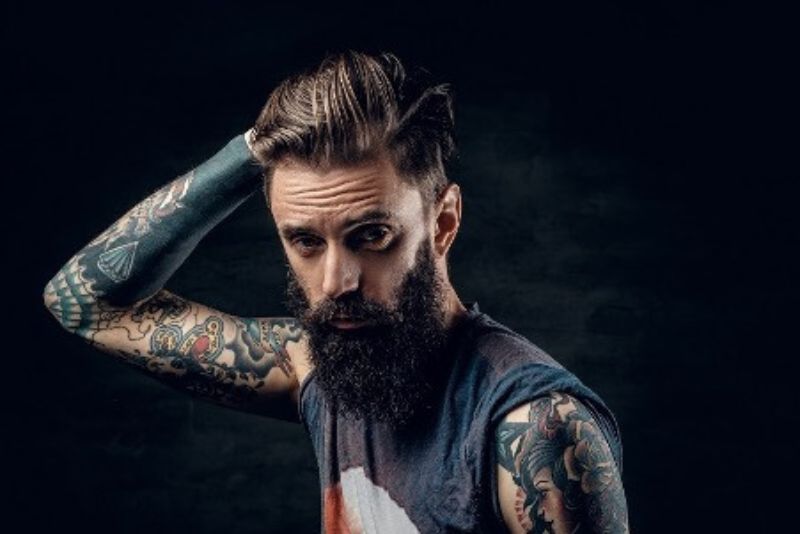 The native mohican hairstyle consists of shaving or leaving both sides of the head shorter, and with a longer central strand that has a crest shape. If we recently recommended extravagant hairstyles, in this post we tell you how to make a good mohawk.
Mohawk hairstyle: Where did this hairstyle come from?
Also called IRO, its name comes from the Mohican people, who are native to the United States and were exterminated by the English in the colonial wars. It was also part of the aesthetics worn by its own inhabitants.
This haircut became fashionable in the early 80's, especially by those who followed the punk and rock subculture, but nowadays, it has been adopted by other groups and subcultures.
Mohawk hairstyle: Examples of looks
This hairstyle has been worn by many celebrities like Pink or Miley Cyrus who have shown this style or other versions of this style showing their short hair gelled on the sides and a longer part of hair in the center of the head. Another ambassador of the mohican style is David Beckham, who knows how to wear it in many of his hairstyle variations.
Depending on the moment, it can be worn with a mohawk or spiked up in the style of punk culture.
The Mohican hairstyle is perfectly suited for both men and women.
In Roll and Feel we will tell you the step by step so you can do it yourself at home.
Mohican punk hairstyles for Women
For women, it can be in the form of crests, braids, spikes and even colored manes.
Let's see some ways to wear it:
Asymmetrical spikes
One of the coolest ways to wear this hairstyle is with spikes. It is a style very identified with the punk culture of the 80's and has had a very impressive revival.
To do it, it is only necessary to get a good hairspray so that the hairstyle does not deflate and remains well upright.
The mohawk hairstyle
Another variation is to wear it with one side completely shaved and the other with a side braid to which you can add color, to give it a more modern and cool touch.
With volume and a lot of shake
To do this, you have to part your hair to one side and whip it to create a lot of volume. The highlight of this hairstyle is that it falls over one eye to give a long fringe effect.
A braid with appliqué
You can simulate a punk mohawk by making a braid sewn in and adding a textured colored appliqué to create visual volume.
Mohican Hairstyles for Men
Mohican haircut style with beard
In this case, you grab a good amount of hair strands well forward, giving it with hair products a little volume and a good full and bushy beard.
Pointed crest haircut style
In this case, the shaving should be at zero, accompanied by a good bushy and curly crest that is born in the form of a beak. The beard can be trimmed a little bit and be flush to give more prominence to the hair.
Gradient Mohawk Haircut Style
In addition to the familiar mohawk, a gradient haircut is incorporated, which with the transition of lengths creates a texture that can be given at the forehead or lower down.
Maybe you prefer something else, learn how to do dreadlocks!
Short crest cut style
This would be a well-defined fringe that would be short and squared off and would contrast sharply with the zero-shave of the rest of the head.
Wide crest cut style
In this case, the ridge can be more or less wide and will depend on the texture of the hair and the taste of each person. This style doesn't require much maintenance.
The crest cut style with lines
A very personal style, without a doubt, and can be created with a machine or razor. The pattern you are going to do on the sides will depend on the style you want to wear on your head and the proportions of your head.
How to make a mohawk hairstyle: Step by step:
Choosing inspiration. As you read above, there are many variations and ways to get a Mohawk haircut and hairstyle. Select the one you like the most and go for the one that suits your style and go for more!
Bring a photo of the haircut you want to have, so the hairdresser will be sure to do what you ask for, and it will last longer. If the model in the photo has the same hair as you, it will always be a plus to achieve the style you are looking for.
Keep in mind that to achieve this style, it's necessary to cut the sides of the head. You have to be brave and be sure of this decision, so a reference for your hairdresser will never be superfluous, and you'll be sure that the result in front of the mirror will be as expected.
Wash and condition your hair before the cut, this way you'll remove any other type of product that you may have used before cutting your hair. At the time of cutting and styling, it's best to have clean hair.
Blow dry your hair well and style it. Make sure to remove any knots or tangles that may have occurred during washing.
Once clean, dry, and comb through your hair, comb it against the grain to create lots of volume and texture. This way, it will be easier to shape and style it according to the Mohawk style.
Choose the product you are going to use to give the hair body and shape.
It's recommended to use a strong hairspray to make the mohawk stay firm.
Finally, use a good fixative gel on the ends to achieve that sharp and firm effect that the Mohawk hairstyle must have and to give a little shine to the finish.
To maintain it, it's advisable to add a little product every day so that the hairstyle remains firm in all its splendor.
And that's it! The cut is done, with the hairstyle well molded and straight, for you to go out and show it off.
You'll undoubtedly make a big splash and surprise all your friends with this retro yet modernized Mohawk style. You'll be able to show off with an original and fun hairstyle and haircut, which you can easily mold according to your desires and style.
Look at its many variables, give it your style and follow the important tips when you go to your hairdresser and get a haircut.
Give your style a makeover and get the mohawk cut! Don't wait any longer!