DEEP WATER SOLOING: ALL YOU NEED TO KNOW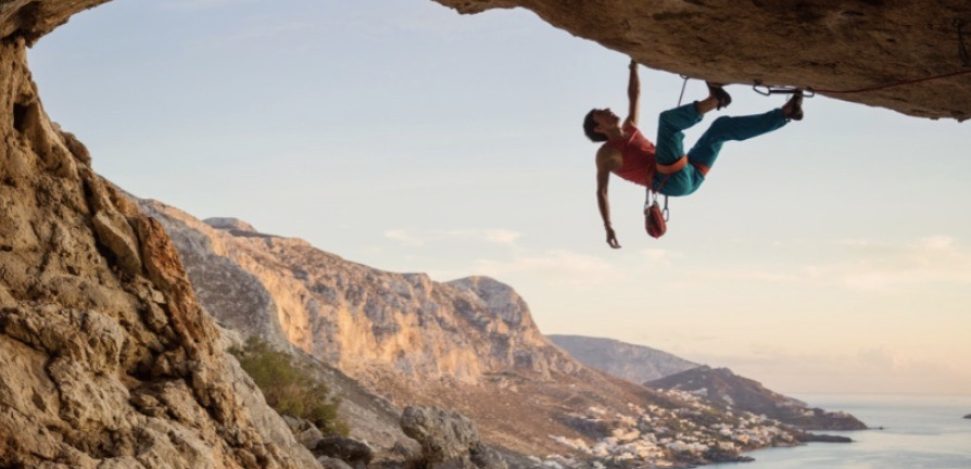 Within the category of risk sports, deep water soloing has become one of the most popular modalities of sport climbing. This thrilling sport undoubtedly attracts fans due to the intense adrenaline rush it offers.
What is deep water soloing?
Deep water soloing is a form of aquatic climbing without the use of ropes, where the only protection in case of a fall is the water, which can be in the sea, a reservoir, a swamp, any type of body of water, or a swimming pool. In this modality, no protection is used to secure the wall, which makes it a very free, fresh, and fun type of free solo rock climbing.
Although it may seem crazy to many, the number of followers of this type of sea climbing is growing steadily as an adventure sport. Although it shares similarities with builders, this modality differs by climbing much higher walls. As we will see below, deep water soloing walls are a minimum of 15 meters, while in a boulder you free climb lower walls, about 5-6 meters.
Also, in the builder, a mat is used as a protective measure in case of a fall into the sea.
History of deep water soloing
The history of deep water soloing, also known as deep water solo climbing, began in Mallorca around 1978, thanks to Miquel Riera, who was its promoter and also the creator of the name for this discipline. Sadly, Miquel Riera passed away at the age of 56 due to cancer in October 2019.
In its English version, it is known as "deep-water soloing", although in England it began to be practiced approximately a decade later, being Mike Robertson as one of the main promoters. The epicenter of this sport in Great Britain originated in Swanage's Conner Cove.
Deep water soloing is practiced mainly in coves, cliffs, and gorges. Miquel Riera argued that this climbing should be done on walls with a height of at least 15 meters.
It is important to emphasize that this modality should be practiced in areas with smooth water currents and little turbulence to guarantee the climber's safety.
Currently, the American Chris Sharma has popularized this type of climbing. He is the protagonist of "King Lines", the most famous video about deep water soloing, which was filmed in Es Pontàs (in Cala Santanyí, southeast of Mallorca) in 2007, together with Miquel Riera.
Necessary Gear for Practicing deep water soloing
When it comes to practicing deep water soloing, you don't need to carry an extensive amount of gear, as it involves climbing without protection. However, there are some essential items you should consider to have a safe and comfortable experience:
Climbing Shoes: Having proper climbing shoes is essential. It's recommended to use shoes that are already broken in to prevent slipping or stiffness. Bringing one or two pairs is advisable, and make sure to rinse them with fresh water after use to prevent salt damage.
Swimsuit: Since deep water soloing takes place in the water, wearing a swimsuit is crucial to protect sensitive areas during falls.
Chalk/Magnesium: Chalk helps prevent your hands from slipping. It can be in liquid or powder form. If you choose the liquid version, make sure to store it in a closed container to prevent spills in case of a fall.
Chalk Bag: Carrying a chalk bag that doesn't absorb water, such as a plastic one, is useful. It dries quickly and can be used repeatedly.
Other optional accessories that can come in handy include:
A belt with a plastic bottle bottom for hanging items from your waist.
A waterproof container to access certain parts of the climbing routes.
Some climbers use a swim cap as a liner for the chalk bag, as it dries quickly and can be reused.
With these essential items and optional accessories, you'll be ready to enjoy the thrilling experience of deep water soloing comfortably and safely.
Best Tips for Practicing deep water soloing
Practicing deep water soloing involves certain risks, both during the climb and the water plunge. Here are some tips, tricks, and techniques to help you enjoy a safe and thrilling experience:
Choose Safe Areas: Look for locations with gentle water currents and minimal turbulence, along with sufficient depth. Avoid practicing during low tides, as shallow waters can lead to risky falls.
Care for Your Climbing Shoes: Rinse your climbing shoes with fresh water after use to prevent deterioration. Ensure they're in good condition for optimal performance during the climb.
Use a Waterproof Container: Bring a waterproof container to safeguard your belongings and keep the chalk dry during practice.
Snug Swimsuit: Opt for a snug-fitting swimsuit that allows easy movement and avoids snagging on rocks. Make sure it doesn't fill with water to ease the ascent and reduce weight during the fall.
Tailored Equipment: Acquire specific deep-water soloing gear that fits you properly for enhanced comfort and safety.
Hydration and Nutrition: Staying hydrated and well-nourished is crucial, especially in a demanding sport like deep water soloing, which may involve extended periods in remote areas.
Appropriate Transportation: Consider bringing an inflatable boat or another means of transport that facilitates access to certain climbing spots. This can be more practical than hiking to remote locations.
By following these recommendations, you'll be able to enjoy the exhilarating practice of deep water soloing with enhanced safety, make sure you're prepared to relive this thrilling experience!