Reverse graffiti: clean advertising and green graffiti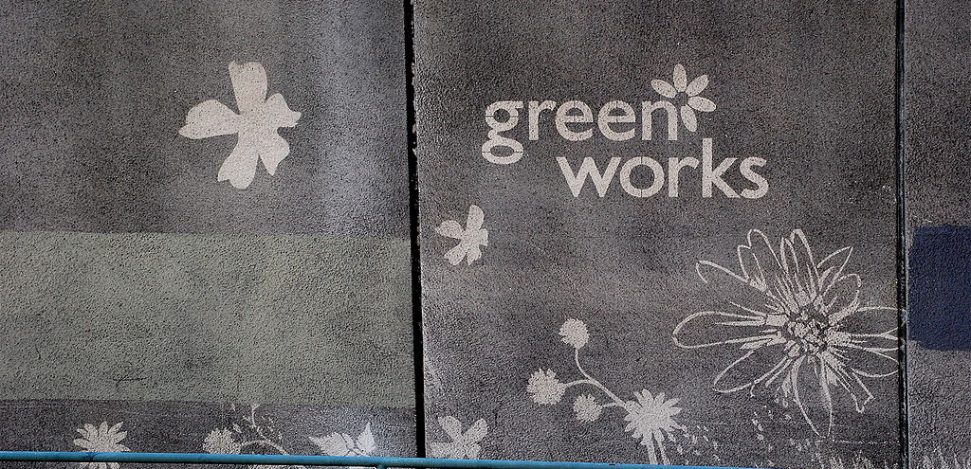 The street art world is constantly evolving and as a result of this, new trends are created that revolutionize the artistic world. In today's article, we want to comment on the new technique used called reverse graffiti, also known as clean graffiti and clean tagging, which is a new conception of the well-known graffiti technique.
What is Reverse graffiti? Or green graffiti?
As we have mentioned, reverse graffiti is a new technique through which graffiti is created on sidewalks, streets, or other surfaces by removing dirt from them. This technique is also known as green graffiti since it is the most ecological technique so far.
The most common is that pressurized water, like a power washing, is used on a previously made template so that the drawing that you want to capture remains.
Reverse graffiti: artists and great artworks in the world
This technique is expanding every time around the world and it is for this reason that below we will comment on the best reverse graffiti street artists.
It is important to note that when talking about reverse or green graffiti, two names stand out above all the others and they are specifically:
Paul Curtis- aka Moose-, is one of the great exponents of this technique. He started creating his reverse graffiti works in 2003 and his works gradually began to attract the attention of many of the people who walked around London.
He was accused of vandalism through his art but had already conquered a large part of the population and had attracted the attention of big brands such as Microsoft or Coca Cola.
The other great reference for this technique is Ossario or also like Alexandre Orion. Ossario considers that he is not an artist but simply uses urban spaces as a means of expression.
The great work of this Brazilian graffiti artist is called Ossário and was made between 2006 and 2011. During these years, he dedicated himself to drawing skulls along the Max Feffer tunnel in São Paulo, which has a length of 360 meters, approximately 1000 feet long.
In this video, you can check out Ossario´s reverse graffiti art.
Reverse graffiti: a different form of advertising
Many companies, in order to be more sustainable and implement business models and strategies that respect the environment, have decided to use the reverse graffiti technique as a new way of outdoor advertising their company and that this advertising is done sustainably.
Innovation and creativity have become two fundamental aspects to be able to implement this type of advertising strategy. In this way, reverse graffiti is used to place the advertisement of a specific company and thus be able to advertise the product or service without polluting the environment.
Through this advertising, a Street Marketing strategy is made where the urban space is used to implement reverse graffiti advertising campaigns. Many brands have opted for this type of marketing and communication since a new, different and, as we have mentioned, totally ecological technique is used.
Generally, this type of advertising tends to attract a more curious, urban, and young audience and therefore, big brands such as Discovery Channel, Green Works, Scirocco, Heineken, or Ray-Ban have implemented this type of strategy.
What is the Reverse Graffiti Project?
As we have said previously, Paul Curtis, or better known as Moose, has become the great reference of this style and as a consequence of this, we want to talk about the Reverse Graffiti Project.
This is a Short film where the artist Moose, who started in the world of music working with artists like Coldcut or Tricky, shows his way of creating and explains how the entire city has become for him, and other artists, a great canvas to be able to express their creations through their templates, with images that vindicate the natural in the urban context.
Some great reverse graffiti you must see!
Finally, we want to show you the best reverse graffiti you have to see so that you can understand what all these artists do.
Last Minute new From Roll & Feel Sign-up
Stay in touch with our latest
news