Skiing for beginners: tips, lessons, and mistakes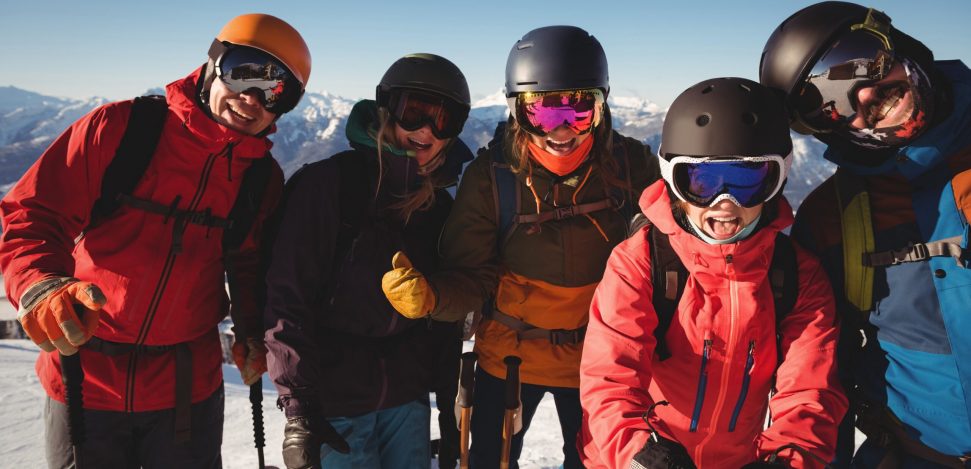 In recent years skiing has become one of the most practiced sports, it is for this reason that if you are one of these people who have not yet dared to try this great sport, you will surely try it soon. Here are a series of tips, lessons, and techniques for ski beginners.
Skiing beginners: what you must know before learning to ski
We want to start this article by commenting on the basic tips for skiing. Everyone knows that skiing is a great sport and that you can enjoy great landscapes while doing it, but, also, the most important thing is to enjoy the experience of skiing and have fun.
The more relaxed you are, the faster you can learn all the most important movements and techniques, because let's not forget that to be able to ski well, you need to know the technique.
If you are curious about other snow sports, you should definitely read our post about the best snowboarders in the world.
The best beginner ski tips
As we have said, to ski you need to know the tricks and the simplest techniques to be able to start doing it, it is for this reason that below we will discuss the best tips for beginners:
One of the most important tips is that ski gear has to be adequate. For this, it will be necessary to have a ski suit, gloves, glasses, a helmet, and most importantly, good comfortable ski boots that fit well to our feet since they are one of the key elements to enjoying a good day of skiing. In addition, it will be important to also bring sunscreen.
Take care of your health and your diet
If you want to practice skiing on a recurring basis, it will be advisable to take care of your health and your physical condition since this makes it easier for you to enjoy this sport much more. Specifically, you should exercise extra hard on your legs and knees since all the weight falls on these parts of the body.
It is highly recommended that during your first days of skiing you have a teacher who can explain the most basic techniques but also the most important ones in order to improve and perfect your style. In many of the stations, they have great professionals who teach all kinds of people of different levels and there is always a beginner-friendly ski area.
Selecting a good day for your ski trip is also one of the main recommendations we can give you since this will determine the quality of the ski day. In this way, it is recommended to look at how the day will be and the quality of the snow.
The last tip, and one of the most important, is to rest and not force yourself the first day, because if you are tired, you may experience unnecessary injuries and accidents. Therefore, it is advisable to rest, stop, and regain strength to be able to continue later.
Beginners ski lesson: what to expect
As we have mentioned previously, having good equipment is one of the most important aspects but at the same time, it can be uncomfortable and thus cause a strange sensation. Still, keeping your balance and having control of your skis is not difficult, you just have to practice it too.
It is advisable to start practicing in a steeper area where there is almost no slope, in order to learn how to put on the boots, how to have the ski poles, and also practice the position.
Beginner ski technique: how you can practice
If you have come this far, we will discuss below how the ski technique is and how to start practicing.
As we have commented in the previous section, the position is one of the most important aspects since it will give you the necessary balance to be able to practice this sport. This way, the correct position for perfect skiing is bending your knees and slightly bent forward.
The head should be facing forward and the skis should also be slightly apart and flat on the snow. Finally, it is important to mention that the hip is the fundamental part of the body to be able to ski well since if it is well positioned you will be able to use your legs better.
The wedge is an essential technique for any beginner as it allows you to control speed, braking, and turning. To do this, you will have to place the skis in a V shape to join the front parts.
Skiing mistakes you must avoid from the beginning
One of the things to keep in mind is that you are a beginner and therefore cannot start practicing on big slopes. It is recommended to start with the easiest tracks and gradually progress and increase the level since only then will you be able to learn and put into practice all the techniques learned.
Many of the ski resorts currently have a track specially designed for beginners who are starting out in this sport.
Best beginner ski resorts.
And, finally, to end this post, we want to comment on the best beginner ski resorts:
This ski resort is located in British Columbia, Canada, and it is among the biggest ski resorts in Canada and the United States. The Whistler Blackcomb covers an area of 240.40 km2 – 92.82 square miles- and has a snow shool for different levels. Whistler and Blackcomb are two side-by-side mountains with more than 200 marked runs. If you plan to visit this amazing place, make sure to experience the Peak 2 Peak gondola ride.
At Park City, Utah, you can enjoy two distinct ski resorts since Canyons and Park City merged in 2015. This great ski resort is the biggest in the United States and offers more than 330 ski trails, 17 mountain peaks. Like many other mountain resorts, it has a ski school, different restaurants to choose from, and also summer activities in a privileged location.
The station de Les Deux Alpes, located in Vénosc, France, is one of the best known as it has approximately 220 kilometers of marked slopes with guaranteed natural snow. As a consequence of this, it has become one of the best options for beginner skiers because it has a great design.
The next one we want to recommend is Courchevel, a ski resort that is also located in the French Alps, specifically in the Tarentaise valley. This ski resort stands out above all for its wide slopes, gentle slopes, and, above all, for its great ski school, which has also made it one of the best options for beginner skiers.
Finally, we wish to advise you of La Plagne and, specifically, La Plagne Bellecote for beginners as it is located in the best area to start in this sport. La Plagne has become a tourist town and one of the best ski resorts in the whole world.
Last Minute new From Roll & Feel Sign-up
Stay in touch with our latest
news