The best skateparks in California you gotta try!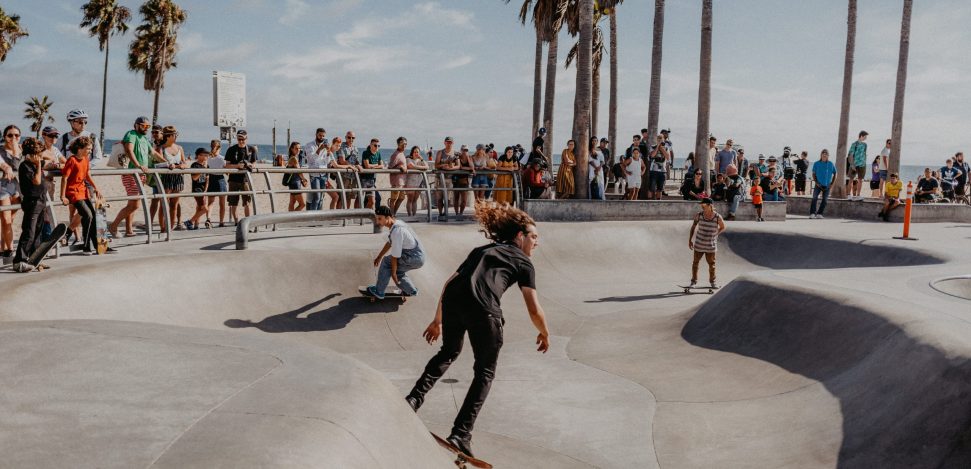 Now that we know the best skate tricks for beginners, it only remains to know where you can practice them. Nowadays, more and more people practise this sport and therefore, you will have no problem finding a skatepark in your city or country. If you are from California and you are a big fan of skateboarding, we have good news for you since in this post we will review the best skateparks in California that you should definitely try.
Before commenting on some of the best skateparks that you can find throughout California, we think it may be interesting to talk about why California has become a great place to skate.
California is one of the best places to skate because the first skaters emerged here. These were surfers who, in the days when there were no waves, started practicing skateboarding. Although no one knows exactly when the first board was made, we know that the first skateboards were made in a Los Angeles surf shop. Since then, they began to emerge mythical skateboard brands that to this day we continue to know and wear.
Since surfers began to skate too, California has become one of the best places in the United States not only to practice the sport but also to lead the lifestyle that skateboarding entails. If you have already read our previous posts about this sport, you will know that skateboarding is so much more than a sport and that it has become a way of life for many people.
Top 3 Best Skateparks in California
Now it's time to discuss some of the best skate parks in California. Write down the following sites that we are going to say because you will surely like them.
The first skatepark that we want to comment on in this article could not be other than the Venice Beach Skatepark and this is possibly one of the most famous places to practice skateboarding. Without knowing it, you have surely seen millions of photos of this place. The Venice Beach Skatepark was built in 2009 right on the sand in front of one of California's most important cities. The park is 16,000 square feet and is shaped like a perfect snake for local designers, beginners, or professionals alike to skate and enjoy a great day.
Embroidery-Inspired Tattoos:
Another place to practice skating that you cannot miss is the Vans Skatepark. This is one of the most mythical brands in this sport such as Vans and what the brand intends through this skatepark was to recreate the Combi pool, a place that became the quintessential place to practice skateboarding in the 1980 decade.
Although currently the Combi pool no longer exists, Vans wanted to replicate each of its characteristics to transfer and maintain the essence of such a famous place. In addition to a great track, in the Vans Off the Wall Skate park, you will be able to find railings, ledges, pads, and types of ramps to do their tricks.
This park is free to enter and offers a great circuit for beginners to develop and improve their skateboarding skills.
Lake Cunningham Regional Skate Park
To end this article we want to comment on another of the best skateparks that you can find in California. Specifically, we are talking about Lake Cunningham Regional Skate Park, which has approximately 80,000 feet and is located right on the shore of Lake Cunningham in San José. This skatepark could be considered one of the largest in California since it is considered to be three or four times bigger. In addition to this, Lake Cunningham Regional Skate Park is also considered one of the best places to practice skateboarding and it meets all the necessary characteristics to satisfy all skaters regardless of their level. As we said at the beginning of the article, today in California there are numerous skateparks where you can practice and improve all your skills. Going to these sites, will not only allow you to improve your tricks but you will also be able to share experiences with all kinds of people and skateboarding professionals. Going to a skatepark is a real experience every day.