DISCOVER THE TOP 5 JOE ROGAN PODCASTS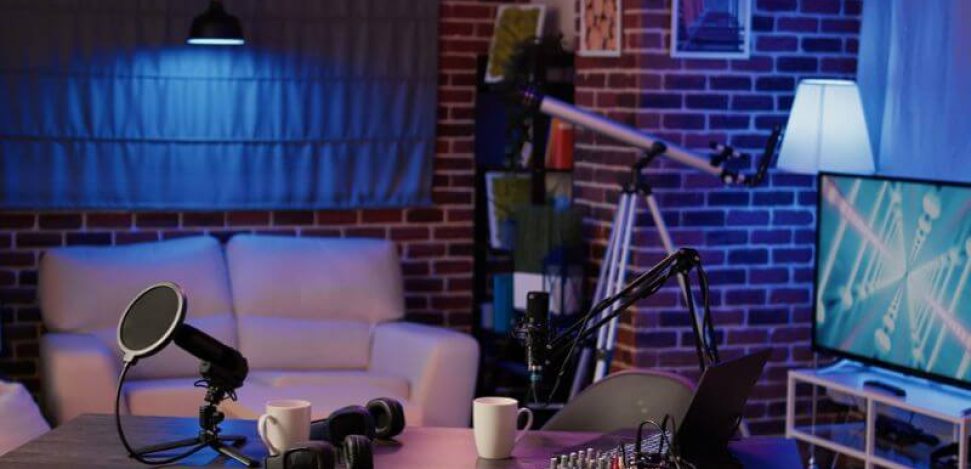 Listening to podcasts while showering, cooking, or working is a plus in our daily lives. Today we want to talk about Joe Rogan and his podcasts!
Who is Joe Rogan
Joe Rogan is a name we're sure everyone knows by now. He's a comedian, MMA commentator, and a major podcast host! His podcast is called "The Joe Rogan Experience" and each episode features a celebrity guest.
The range of his guests is very wide: from famous to controversial people such as politicians, comedians, musicians, actors, athletes, sports figures, business tycoons, scientists, authors and journalists, game developers, controversial personalities, and many other colorful people with interesting stories to tell.
Over the past ten years, he has published more than 1,750 podcast episodes on YouTube and Spotify. The 10 most popular Joe Rogan Experience podcasts on YouTube alone have about 250 million views. With so many episodes, it's hard to choose, but we've rounded up some of the best Joe Rogan podcasts you can listen to now on Spotify.
Top Five Joe Rogan podcasts
Joe Rogan signed a deal with Spotify to release his podcast exclusively on Spotify starting in December 2020. All of his episodes up to #1567 are still available to watch or listen to on YouTube. All episodes from #1568 will only be available on Spotify. Regardless of how you listen, the following podcasts are some of the best Joe Rogan has released to date!
Elon Musk – #1169
This episode of Joe Rogan's Experience with Elon Musk is Rogan's most popular podcast episode on YouTube with 39 million views! Musk is best known as the CEO of Tesla SpaceX; his innovations have made him a major public figure around the world.
In this 2.5-hour episode, Rogan and Musk talk about his recent ventures and the plans he has for himself and his company. Musk also talks about artificial intelligence technology and how it will make his many ideas a success. In this episode, Musk also takes Rogan up on his offer to smoke cannabis (which then led to a significant drop in Tesla stock).
There's a reason why this is one of the most-watched JRE episodes, and we promise it's not just because Elon Musk smokes weed!
Bernie Sanders – #1330
Bernie Sanders has only been featured in one JRE podcast episode, but it's one of the best. This episode aired in 2019 when Sanders was running for the Democratic nomination. Even though he lost that nomination to Joe Biden, this episode is worth watching or listening to.
Sanders doesn't miss a beat in this episode, and Rogan does an excellent interview with him. Since we usually only hear politicians talk in small snippets about their views on certain issues, it was nice to hear a long, in-depth conversation between Sanders and Rogan about those issues. Also, it was Sanders' appearance on the Joe Rogan Experience that led to the next guest on this list appearing on the podcast.
Edward Snowden – #1368
After Bernie Sanders appeared in the podcast Joe Rogan, Edward Snowden also felt comfortable doing it, he's best known for leaking secret NSA information, which he explains in detail in this podcast.
In this episode, Snowden also promotes his book "Permanent Record," which deals with mass surveillance by the U.S. government, and explains why he felt compelled to release secret NSA documents. Of course, he also discusses this with Rogan during the podcast, educating listeners on how much of their lives the government is currently monitoring. For more conversations between Rogan and Snowden, check out episode 1536, which aired in 2020.
Lance Armstrong – #737
Although this podcast episode is 5 years old, it's still one of the best Joe Rogan Experience episodes out there. In case you don't know who Lance Armstrong is, he's famous for winning the Tour de France seven times and then revealing that he took performance-enhancing drugs.
In episode 737, Rogan talks to Lance Armstrong about his success in cycling and his performance-enhancing drug scandal. Rogan does an excellent job of interviewing Armstrong and opening up a discussion rather than criticizing him for his mistakes. Armstrong's story is undoubtedly historic, and it was fascinating to listen to the two discuss the controversy surrounding Armstrong.
Neil deGrasse Tyson – #919
Neil deGrasse Tyson has so many titles to go with his name. He's an astrophysicist, author, and generally a great science fan and personality to the world. He's a pleasure to listen to and addresses many important topics that many of us may find too difficult to understand. He explains things in a way that makes them easy to understand, and Rogan always seems to ask the right questions to deepen the conversation.
They discuss a variety of topics, the most legendary of which is the concept of infinity. Rogan and deGrasse Tyson's passion for science comes through clearly in this interview, making it a very entertaining episode to listen to.