TIPS TO USE THE NON-BINARY PRONOUNS! AND WHEN TO USE THEM!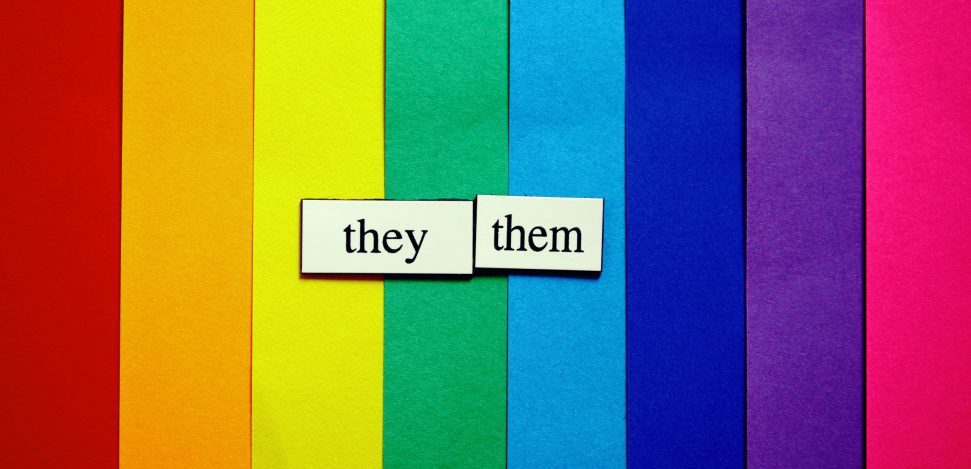 Recently, we talked about non-binary gender and how this had become one of the most important terms in recent months for many people since thanks to it they have been able to feel identified with themselves.
Non-binary people have put on the table another very interesting debate about non-binary pronouns since they have expressed the need to adapt everyday language to new realities and new identities that are emerging and evolving day by day. 
What is gender identity?
Before commenting on the importance of language and which are the correct pronouns that you should use to address a non-binary person, we consider it necessary to also explain what gender identity is.
It is understood that gender identity is an intrinsic sensation through which someone can feel like a man or a woman. Gender identity is very important because, in the end, it is the way in which people recognize themselves within the established schemes.
Until now, the most "normal" thing was to feel identified and represent ourselves as a man or a woman. Despite this, more and more people feel more comfortable in a much broader spectrum than they have taught us since we were little. 
What are non-binary pronouns?
Now that we know a little more about gender identity and non-binary people, it's time to talk about language and pronouns. In languages such as English, it is easy to use non-binary pronouns since there is already a neutral form. On the other hand, in Spanish there is no neutral form.
As a result of this and with the aim of being able to refer to all people correctly, non-binary pronouns arose. These are basically a proposal to create neutral pronouns and stop using the masculine as a universal generic. 
How to address a non-binary person?
Modifying the language so that it is accepted by everyone has not been an easy task, and many people believe that it is not necessary to modify the language and make our language more inclusive.
Despite all opinions, the introduction of a new neutral form is being carried out. Specifically, the term "they" is being used in English. Although this is a plural pronoun, it has been determined that this will be the pronoun to refer to non-binary people as it does not distinguish gender.
What is intended through this is that we have options to address non-binary people who do not identify with either the male or female gender.
As we said at the beginning of the post, language accompanies us every day and we do not only use it to communicate. Languages have always been a reflection of who we are as a society, and if society evolves, so should language. 
Tips for addressing a non-binary person
We know that there is a lot of new information all of a sudden and therefore, to end this post, we want to comment on some more important tips that you should know so that you can address a non-binary person correctly.
It is normal that if you know someone non-binary you may not know how to address that person, therefore, the first advice we recommend is that with education and naturalness you ask that person with which pronoun they identify and how they prefer you to address them. Oftentimes, it is the non-binary people themselves who will let you know their preferred pronouns.
Although it is very important to know how the other person wants to be treated, not in all situations there is a degree of trust and therefore, you cannot ask what pronoun they feel comfortable with. In these cases, we recommend that you use the neutral pronoun, that is, they/them, or in Spanish "elle". In this way, you will not only be including non-binary people but you will include the entire group you are in.
Other gender-neutral pronouns that are being used are "ze" and "hir".
Although little by little we are advancing on the path of freedom, gender identity, and respect, we know that there are many things to do and change. Ultimately, this change includes all of us, each and every one.