VOLCANO SURFING: BEST PLACES TO PRACTICE SAFELY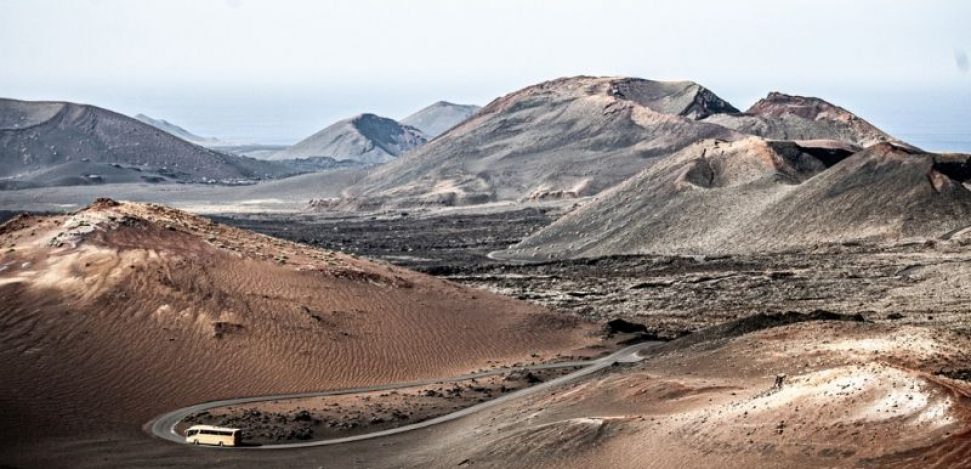 If we recently talked about the best places to do Sandboarding around the world, in this post we want to talk about something a little crazier, volcano surfing! Surely you've heard about it and you've wanted to try it. Well, keep on reading, because we are going to discover the best places to practice this cool and extreme sport!
What to wear when volcano boarding?
Although sandboarding equipment is rather minimalist, wearing a protective suit and goggles is a must when surfing on active volcanoes! Gloves, hiking boots, long pants, and long sleeves are recommended. As well as bandanas or similar pieces of cloth that serve to protect your mouth from flying debris while sliding down the volcano.
How to be safe when surfing on a volcano
Regardless of where you go volcano boarding, keep an eye out for local news and warnings from local authorities. They usually keep track of volcanic activities and advise tourists on whether it's safe to visit the site and what distance to keep from the main crater.
Be sure to join a group of volcano surfers, never try to go alone! Most volcano boarding locations offer guided volcano boarding tours that will also provide you with safety equipment and a volcano board. And most importantly, they can rescue you in case something goes wrong.
Volcano boarding accidents aren't uncommon and can easily land you in the hospital, so be sure to take out travel insurance that covers volcano boarding.
Where to practice volcano boarding?
Since only volcanoes where a recent eruption has generated a hardened lava slope are suitable for volcano boarding, there are only a handful of places where this activity can be practiced.
Furthermore, to "qualify" as volcano boarding, the activity must be done on a slope that is formed on the volcano itself, and not on nearby hills that may be formed by windblown ash. That is the case on many Hawaiian islands and on the dunes of El Arenal in Mexico, where ashboarding can be practiced far from active volcanoes.
Cerro Negro (Leon, Nicaragua)
Cerro Negro is an active volcano located in the Cordillera de los Maribios, in Nicaragua, about 10 km from the town of Malpaisillo. Cerro Negro, one of the youngest and most active volcanoes in Nicaragua, is currently the main destination for volcanism.
It last erupted in 1999, when the lava created what is now an ash-covered dune. In the early 2000s, someone had the crazy idea of trying to slide down the volcano… on a mattress! 😂
Today, you can rent a sandboard and participate in a volcano tour, which is one of the main tourist attractions that draw people to Leon.
Mount Bromo (East Java, Indonesia)
Mount Bromo is a more recent addition to the world's volcano boarding destinations, having last erupted in 2015. Rather than a mountain, it's a volcanic plateau. This gives you the suggestive feeling that you are skiing on the surface of the moon rather than on a deadly active volcano. It's located on the main Indonesian island of Java.
Mount Yasur (Tanna Island, Vanuatu)
The Republic of Vanuatu comprises a group of small islands in the Pacific Ocean. Despite its size, this country hasn't one, but nine active volcanoes, some of them underwater! Volcanoes are Vanuatu's main tourist attraction, with Mount Yasur, on the island of Tanna, being the most popular.
Pacaya Volcano (Antigua, Guatemala)
A less popular volcano for sandboarding in Central America is the active Pacaya complex in Guatemala, near Antigua and Guatemala City. The volcano has multiple craters and has erupted at least 23 times in the last 500 years. The last eruption occurred in January 2021, so there are some fairly "cool" slopes available for volcano boarding 😉
Mount Etna (Catania, Italy)
Europe's largest active volcano is located on the beautiful island of Sicily, in southern Italy. Skiing on Etna when it's covered in snow during the winter months is nothing new. But recently people have started to bring their sandboards to enjoy a summer of sliding down the volcanic ash.
That said, unlike other places on this list, there are no dedicated sports facilities for sandboarding, which means you'll have to go it alone. For experts only!
Stromboli (Stromboli Island, Italy)
Another Sicilian volcano, located on the Aeolian island of the same name, is famous for its black lava beaches. There have been some successful attempts by amateurs to sandboard on Stromboli. Like Etna, no official excursions are leading to Stromboli. So it isn't recommended to go there unless you know what you are doing.
Mt. Fuji (Shizuoka / Yamanashi Prefectures, Japan)
The iconic Mount Fuji hasn't erupted since 1707, but it's still an active volcano. Although there is no "official" way to volcano surf on Mount Fuji, there are many videos of people sandboarding its slopes in the early 2000s. Many people head there for snowboarding during the winter season.
Do you dare to try it?