WANT TO GET STRETCHED EARS? A GUIDE TO THE BEGINNING!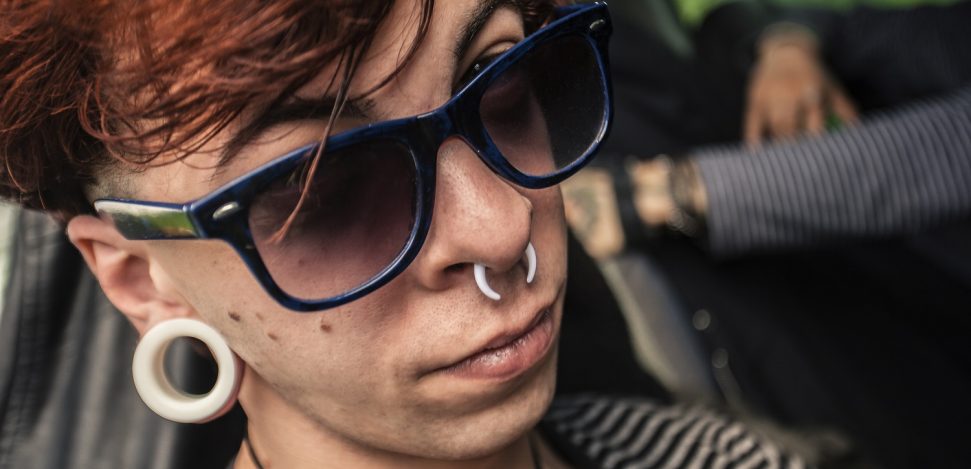 Do you remember when we talked about body suspension? Today we are going to talk about how to stretch your ears! Maybe it is too weird for you, but a lot of people think that these body modifications are super cool! Do you dare to continue reading? Go for it!
How to stretch ears?
Let's start! First of all, if you have regular earring piercings, you can start with a simple taper starter kit. We recommend you start with one of 14g, which is just slightly larger than a regular one. In the case you have a regular ear piercing, you can start using 16g tapers.
You have to keep in mind that stretching too quickly can cause injuries and can cause ears doesn't heal properly. So, try to find out what size your earlobe piercings are. Also, you can go to a professional, they will surely advise you on the appropriate size for your ear!
You have to know that is a long and slow process, the main general rules are to allow your ears to fully heal before you start a new stretch and to avoid materials that can create infections.
How long does it take to start?
As we said, the only condition is to have a piercing before you start, so if you are going to do it to be able to stretch your ears, wait approximately 6 months until it heals properly.
Does it hurt?
The main concern of people in pain, since at first glance it may seem painful. Ear stretching tends to tingle or sting but it shouldn't hurt a lot, if it's your case, you should opt for a smaller option. Also, make sure you use the oil to the earlobes at least two times a day, we recommend the Jojoba Oil.
What is Jojoba Oil and why is it the correct one to use? It is used to soften skin, reduce scar tissue, thicken lobes, and moisturize. So, it will help to thicken your lobes and to keep them healthy.
How long does it take to close?
It depends on the person, but you have to consider how elastic your skin is, the size of your earlobes if you have some issues in the process, and most importantly, how you care for them! Remember you have to keep in mind the importance of taking care of it correctly to avoid problems.
Everyone always asks, how long does it take for stretched ears to close and the problem is, it depends entirely on the individual because every ear is different. However, some factors will affect how long it will take, including:
Do you want to stretch your ears permanently?
It's very important to know how far you want to go stretching your ears. If you don't want to stretch your ears forever, you have to stretch them through a slow process and never skip sizes. A recommendation is to stretch one size at a time and wait a month to stretch again. Remember that if the process is slow, it's healthier for your ears!
Stretching Methods
Single Flare Glass
This method is very recommended, these single flare glasses are very used. The smallest ones bring you faster healing and less scar tissue. The use is quite easy, it does not have any difficulty, since they are designed to be inserted easily.
Tapers
With a cylinder shape, it is a tool that is usually used for the smaller size stretches, under 2g (6mm). Don't be wrong, tapers aren't jewelry, is it used as a tool that helps stretching your ears to the next size.
Tape Wrapping
The tape wrapping one is more used when you get a larger size. It is also used for stretching but over 1 inch. To stretch with tape wrapping, do three wraps of tape around to increase the size with a set of plugs.
It's very important to clean the jewelry every time you do these processes and also, as we said before, use oil to keep the skin more elastic and healthier.
The process
One time you have decided the size and how far you want to go, it's time to start stretching. First, get a lubricant to use on your taper, it would be easier, and never use silicon, please! You can take a hot shower first, it will help to make your ear a bit more stretchy.
Use the lubricant in your ears and also in the taper. Then, insert the taper to the base of the bigger side. Don't rush! It's better to take your time!
When stretching, one stretch should start by pushing the taper in from the front, and the next stretch should be pushed in from the back. Finally, repeat the action! Remember, take your time, there is no need to rush!
Injury prevention
As we said, if you are feeling pain or your ears are bleeding, you are not doing the process correctly, it should never happen! It would mean that you are stretching your ears too quickly.
Yes, we repeat it a lot but, it is important to go slow and size up gradually. It means you should wait until one stretch is healed to stretch another size! Remember to help yourself with lubricant and oil at the time of stretching, it would be better than doing it when your ears are dried.
Also, oil massages are the best practice after stretching your earlobes and this is best done after a hot shower! Take into consideration the use of antibacterial soap to clean your hands and the area, or you risk getting bacteria all over your plugs.