WHAT IS A ROOK PIERCING? DOES IT HURT?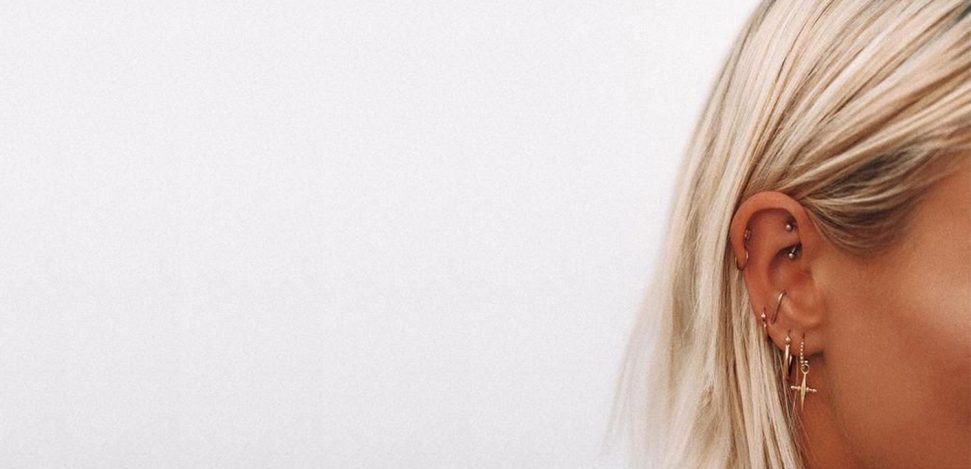 We are not going to fool ourselves, we love ear piercings. The tragus, the helix, the daith piercing… all kinds of piercings are welcome to our ears and there are more and more aesthetic and beautiful piercings. If you want to continue discovering more types of ear piercings, we recommend that you continue reading to discover what a rook piercing is. 
WHAT IS A ROOK PIERCING?
As we said, the rook piercing is a type of piercing that is done in the ear. Specifically, it is carried out in the upper interior of it. Without a doubt, the rook piercing is a demonstration of how the world of piercing is evolving and how more and more are being created. 
After reading this post, surely the rook piercing will become your favorite, and is that in addition to being beautiful, it is perfect because you can wear multiple options of jewelry, from a curved bar, small earrings, diamonds… 
Can everyone make a rook piercing?
We could say that yes, everyone can get a rook piercing. Despite this, we also have to say that there are several shapes of ear anatomy, various sizes of ears and therefore, not everyone will be able to wear the rook piercing in the same way.
This is a very particular issue and therefore, you should discuss it with the professional who is going to perform the piercing. If you have a well-marked cartilage fold, you shouldn't have a problem. 
Even so, as in every post in which we talk about piercings, we remind you of the importance and the need to go to a great professional piercer, with a lot of experience. If this is always important, in the rook piercing it is even more so because it is a relatively new piercing and also, it is a complicated area to perform a piercing. Therefore, it is necessary to go to the best specialists. 
Does a rook piercing hurt?
As we said in our post about the
most painful piercings
, the pain will always be subjective since each person tolerates pain in one way or another. Despite this and feeling very sorry, we have to say that rook piercing can actually hurt. 
We cannot forget that we are piercing an area of our skin and this can always be a little annoying. But it is also that, in the case of the rook piercing, we must know that ear cartilage is being pierced, without direct blood flow and that on top of it, it is a little thicker than the rest of the ear area. That being said, the pain can be more intense than in other areas. 
How should a rook piercing be cured?
Like all piercings, it is necessary to carry out a healing process and always follow the recommendations of the professionals who have done it to us. Despite this, we are going to remember below some of the most important information that you should take into account. 
Actually, rock piercing should not heal in any way differently from other piercings, although you should know that rook piercing, due to the area in which it is, has a high tendency to become infected and the healing time is quite slow, it can take up to a year. 
In the first days, it is totally normal for the area to be red and you may even feel slight pain. Above all, we recommend that you be very careful when you dress, sleep, use headphones… since all this can create some kind of impact on your ear and therefore on your piercing.
As we said, you will not have to do much more than clean the piercing and disinfect the area where it is located throughout the healing process. In addition, we also recommend that you use physiological saline to wash it and dry it gently. 
What kind of jewelry can be used in a rook?
As we said at the beginning of the article, with the rook piercing you can use many different jewels. It is recommended that when you do it and you are in the initial period of healing you wear starter jewelry, such as a bar or a ring since they are the jewels to which this type of piercing is best adapted. 
The most common jewels are the following: 
Bar
As we said, the bar is one of the most common jewels. This is perfect because it adapts to the shape and size of each ear. In addition, it is very simple since it has two balls at the ends. Each of them is removable so it will make removing or putting it on easy. 
Curved bar
If you want a more aesthetic piercing than a normal bar, you can always choose to wear a curved bar. This one, in addition to being prettier, can be even more comfortable and will make your piercing look more beautiful. 
Hoops
Finally, we have to talk about hoops and it is that these are the favorite piece for the vast majority of people who have done this type of piercing. Although it is one of the most aesthetic, you should know that if you wear this type of jewel first, the piercing may take longer to heal.