WHAT IS ARTECHOUSE? NEW YORK DIGITAL MUSEUM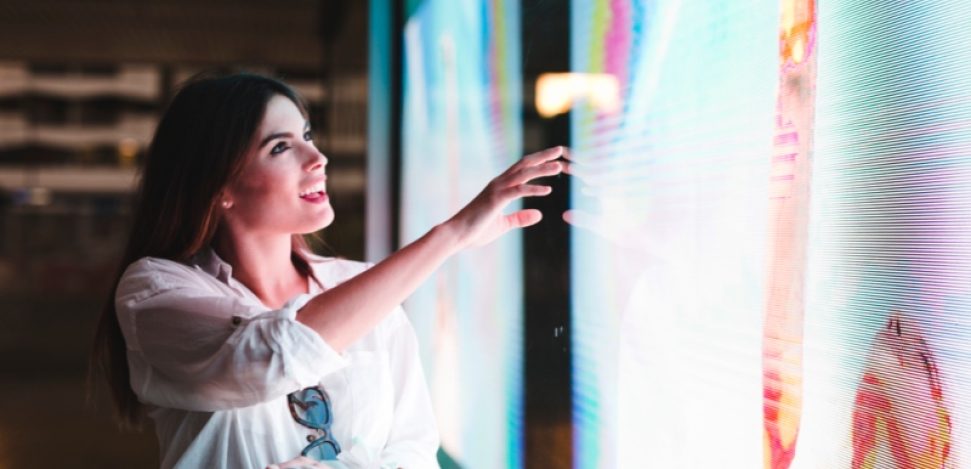 The entrance to Artechouse is easy to miss, as it is surrounded by a Potbelly restaurant, a Starbucks and nondescript corporate buildings. 
Upon entering and descending several flights of stairs, the vast, dark space is filled with projections of abstract landscapes, ethereal sounds and LED-powered animations. "New Nature" is an example of an exhibition that ran through January 2023. Ingenious motion sensors interacted with the art, created by Polish artist Mateusz "Marpi" Marcinowski, causing it to transform as visitors moved in front of it.
Another recent installation, "Flesh and Sand" employed virtual reality (VR) technology to offer visitors an immersive perspective on the immigrant experience.
Artechouse moves away from the conventional museum experience tourists are used to. Instead, it aligns with the local and national trend of using technology to create interactive art. 
What is artechouse? 
ARTECHOUSE NYC is a distinctive and immersive digital art venue that stands out among the art destinations in New York City. Situated within the historic Chelsea Market, the location adds to the charm, as they inhabit a beautifully restored boiler room that has been a permanent fixture in the city's art scene for over a century.
Each ARTECHOUSE exhibition presents original artwork created by innovative artists who harness technology as their medium. They pride themselves on employing the largest seamless megapixel count projections available among cultural institutions, providing visitors and artists with an unparalleled visual immersive experience. 
Additionally, they are the first arts space to incorporate hyperreal and spatialized sound technology, further elevating the artistic platform we offer. This combination of cutting-edge technologies positions them as the forefront of technological advancements in the art world!
Go with an open mind!
Approach Artechouse with an open mind. Upon entering, it's crucial to let go of any expectations or preconceptions, as suggested by Sandro Kereselidze, the artistic director. He encourages visitors to embrace the exhibition and allow themselves to become immersed in it.
Guides will lead you downstairs to a basement-like space where you'll encounter Marpi's "digital pets." These abstract-looking creatures respond to the movements of visitors. In the central area, you can relax on poufs or engage with the pets by using your body or an app designed specifically for the exhibit. By getting close, you'll notice bubbles appearing on the screen, mirroring your movements like a digital shadow.
It's advisable to follow the lead of children and not hesitate to approach the projections closely! Even if it means taking Hakeem Cunningham's advice and doing the "YMCA" dance, don't be afraid to indulge in a bit of silliness. Ignore any lingering thoughts such as "Am I doing it right?" and observe how the animations respond.
In another room, known as the "digital petting zoo," you can interact with captivating video-game-style creatures displayed on TV screens. Marpi's work draws inspiration from his early fascination with evolution, the Tamagotchi keychain game from the early 2000s, and online multiplayer role-playing games. However, don't expect to find cute, pixelated Tamagotchi animals. These creatures seem to function like a digital Rorschach test, with interpretations ranging from CGI-style bamboo to a beaded necklace.
Take the opportunity to interact with the berry-like spheres, experiencing the chime sound effects as you touch them, or brush against the chrome-covered plant. Finally, proceed to a smaller third room, where you can witness colorful vertical LED "trees" lighting up in response to your movements.
Now Open: Beyond The Light
Unleash your imagination beyond what is visible and delve into the hidden depths of our universe.
Beyond Light is an original artistic representation of scientific exploration, showcasing how human ingenuity has enabled us to transcend the limits of our imagination and venture into the vast expanses of the cosmos.
ARTECHOUSE has collaborated closely with NASA scientists to interpret the vast amount of data collected by NASA about our universe and present it in the highest possible resolution using cutting-edge creative technologies and immersive storytelling. This exhibition immerses visitors in the timeless narrative of light, aiming to ignite curiosity about the boundless possibilities that lie before us.
Beyond being a mere tour of familiar images, this immersive art experience has been crafted with the latest technologies, including visual production assisted by artificial intelligence, an original musical score created from galactic data, and breathtaking imagery and discoveries from the James Webb Space Telescope.
Beautiful, educational, and interactive, it pushes the boundaries of our imagination while celebrating the spirit of exploration and discovery that defines our understanding of the universe and its creation. It is a captivating experience suitable for the entire family.
The Genesis of Beyond Light
Beyond Light, an original production of ARTECHOUSE Studio, has been developed in collaboration with NASA, transcending the conventions of traditional science storytelling.
The ARTECHOUSE Studio team actively participated in continuous collaborative sessions with NASA's Goddard Space Flight Center, the James Webb Space Telescope Mission team at the Space Telescope Science Institute (STScI), and the William H. Miller III Department of Physics and Astronomy at Johns Hopkins University.
Drawing upon the expertise of NASA's astrophysicists, heliophysicists, and the Science Visualization Studio, the ARTECHOUSE Studio team curated and crafted a compelling narrative from the most captivating data collected by NASA. Through their artistic vision, ARTECHOUSE Studio created a distinct visual identity for Beyond Light, employing state-of-the-art experiential storytelling tools to deliver a truly unique and immersive artistic expression.