WHAT IS COMPERSION? OPPOSITE EMOTION TO JEALOUSY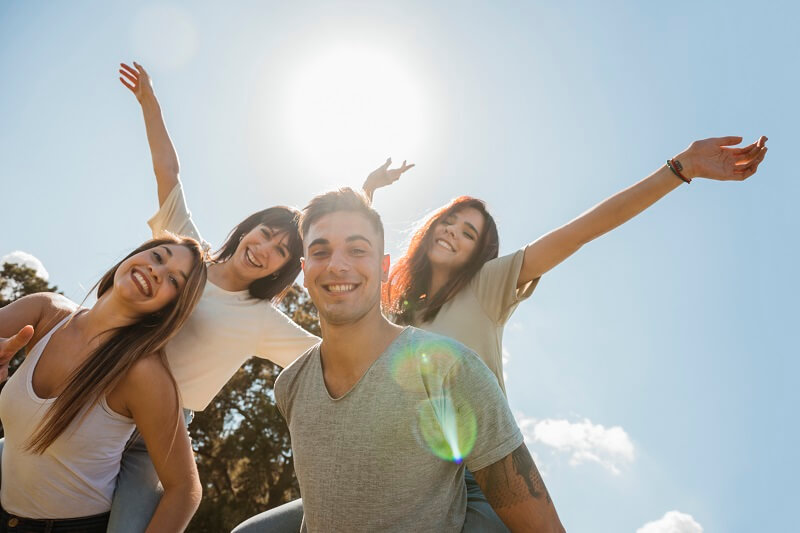 Emotions can be experienced in different ways, in fact, at present it's still a very unknown terrain for specialists, and they are constantly studying human behavior. This is precisely what regularly causes new terms to appear that we don't  immediately understand.
This is what happens with the so-called compersion, have you heard it before? Today we'll explain in detail and in a very simple way what compersion is. So, couple and romantic relationships can begin to change, more so if you belong to the polyamorous community.
We'll see that it's possible to experience fullness in all its expression, as well as liberating emotion. Let's start!
Compersion: Its definition
To take the first steps through the positive emotional feelings that lead us to compersion, it's essential to clarify the definition of compersion.
This term may seem too modern, but to your surprise, its use dates back to 1985. Therefore, it already has a historical background to consider.
The feeling of compersion in its beginnings was coined by a community that is now defunct, in particular the Kerist community of San Francisco. But so complex is the concept that investigative reporter Eric Francis once described it as seeking this liberating emotion within one's jealousy.
How to experience compersion?
Compersion is an emotion, it's to feel happiness, and it has to do with positive feelings. The person feels happiness and delight, pleasure, enjoyment, and satisfaction when he sees other people creating bonds with others.
Therefore, if we want to see it from another point of view, compersion is to be empathic of happiness, which is the opposite of experience jealousy.
Here is one of the most widely used academic definitions in the world, which comes from PolyOz: "The positive feelings received when a lover is enjoying another relationship. Sometimes called the opposite or flip side of jealousy."
Well, you know that not only in couple relationships jealousy happens, but it's possible to feel and experience the opposite. Which can make us feel the happiness of someone and, as we said, whatever the type of relationship.
But let's move on to this new form of expression called compersion. This term is widely used in polyamorous relationships.
If you are planning to start being part of the polyamorous people, then this emotion doesn't necessarily have to be the basis of the construction of your intimate relationship. It's normal at some point to feel jealousy.
Some main characteristics to build relationships based on compersion:
The type of attachment you have.
Feeling empathy.
Not having self-esteem and self-concept problems.
Another extra fact that you have to take into account, is that it has been made public that compersion is composed of 80% of feelings of happiness, experiencing joy, and a lot of internal fulfillment for the achievement that others have.
The other 20% is made up of how this internal state of emotion serves you as a teacher. What is more focused on is that the compersion serves you as a guide or coach so that on a personal level you can continue to improve.
How can you cultivate compersion?
To begin to familiarize yourself with feeling happy for each other, it isn't enough to be clear about what compersion is. Understanding how to experience happiness, leaving frustration, disappointment, and anger behind, is another point to consider.
To be able to experience all these beautiful emotions is a matter of working on personal aspects to overcome, such as the burden of frustration and disappointment.
In addition to putting it into practice little by little, being some small tasks to start, the following:
To recognize the achievements of others, these have to be mainly in terms of new bonds created. Be careful, nothing to be pretending to be compersion, this has to be completely genuine.
If you start to feel jealous at some point, which is normal for human beings, then it's time to analyze your emotions and find out where they are coming from. Start taking a trip back in time and see if it's something you've been holding on to for a long time or if it's insecurity on your part.
Compersion: An emotion that isn't exclusive to polyamory
It's an erroneous thought to believe that compersion is only a feeling that can be felt by the polyamorous community. This beautiful liberating emotion, where you can describe the most beautiful feelings can be perfectly expressed by your parents, by co-workers, or by friends.
It isn't an exclusive feeling of an affective-sexual bond, so you can feel it for anyone.
It's also key for you to know that several pieces of research have been developed about what compersion is and how it influences people.
One of the most significant is that of the Department of Evolutionary Psychology of the University of Alicante. The results showed that there is a close relationship between compersion and social competence, emotional intelligence, and empathy, but coming from childhood.
The topic of compersion as you have seen is very interesting, it isn't only about knowing what compersion is. It's to go beyond and start applying it in our lives to become mainly happier beings.