WHAT IS FREEDIVING? ONE OF THE OLDEST FORMS OF DIVING AND ITS TYPES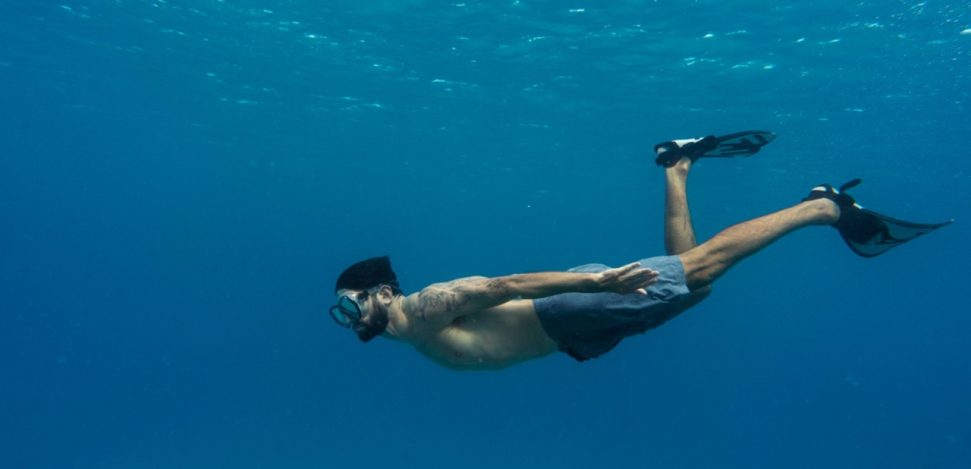 Have you ever dared to swim with sharks? If the answer is yes, we are sure you would love to try freediving, find out in this post!
What is freediving?
Freediving is holding your breath underwater and going as far as possible without having to surface to get oxygen.
Humans began this activity many years ago! They had to dive for food. In recent years, however, freediving has evolved into a competitive sport and a fun pastime.
What is freediving? If you've ever swum underwater and held your breath, you've experienced freediving to some extent 😉.
What is the difference between snorkeling and free diving?
Although both activities require the use of similar equipment, they are quite different. Snorkelers stay on the surface of the ocean looking down with their mask on while breathing through their snorkels. In contrast, freedivers dive deep into the ocean holding their breath until they surface. Freedivers only use the snorkel at the surface of the water and remove this equipment before descending.
Is it a problem If I can't hold my breath?
This is one of the most common questions about breath-hold diving. With proper training, you'll learn breath-holding techniques that will probably surprise you by how long you can hold your breath.
Do I need to know how to swim?
Although you don't need to be an Olympic swimmer to do this sport or take a course, it is important that you feel confident in the water. You should be able to swim 200 meters/218 yards.
You will also need to learn multiple breath-holding techniques, some of which involve swimming underwater and at depth.
What are the different types of freediving?
There are four different types of freediving that you can do.
Static freediving
It's very important to hold your breath for as long as possible while floating face down in the water. The diver's airway must be submerged during this activity.
Dynamic freediving
In confined water, divers should swim horizontally underwater to cover as much distance as possible. This discipline can be performed as a finned or finless activity.
Free dive
During this discipline, the diver will use the guided rope to propel him/herself down as far as possible and then return to the surface.
Constant weight
In this activity, divers use control and power to propel themselves down as far as possible along the guided rope. Performed in open water, divers can complete this activity with or without fins.
3 reasons why people learn freediving
There are many reasons why people decide to learn freediving.
Recreational freediving
Recreational freediving is all about the enjoyment factor. People enjoy the challenge of freediving! It has a great effect on their mind and body.
Freediving for health and fitness
Freediving has been practiced for many years as a form of anaerobic exercise to improve health and fitness. Physical demands have a positive effect on the body, improving physical health.
Competitive freediving
Competitive freediving has grown rapidly in popularity. Competitive freediving focuses on the skills of the freediver, challenging divers not only to achieve personal bests but to beat the records of others.