What is slow travel and why is it so attractive?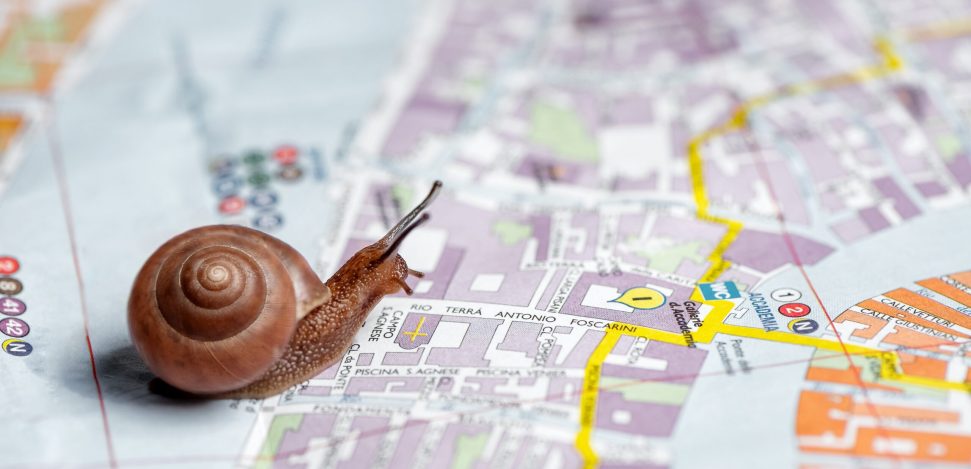 In today's article, we want to talk about a concept that is becoming more and more known and that is as a consequence of the high pace of life we ​​lead, the term "slow" has emerged and specifically, slow travel. This new trend known as slow travel or the philosophy of traveling without haste is focused on making quality trips.
To do this, all those who want to "travel slowly" focus on seeking experiences during their journeys, focus on learning about the culture, and seek to connect with the residents of the countries or places they visit in order to learn their customs and way of life…
In short, slow travel intends that we stop to observe and enjoy everything that surrounds us, and thus live an authentic experience.
Slow travel, slow living, slow food… Meet the slow movement
We have been living in the "fast movement" for many years and after this, the "slow movement" was born, thanks to a society that is more conscious. This movement or philosophy of life shows how "fast" we do things and how little time we really dedicate to more personal matters.
Technology and work are two key factors that make us feel the need to always be in constant motion, without giving the necessary importance to rest or personal and family relationships.
In this way, through this movement, the aim is to change the way we do things. We have to learn to do them in a concrete way that does not lead to unnecessary stress and burden.
The benefits of slow travel
After knowing what slow movement and slow travel consist of, we want to comment on the most important advantages that this different travel experience can bring you.
One of the most important advantages is that traveling slowly allows you to enjoy much more of everything that surrounds you. This is due to the fact that you really travel less stressed and try to live in the present, to live the local culture. To achieve this, we will explain later how to travel slow and how to organize a trip of this style.
Another benefit you get by traveling through this style is that slow travel is also considered eco-friendly since fewer destinations are visited and therefore, the carbon footprint of each of the destinations is reduced. It is another reason why people choose to travel this way.
Another of the most important benefits of traveling slowly is that you will save money and spend less on your trips. Typically, transportation is one of the most expensive factors in traveling, and therefore traveling less or reducing commuting means you can save more.
Next, we want to leave you a series of tips, in case that after reading about slow travel you decide to take a trip following this philosophy:
Do not do organized trips
One of the main requirements for slow travel is not to travel through organized trips, with long itineraries or the typical tours. Through this type of organized trip, you will be able to see many places but you will not really enjoy or appreciate each of the places you visit.
It is advisable to do a previous organization but of more logistical aspects that will make your slow travel more practical.
Slow travel invites you to get lost and to explore the area to be surprised by everything that a place has to offer. It also invites you to get out of your comfort zone and discover new things.
Spend more days in one place
Another of the most common recommendations in this type of trip is to spend as much time as possible in the same place since the more days you stay, the more you will be able to appreciate the new places. Therefore, you will have more time to explore, discover new places and also to live like a local.
Slow travel: why is it so attractive?
Little by little, this trend and philosophy of life are impacting more and more people who decide not only to travel in a more conscious way but also to live their life and their day to day following these practices.
It has become such an attractive way of traveling since it allows people to explore unknown places, in a much more sustainable and also a much more conscious way.
Best destinations to slow travel
People who want to explore this type of trip will be able to discover authentic wonders hidden all over the world. Next, we will make a recommendation of the 3 best destinations to slow travel:
The first place we want to recommend is Zanzibar in Tanzania. This place has become one of the best paradises on earth, where you can enjoy long white sandy beaches, turquoise water and above all, you can enjoy a great calm. In addition, the residents are usually very welcoming and hospitable people, so they are always willing to help you.
Another place we wish to comment on is Da Nang, located in Vietnam. As it is the third-largest city in the country, you can enjoy very different plans nearby. You can enjoy its beaches, know the cathedral and the Museum of Cham. In addition, it is a city that stands out for its vegetation, so you will feel like you are in an authentic oasis.
The last recommendation we want to make is Puglia, one of the best secrets in Italy and a destination that very few people know about. Alberobello, Gravina, or Polignano a Mare are regions known for their beaches and beautiful rocky villages.
Last Minute new From Roll & Feel Sign-up
Stay in touch with our latest
news