WHO WAS FRANK LLOYD WRIGHT? HIS MOST IMPORTANT WORKS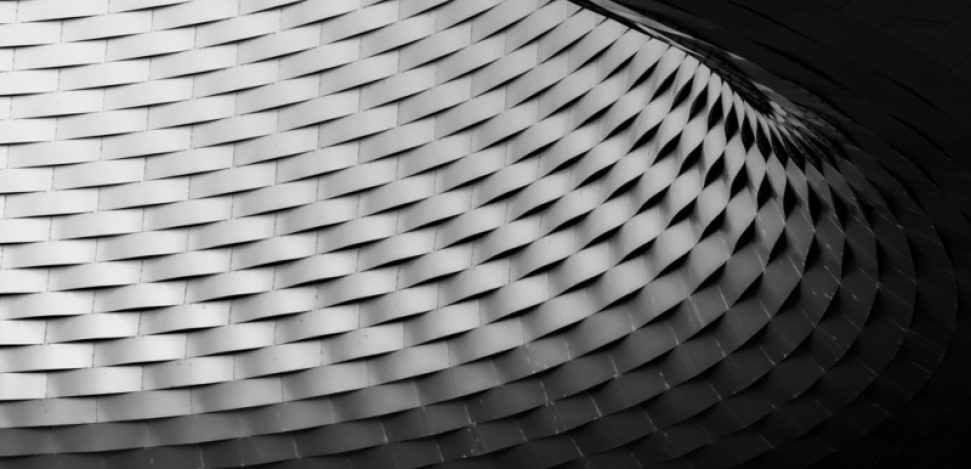 Even if you have never set foot on American soil, there is no doubt that you have already seen – even if only in images – a Frank Lloyd Wright project. Author (among other things) of the iconoclastic Guggenheim Museum in New York and of several cult houses seen in the films of David Lynch and Ridley Scott. This prolific creator, who died in 1959, has inherited the status of the most famous architect of the 20th century in the United States. We'll show you his best works!
An architecture deliberately open and in osmosis with nature
Frank Lloyd Wright wasn't too fond of big cities in full mutation and their "human cages" that swarmed up to the sky. The man who began his career in 1889 in a Chicago in full modernist effervescence preferred to expatriate to the famous "suburbs" and create there numerous individual houses with a very innovative style for the time. 
It was in the outskirts of the big American cities that he gave his letters of nobility to the style of the "Prairie School", of which he was the instigator, with houses that were unfailingly sober, elegant and open to nature. An authentic signature that will be reflected in the vast majority of his projects, a total of 800 of which only half will be built.
It's all these different contributions to American and, more broadly, world architecture that UNESCO now intends to celebrate, preserve and make known to the greatest number of people. 
In addition to the incredible Guggenheim Museum (the master's last work at the age of 92) and the inescapable Fallingwater, also known as "the waterfall house" in Pennsylvania, the Frederick C Robie House in Illinois, the Hollyhock House in California, the Herbert and Katherine Jacobs House in Wisconsin, Temple Unity in Oak Park, as well as the architect's homes and studios in Taliesin, Wisconsin and Taliesin West in Arizona have also been added to the list of UNESCO World Heritage Sites. 
🔥 WHO DESIGNED THE GUGGENHEIM MUSEUM? THINGS YOU DIDN'T KNOW
Unity Temple in Oak Park, Illinois (1905-1908)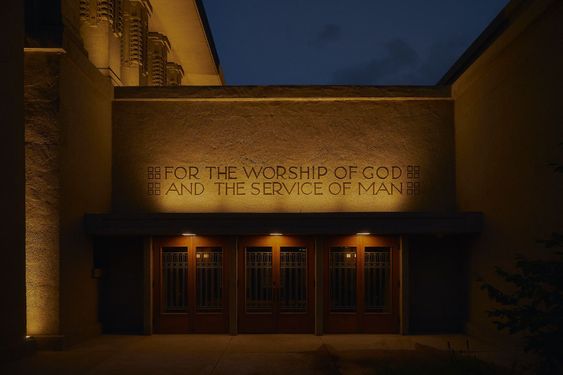 Revolutionary for its time, this place of worship based on the design of a square was built in reinforced concrete. A Unitarian himself, the architect designed the entire building, including the stained glass windows and the lighted ceiling that let in natural light. Considered one of the architect's masterpieces, the Unity Temple greatly influenced modernist architecture.
Imperial Hotel in Tokyo (1923)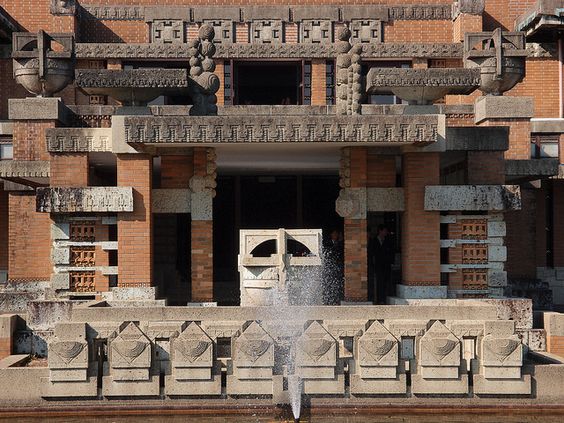 The original 1890 building was replaced in 1923 by a new pyramidal version inspired by the Mayan style. Wood, the traditional material of Japanese architecture, was replaced by reinforced concrete, stone and brick, which allowed it to narrowly escape a major earthquake in the same year. 
In 1968, the hotel was demolished and only the main entrance was saved for display at the Meiji Mura, an architectural theme park near Nagoya. The rest of the structure has meanwhile given birth to a new luxury hotel of the same name.
Ennis House in Los Feliz, California (1924)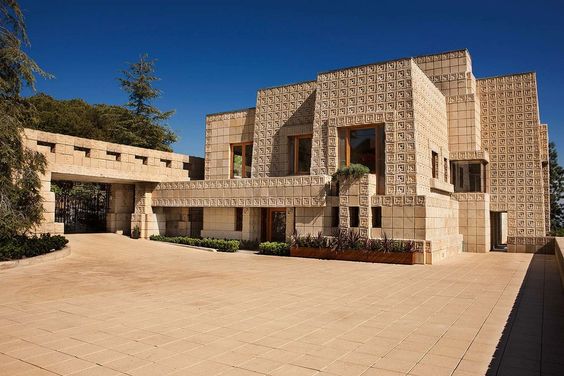 This monumental house is a true Hollywood icon that has been seen in numerous films, from Mulholland Drive to Rush Hour to Blade Runner. Its textured concrete decorated with patterns, the "Textile Block" so dear to Frank Lloyd Wright, isn't without reason. No less than 27,000 blocks make up this Mayan-inspired building, a tour de force at a time when the use of concrete was completely non-existent on private sites.
Arizona Biltmore Hotel in Phoenix, Arizona (1929)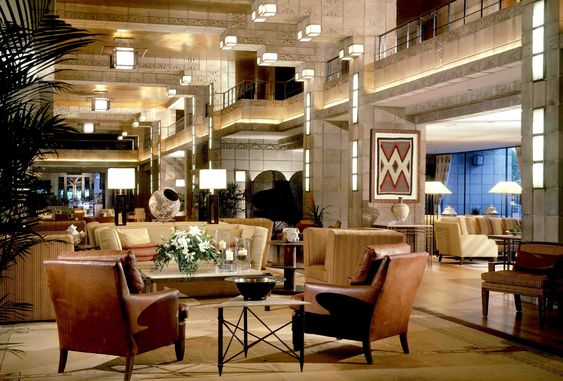 In all likelihood, Frank Lloyd Wright collaborated with architect Albert Chase McArthur on this vast hotel complex. The same concrete block system used by Frank Lloyd Wright in his private residences in Los Angeles is used here, decorated with a geometric palm leaf pattern reminiscent of Arizona's arid climate.
Taliesin West, Scottsdale, Arizona (1937)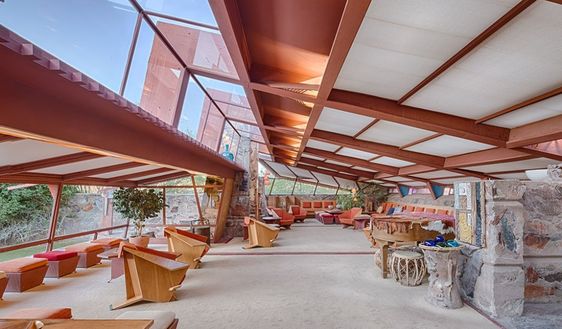 The American architect's winter residence (his summer residence was located in Spring Green, Wisconsin), this utopian project was designed on a vast plot in the middle of the Arizona desert. 
In order to preserve the landscape as much as possible, he made do with materials found in situ (volcanic rock, sand…) to build this community estate which housed his offices, the lodgings of his apprentices, several theaters and swimming pools. 
Inside, the architect himself designed all the decoration and furniture. Today, the complex houses the School of Architecture and the Frank Lloyd Wright.
Johnson Wax Company Headquarters in Racine, Wisconsin (1936-1939)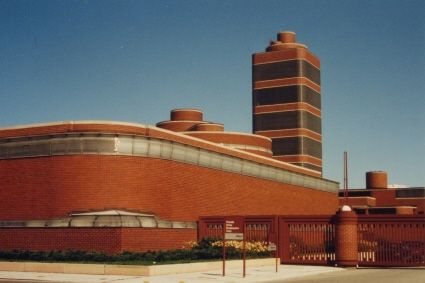 In 1935, Herbert Johnson, the heir to the household products empire, decided to call on the architect for the project of a new administrative complex for his factory. 
In the absence of any surrounding nature, Frank Lloyd Wright deemed it unnecessary to provide any, preferring to "recreate nature" inside. 
To do this, he set up a system of tubular structures, topped by a luminous ceiling, designed to recreate the atmosphere of a pine glade. A real architectural tour de force, the reinforced concrete building also has the particularity of not having any right angles.
Guggenheim Museum, New York (1956-1959)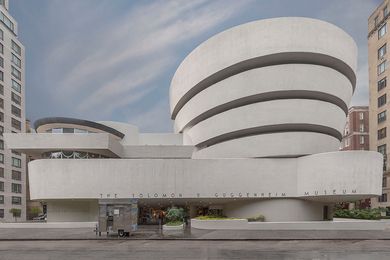 If ever a museum was built, it was the Guggenheim Museum in New York. Opened in 1959, the year Frank Lloyd Wright died at the age of 92, the museum's unique design is built around a huge skylight and a spiral ramp. This tribute to the fluidity of concrete influenced many contemporary architects.
David Wright House in Phoenix, Arizona (1952)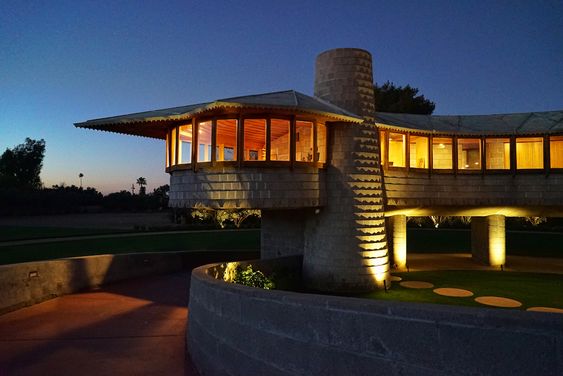 Completed in 1952 by Frank Lloyd Wright for his son David and his wife Gladys, this house was threatened with demolition in 2012 before being purchased by an anonymous benefactor. Considered one of his most innovative works, it prefigures, through the originality of its circular concrete spiral plan, another of his most emblematic creations: the Guggenheim Museum. 
With its 360-degree view of the Arizona desert and the picturesque Camelback Mountains, it offers an openness to nature and a successful integration into its environment, the two common denominators of Frank Lloyd Wright's architecture.
Annunciation Greek Orthodox Church in Milwaukee, Wisconsin (1959-1961)
This church, one of Frank Lloyd Wright's last projects, was unveiled after his death. What he called his "Little Hagia Sophia" synthesizes the codes of traditional Byzantine architecture as demonstrated by its blue dome, whose original tiles have been replaced by a more resistant resin coating.
House on the waterfall or Fallingwater, Pennsylvania (1936-1939)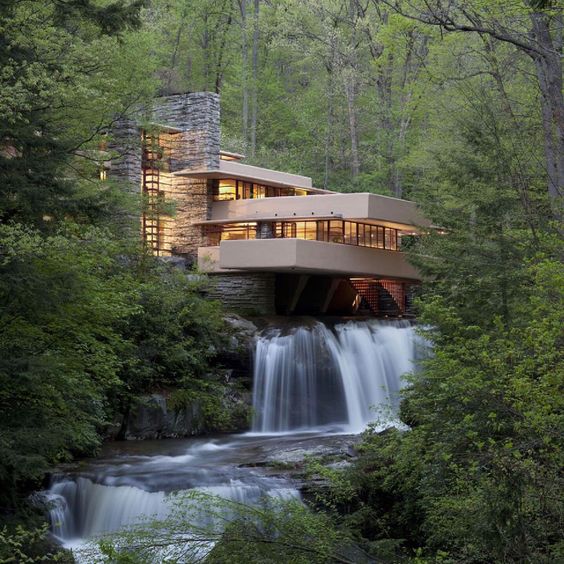 Built for businessman Edgar J. Kaufmann, this iconic home by Frank Lloyd Wright revolutionized the design of a home built on a natural site. In total osmosis with nature, it's located on the forested edge of the Bear Run River. 
Inside, the decision to open up the space accentuates this feeling of immersion. Alfred Hitchcock was largely inspired by it for his film North By Northwest. With more than 4 million visitors to its credit, there is no doubt that this masterpiece continues to fascinate.