The Best German National Parks you need to visit!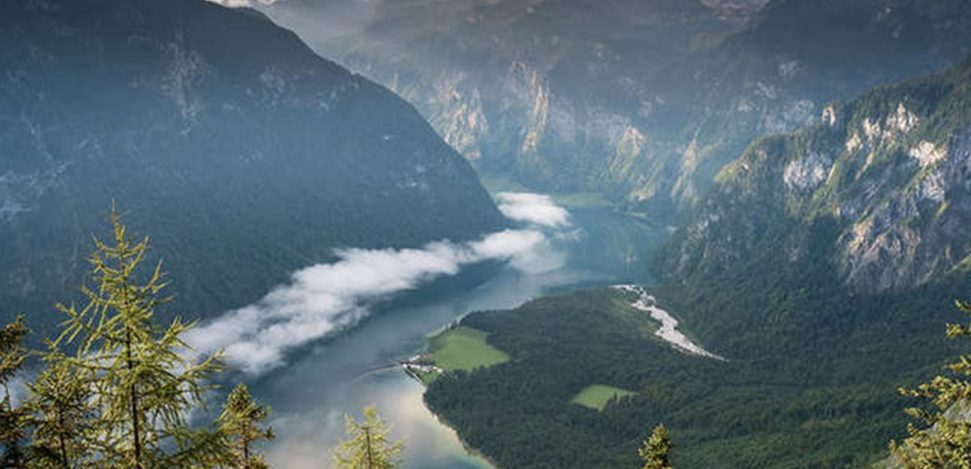 If something stands out about Germany, in addition to its cities full of culture and history, it is for its incredible natural landscapes. In the surroundings of some of the most urban cities in Germany such as Berlin, Hamburg, or Munich, you can find a large number of lush forests perfect for resting, walking through impressive nature, and disconnecting from the hustle and bustle of cities. Although it may not be the first thing that comes to mind when we talk about Germany, in today's post we want to comment on some of the best German National Parks that you have to visit.
Top 5 best national parks in Germany
Specifically, we want to comment on the 5 best national parks that you can find throughout the country.
Berchtesgaden National Park
The first park we want to mention is the Berchtesgaden National Park. This is located towards the south, specifically in Bavaria, and is considered to be one of the first places that was declared a protected area since it offers one of the best views of the mountainous landscapes, surrounded by six mountain ranges. The Berchtesgaden National Park stands out because it is home to Konigssee, a huge lake surrounded by impressive Alpine mountains that dominate practically the entire landscape. This place undoubtedly has everything you need to live an adventure in the mountains.
Saxon Zwitserland National Park
Another national park that you cannot miss is the Saxon Switzerland National Park. This one is right on the border with the Czech Republic and we could say that it is one of the most impressive places you will ever see. This park stands out for its rocky landscapes and its incredible canyons that will make you feel like you are in a movie. If you want to enjoy one of the best views of the park, you should go to Carolfelsen, from here you can see the panoramic views of each of the ravines and the large number of forests that are below. Due to its impressive characteristics, the Saxon Switzerland National Park is considered to be one of the most romantic places in the world so you cannot stop going to this place with your partner 🙂
If you still want to discover more national parks in Germany you can't miss Jasmund National Park. This is located in the extreme northeast of Germany and is considered to have a very similar appearance to the White Cliffs of Dover in the United Kingdom. Jasmund National Park will leave you speechless as you can enjoy the chalk cliffs facing the Baltic Sea, of a height of 161 meters above this sea. If you want to enjoy the best white cliffs while seeing the greenest and most beautiful sea and forests, Jasmund National Park is undoubtedly the best place you can go. In addition, this is one of the national parks that offer more activities since you can enjoy this great landscape on foot, on hiking trails, or even by bicycle.
Another of the national parks that you cannot miss is the one located on the shore of Lake Müritz. If you want a quiet, serene place in which to enjoy some great moments of relaxation, the Müritz National Park is undoubtedly the best option for you. And it is that in addition to enjoying one of the best places, you can visit more than 130 lakes located throughout the park, an ancient forest and without a doubt, some of the best views. Like other parks we have mentioned, this one can be visited on foot, by bicycle and even canoe trips are also organized. The only thing left to say about this park is that if you are a big fan of birds, this is the best place from where you will be able to observe them.
Black Forest National Park
The last park we want to mention in this article is the Black Forest National Park. This is characterized by having one of the greenest, lush and most spectacular forests.
Strolling through this park, you will be able to walk among shades of green, yellow, and red that will undoubtedly leave you unstoppable. In addition, so that you can discover some of the best places, you can take different hiking trails. There is a path known as the Lotharpfad path, this is the shortest and also one of the most popular. Even so, you can also find other longer routes such as those Lake Wilder See or Mount Hornisgrinde.
And, in case you wish to visit more natural beauties, you should consider the following national parks:
Western Pomerania Lagoon Area National Park
This park is the largest of the Mecklenburg-Western Pomerania State, also located at the shore of the Baltic Sea. The Pomerania Lagoon offers different peninsulas and islands, with rich coastal fauna.
Kellerwald-Edersee National Park
Declared a Unesco World Cultural Heritage site in 201, the Kellerwald-Edersee park is famous for its unique red beech forests. If you visit this amazing place, you may have the possibility of seeing honey buzzards, eagles, red deer, lynx, among other wild animals. If you visit these national parks, you will be immersed in nature that has inspired well-known artists and writers. We hope you enjoy this natural landscape!