The best mobile video editing apps you must try!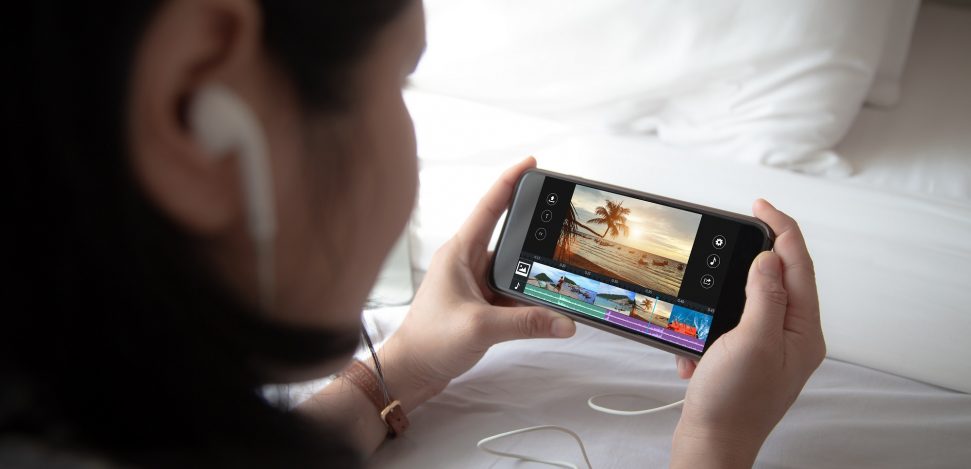 We know that each time and thanks to new technologies, art, and all its disciplines are increasingly present in our daily life. If in previous articles we have talked about the
best tips for taking photos with iPhone
, the best applications to make illustrations, and Digital Art, today's article, we want to dedicate it to everyone who is passionate about video and editing. Therefore, we want to comment on which are the best mobile video editing apps that you should try without any doubt.
The best mobile video editing apps
Currently, audiovisual creation has become another of the most developed artistic disciplines due to the fact that social networks are increasingly oriented towards the creation of this type of content. As we mentioned before, in today's article we want to recommend some of the best applications with which you can create and edit videos.
The first application we want to mention is Adobe Premiere Clip. This one, despite the fact that it will be replaced by a new application called Adobe Premiere Rush, continues to work. Unlike the new version, it is completely free and you will be able to make all the creations of videos you want without any limitation. This app stands out for being very easy to use and for including numerous functionalities. With Adobe Premiere Clip you can create videos through photos or videos and you can also include music, titles, or any type of text. You should also know that with this application you will be able to export your videos with great quality and, most importantly, without a watermark.
InShot is possibly one of the most popular applications for editing videos and it has a very simple interface which makes it even easier to use this application. As an easy-to-use video application, it will meet all your expectations as it was developed to facilitate the creation of video content for the social network par excellence such as Instagram. Over the years, and as a consequence of its success, the app has included new functionalities with the aim of creating a very complete tool. It is important to note that this application is completely free, although it offers certain payment tools for users, both iPhone and Android, who want to invest in more functionalities.
Quik is probably another of the most popular applications to edit videos and, without a doubt, it has become the official application to edit videos created with a GoPro or with any other device. One of the most outstanding aspects of this application is that taking into account the different video clips that you want, it suggests which are the most important points of the clip so that you can create the best combination. In addition, taking into account all this information, it also suggests the most suitable music and the desired duration of the video. Thanks to all the suggestions that the app itself makes, it is able to create numerous pieces of video of a professional nature, only by choosing the clips that you have recorded yourself.
The next application we want to highlight is Splice, it is available only for the iOS operating system and has possibly become one of the most popular applications for making videos on both iPhone and iPad. We wanted to select it since it is an app developed by the same creators of the aforementioned application, GoPro. With a very simple and intuitive interface, you can trim and edit all the clips you want as well as add and customize the transitions you need. Another very outstanding point is that Splice includes a large built-in music library so you can customize and make your video look like it was made by a great professional.
FilmoraGo is undoubtedly the best application to edit videos for all those users who have an Android mobile. Like many of the apps that we have mentioned in this list, FilmoraGo allows you to add videos, transitions, texts and edit the clips directly from the application. Although it has a paid desktop version, with the mobile application you can make great creations using its basic functionalities from the app without a watermark and without any type of paid subscription.
If you want to edit videos through a mobile app and combine many clips, KineMaster is the application you need. You will be able to create large video edits with this application since it is a very complete tool that stands out above all for including numerous tracks in a single job, allowing you to place different videos on an editing track. With KineMaster, you will get very high-quality results through a very simple interface. In addition, it is perfect for users who have Android or Apple mobiles and with its free version, you will have all the functionalities you need.
The last application we want to mention is iMovie and this is the most classic application to make and edit videos from an iPhone. It is a very popular app since it is included in all Apple products and therefore, you can only use it if you have any of these products. We wanted to highlight it because, although it is one of the most classic applications, if you do not have great editing knowledge it is perfect for you being extremely simple and intuitive. In iMovie, you will have all the basic functionalities you need to edit and create great videos. You can trim clips, add music, record audio, and even add filters.
Last Minute new From Roll & Feel Sign-up
Stay in touch with our latest
news