Walk-in Day Tattoos: ETH x Smoking Paper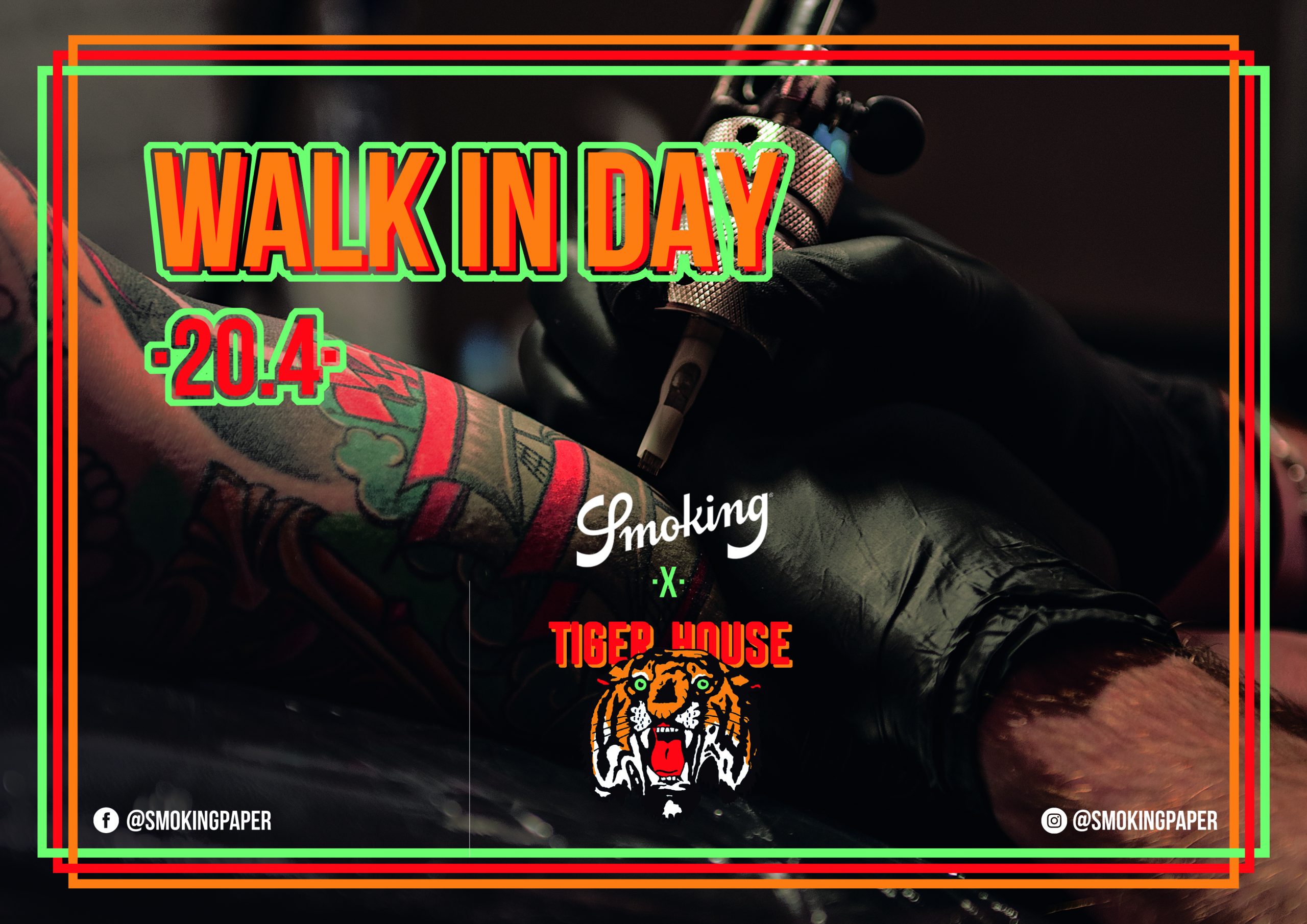 Art, tattoos, and personality expression have been part of Smoking's identity since the brand was founded. And since its inception Smoking® has had a special relationship with art and creativity, forming part of the main contemporary artistic avant-garde and forecasting future trends such as lettering.
We want to be an icon, a source of inspiration, a lever for continuous innovation that inspires others to create and be part of our mood.
Consequently, a great action arises in Italy that unites the art of tattooing and the Smoking brand, Walk-in day tattoos in the Tattoo Studio Electric Tiger House-ETH.
This action cropped up from the need to blend the art of tattooing and the Smoking brand. For this, a group of Italian tattoo artists decided to make available a series of designs that represents the Smoking brand and also reflect the great world of tobacco and marijuana, paying tribute to the month of marijuana.
In this way, to celebrate the famous day in a different way 4/20, from April 15 the tattooists of the Electric Tiger House, a famous Tattoo Shop, made different flash designs available so that people could contact the artist, book an appointment and reserve their design. Due to the pandemic produced by Covid-19, they had to adapt what is commonly known as a walk-in day, to security measures to always guarantee all health protocols.
Specifically, the action was carried out by @abi_ab_tattoos, @6dita, @berly.boy, @danielescafati, @jimbo_ftw, @entics in Electric Tiger House, the Tattoo Studio from Vincenza, Italy.
What is a Walk-in Day Tattoo?
Surely if you are familiar with the world of tattoos you already know what a Walk-in Day is, even so, for all those who do not know it yet, we will tell you all about it!
As its name suggests, a Walk-in-Tattoo refers to the tattoos that you get immediately upon entering the studio on the same day without prior thought.
Currently, the vast majority of people have the conception that a tattoo is an important decision since tattoos are considered to be a calculated resolution. Tattoos usually have a really important meaning for people since, in the end, it is a way of symbolizing something on your skin for life.
Precisely, a Walk-in-Tattoo reflects the complete opposite. If you are an adventurous, spontaneous person who likes to experience new things, without a doubt these types of tattoos are for you.
In general, these tattoos tend to be much smaller jobs, you would not make a full sleeve in a walk-in tattoo, although there are options for everyone and all tattoo artists. The conception of tattoos is changing more and more and these types of tattoos reinforce the fact that a tattoo does not have to always symbolize something really important in your life.
A Walk-in-Tattoo is perfect for the free imagination of each person since, not being a planned design, the meaning and symbolism lose importance. Furthermore, a tattoo can always be interpreted in different ways.
How are flash tattoos characterized?
Have you ever heard of tattoo roulette? It is believed that these types of meetings have led to what is now known as flash tattoos. Several people would get together, spin a roulette wheel and that would determine the design of their tattoo.
The trends in tattoos are constantly changing and if before very elaborate tattoos stood out, now they stand out smaller, simple tattoos with few details, which also reduces the tattoos cost. For that reason alone, flash tattoos have become the best option for many people.
And precisely, it is this type of tattoo that the different tattoo artists who decided to take part in this action did. In recent years, flash tattoos have become one of the biggest trends since they consist of fast, small, and minimalist tattoos that are done during meetings and events.
Last Minute new From Roll & Feel Sign-up
Stay in touch with our latest
news