HOW TO BECOME A DJ PRODUCER: STEP BY STEP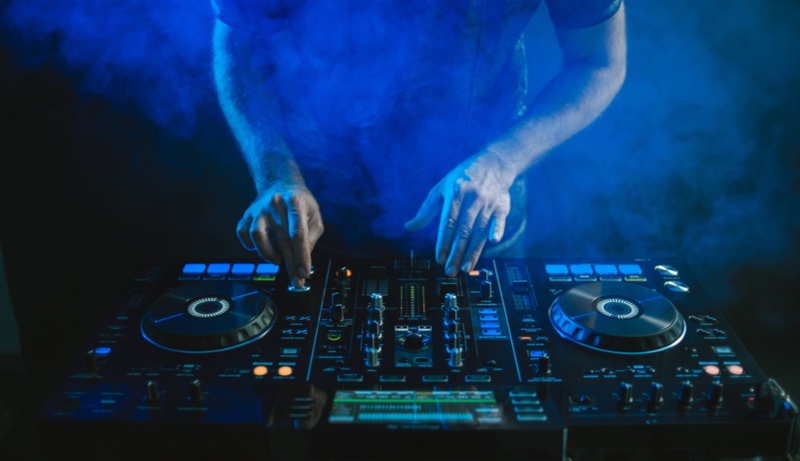 You've just watched the latest David Guetta or Carl Cox video, or maybe you've just come back from a festival and thought, "How to become a DJ producer? Why not me?" It's a nice dream, but first, you have to know how to get started!
Here, we help you climb the steps to the podium 😉
How to start DJing 
To become a DJ is to become a hunter and a rock star of modern music. To enter the hall of fame of DJs who perform at the biggest festivals, who are part of EDM, hip-hop, funk, disco, techno, and all the other most listened to and shared music styles, and to present yourself as the new da Vinci of music creation: a real obstacle course awaits the self-taught beginner that you are! 
It's enough to make you dizzy and accelerate the Bpm of your heart, young padawan.
Here are a few tips to get you started as a DJ.
1 – You will have to be discreet at parties!
Stop hogging the speaker at a party to play that new sound that "everyone will love" and don't try to make transitions by fiddling with the volume knobs because "that's how the pros do it during a DJ set". 
No, the pros know that there is a time for performance and a time for discovery or entertainment. Take a step back, let everyone enjoy the evening, and you'll be called upon in due course when you're a real party entertainer. From then on, you can play all the "not so famous" sound you want.
2 – Create a music library
There was a time when DJs had it tough. Before the age of mp3 and online databases, vinyl was the only music source a DJ could work with. These brave pioneers spent years scouring record stores for the rarest musical nuggets. 
Today, with the Internet, it's easier to find samples to mix a song with a Nigerian percussion instrument and blend it with a Detroit electro beat.
However, never forget that this job is about having fun and constantly discovering. Like Indiana Jones, go on an adventure! Don't lock yourself in libraries. Travel the world in search of sounds that will shape your repertoire and further define your musical style.
3 – Find a stage name 
If Calvin Harris had used his real name, Adam Richard Wiles, he might not have achieved the success he enjoys today. Neither would the Swede Tim Bergling, who leaves his musical legacy to the world by signing Avicii. Aliases are commonplace among international DJs. 
But be careful when choosing your DJ name, or you'll end up like DJ Snake, who admitted in an interview that he thought his stage name was bullshit. It's hard to change your name when you have a billion views on YouTube…
4 – You have to practice in the shadows!
Nobody is born prodigal. Life is a matter of luck, but also of hard work. We give ourselves the means to put opportunities in our path, but we have no control over their nature. The variable factor over which we have power is what we do with these opportunities and how we take advantage of them to access the next ones.
Since the dawn of time, learning and passing on have been the keys to all art, and false notes are an essential part of the experience. You have to take the time to take DJ courses, practice, and practice, accept your failures, and then share them with a small sample of people. 
The "that's wrong", "it's okay" or "it's not wrong, but…" are the charcoal that will one day fuel your fires on the dance floor of the nightclub where you work.
And it's not just about ear work, there are specific skills and techniques to develop. Always remember that before becoming a star you are looking to become a versatile employee for nightclubs and bars. You must be able to offer an eclectic musical program, a musical entertainment project adapted to the needs of your clients, and a spectacular and appropriate staging. These are skills that cannot be improvised!
5 – Take your training seriously!
Let's face it, you're not going to become an amateur DJ by reading this article. We don't pretend to teach you all the tricks of the trade in just 5 minutes. Others have the skills to do that.
How does one become a DJ host? The good news is that the world of electronic music is expanding. However, the competition is tough, so perfecting your technique daily is necessary to become the best. That's why many amateurs start learning how to mix.
To become a professional DJ, it's possible to train at a DJ school that offers courses to become a DJ producer and to learn to mix and master, and produce music. The school's teachers, who are usually turntable professionals, can teach you scratching, remixing, and the musical culture of the profession so that you become a professional in your own right
A professional DJ training center or DJ school will give you a diploma certifying your technical and artistic qualifications to handle the turntables. This recognized diploma is very useful, if not indispensable, to get a foothold in the world of DJing. The diplomas differ from one school to another, so it is a criterion to take into account when choosing.
6 – You need good equipment
Start by changing your headphones to DJ headphones. The ear is still the musician's best asset. Then, look for a laptop capable of running a Virtual Dj program.
The aim of the game isn't to break your piggy bank the first time. In this area, the best advisors are the salespeople. Tell them your budget and your expectations to find the right DJ equipment. And don't buy a boat until you learn how to swim 😉.
7 – If you want to be a DJ, say no to drugs!
Is it for the love of electronic music or the lifestyle (or both)? Your parents already had a heart attack when you told them about your plans to become a professional DJ, so please don't end up mixing drugs and alcohol every night.
Yes, I know, we sound like a guidance counselor teaching you how to put on a condom and telling you "drugs are bad". But trust us, if your ambition to become a generalist DJ is based solely on your desire to party every night, you'll never make it into a club through the back door.
8 – Adopt a professional attitude
When you enter the event's jungle, it's best not to go it alone. Start by gaining notoriety from a nightclub bartender and end up with a sound engineer, nightclub managers, and music production students. All phone numbers are good to take and will become stepping stones to climb if you adopt professional behavior and reflexes. 
Ibiza isn't for now, but someday it will be!
Relax dreamers, you won't be playing Tomorrowland tomorrow. Maybe not next year either, but starting with these tips can make it all even more possible!