HOW TO SKIMBOARD? TRICKS FOR BEGINNERS!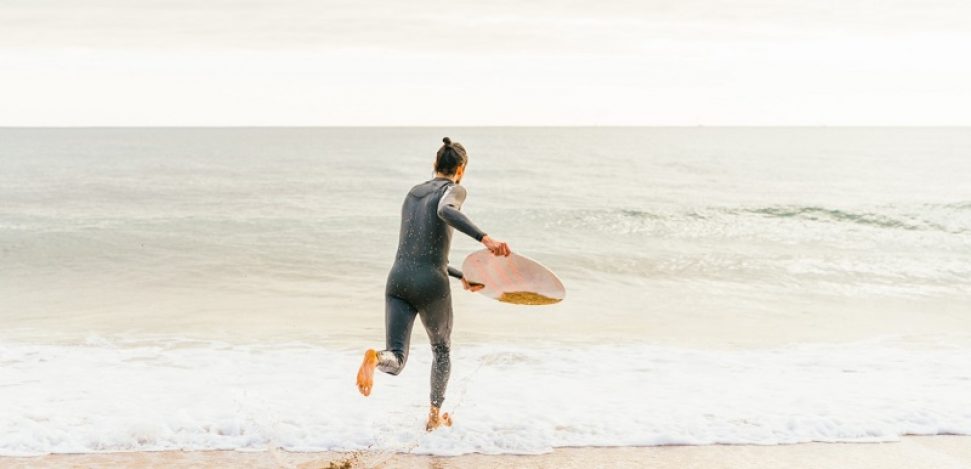 We recently talked about the best tips for surfing, in this post, it's time to talk about skimboarding. This sport has a great route, created in 1920 in Laguna Beach. Do you want to learn some quick tricks to enter this world and slide both in the waves and on the sand? We will tell you about them in today's post! 😉
What is skimboarding?
Its initial name was "skidboarding". It comes from "skid", to slide without turning. In its beginnings, it was a substitute for the days of flat surfing, high tides, and breaks on the coast, but over time, it ended up gaining the rank of official water sport!
It's currently popular, as are other water sports such as body boarding or boogie boarding. In the 1980s, Tex Haines helped make the sport popular.
Choose your skimboard
As with surfboards, skimboards change according to price and quality. At first, it will be difficult for you to choose a board, try to choose a cheap one first, so you can buy a more expensive one when you know which one is ideal for you. We recommend that you don't use a carbon fiber board first.
We also recommend you to buy a surf wax for the skimboard, it will help you for a better grip! 😉 In addition to this, try picking up a board with a traction pad. It will also give you a necessary grip to learn more easily.
Here are 5 steps to get you started!
Choose the right sand: the sand is very important, try to choose one with good consistency. Avoid sticky, rocky, and soft sand. It's also interesting to go to a beach with a slope, this will help you learn more easily!
Run: The faster you run, the more you'll advance in the slide. Therefore, you'll be able to gain some momentum.
Drop: Holding your board, drop the board onto the sand as the wave begins to reach the wet sand.
Slide: Now it's time to get on the board, just like you do on your floor with your socks on! Step in front of the center of the board with your feet out to the sides. Keep your balance!
Wave Skimming: Learn to Skimboard the Wave
Now let's talk about the tips to continue on the waves! Keep in mind that from these steps, everything becomes more complicated. 
Drop your skimboard
The control will depend on how much you press the "nose" of the board as you go from the sand to the waves. Try to take the pressure off your front foot, this will allow the board to stay in the water.
Read the waves
Remember that each place has different types of waves, always try to observe the environment and the right moment of the wave!
Ride the Wave by Doing a "Back Wrap"
Wait until you find a wave breaking near the shore and head straight for it. Bend your knees and do a 180º turn!
Things to Remember When Learning 
Start slow
It's important to go step by step and get familiar with a skimboard first before going straight into a wave! Learning can take a few months, don't give up!
Practice a long time
Skimboarding is based on reflexes and muscle memory, we recommend you practice the sport at least twice a week if you want to learn faster.
Anticipate your transitions
Learning to read the waves is of the utmost importance, try to have the synchronization under control too! We know that the transition can be very complicated since you go from a stable and firm surface to a moving and unstable surface. But with all these tips you'll surely get it!
But remember, everything has its time! 😉