LGBT SHOWS ON NETFLIX YOU SHOULD WATCH!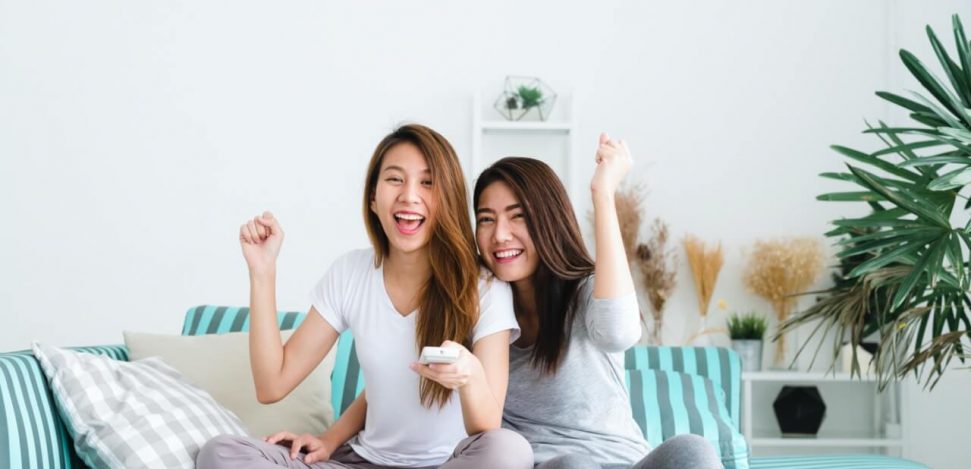 In recent years, LGBT representation in movies and Hollywood has come on in leaps and bounds. From queer stories being released in mainstream films to transgender actors finally being cast in trans roles. Queer entertainment is becoming more and more available, and Netflix's LGBT section is doing its part.
In this post, we will recommend some of the best LGBT shows on Netflix that you should add to your list! Most of them are Netflix Original series and productions and bring LGBTQ characters to our living room!
Netflix's increasingly inclusive catalog 🙌
Remember when LGBT characters were the sidekicks? The classic stereotype of the white gay guy who showed up to be the comic effect? We remember that too, and thanks to the universe these characters have finally evolved. 
Without overshadowing some of these characters, of course, because many of them started the path for the gay-positive representation we see today. However, as of 2021, the representation of the LGBTQ community on television has never been better. 
The number of gay, lesbian and queer characters appearing in the films and series we watch has increased by more than 100%. Recently, Netflix has built a reputation for being one of the most inclusive content platforms, whether it's with originals like OITNB, Dear White People, or Hollywood, or with network classics like American Horror Story, Pose, or Ru Paul's Drag Race. Netflix has a huge selection of amazing LGBTQ+ comedies, dramas, and thrillers, so we've rounded up some of the best ones you can stream right now.
The best LGBTQ shows on Netflix: our ranking
If you don't know which TV shows to choose or which one to start with, today we want to recommend to you the best LGBT series according to our criteria. It doesn't mean that not all of them are good, but, these are our favorites 😉.
Sex Education
Netflix's LGBT series Sex Education follows a sexually awkward teenager (Asa Butterfield) living with his sex therapist mother (Gillian Anderson), and his friendship with openly gay character Eric (Ncuti Gatwa). It received high praise from fans and critics alike for the cast's performances, for tackling sensitive issues, and for its diverse representation of the LGBT community. The streaming service subsequently announced that the series received over 40 million streams in its first month of release, making it one of the most successful shows in Netflix's history.
San Francisco Stories
The 10-episode revival of Netflix's iconic queer series shows Mary Ann (Linney) as she returns home to San Francisco, where she reunites with her ex-husband Brian and daughter 20 years later after leaving them to pursue her dreams. Recurring cast members include Bob the Drag Queen (RuPaul's Drag Race) as burlesque club manager Ida Best; Jen Richards (Her Story) as a young Anna Madrigal; and Daniela Vega (A Fantastic Woman) as trans woman Ysela, who plays a pivotal role in Anna's life.
Ru Paul's Drag Race
RuPaul's Drag Race documents RuPaul's search for America's next drag superstar. 
The show has spawned 13 seasons to date, as well as six editions of All Stars (the first three seasons, unfortunately, are not available on Netflix), and has launched the careers of several drag performers including Bianca Del Rio, Adore Delano, Courtney Act, Jinkx Monsoon, Bob the Drag Queen, Trixie Mattel, Katya, and Shangela. 
Although it is often said that "drag will never be mainstream", the series became the first to win Primetime Emmy Awards for Best Host and Best Reality Competition in the same year.
Heartstopper
Following the love story between openly gay Charlie Spring (Joe Locke) and buoyant rugby player Nick Nelson (Kit Connor), Heartstopper is a light and breezy watch that features little trauma and conflict, and that's exactly what queer young people coming to terms with their sexuality or gender identity need to see. 
As their friendship turns to romance, Charlie and Nick, as well as their circle of friends, attempt to navigate the ever-relatable journey of self-discovery.
The Umbrella Academy
Adapted from the comic book series of the same name, created by My Chemical Romance star Gerard Way and Gabriel Bá, The Umbrella Academy follows a dysfunctional family of super-powered beings who reunite after the mysterious death of their father. Upon its premiere, the series received praise from fans and critics alike for the cast's performances and visual effects. The second season received more praise for exploring themes such as racism, sexism, and homophobia.
Vis a Vis
This lesbian series is like Orange Is the New Black but in Spanish. And with less intimacy and more illegal things happening. Some say it's a cross between Breaking Bad and OITNB. And some say it's even better than OITNB, but you should watch both and decide for yourself. 
In the series, the main character and good girl Macarena gets involved in some bad things and has to go to jail. In jail, she meets a lot of queer women, like the fearsome Zulema. Naturally, there's plenty of drama, lesbian love, plot twists, amazing actresses, and complicated relationships.
Bonding
Based on the experience of its creator, Rightor Doyle, Bonding follows Tiff (Zoe Levin), a psychiatry student and dominatrix, who asks her gay high school best friend, Peter (Brendan Scannell), to be her assistant. Throughout the series, Peter grapples with his sexuality and his new venture into sadomasochism, while Tiff tries to balance her career with her clients. After a hiatus, the series returned in 2021 to greater critical acclaim.
Uncoupled
Gay romantic comedy productions have been on the rise for a while now, and we are very grateful for that because so far they have served the purpose of being entertaining. So Netflix decided to release Unpaired, a series starring Neil Patrick Harris (How I Met Your Mother), and so on, which is on the platform since29 July 2022.
Neil plays Michael Lawson, a gay man whose life seems like a fairy tale as he has an amazing job as a real estate agent in New York, a supportive family, good friends, and a 17-year relationship with his boyfriend Colin (Tuc). Watkins). However, everything changes when, on the eve of his 50th birthday, Colin leaves without a word. So now he has to face his two biggest nightmares: losing the one he considered his soul mate and being a 40-year-old bachelor in New York.
Now that you know a bit more about these amazing LGBT series on Netflix, which one will you watch this weekend?