RIOT FEST 2023: DATE, LINEUP, AND MORE!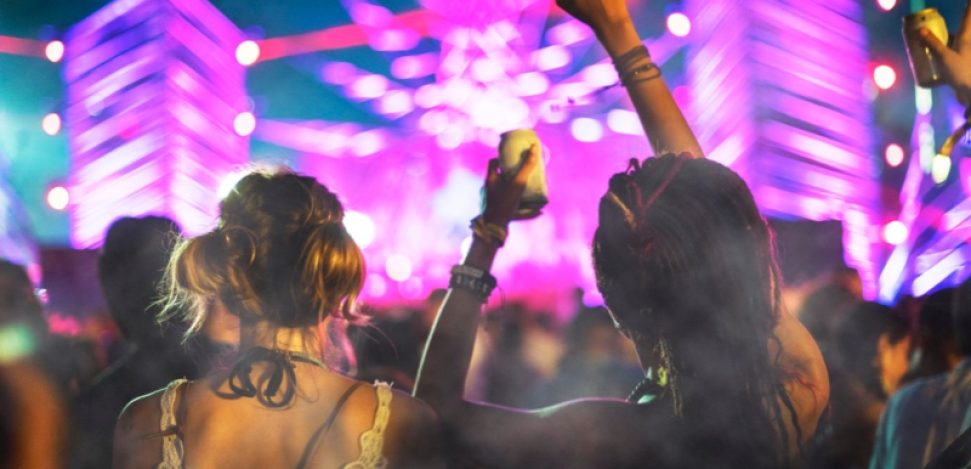 Riot Fest makes its comeback in Chicago, Illinois, spanning from September 15th to 17th, 2023. Set within the grounds of Douglass Park, this renowned rock festival showcases an impressive lineup featuring established headliners as well as promising rising artists.
Tickets for Riot Fest 2023 are currently available for purchase!
What is Riot Fest?
Originating in 2005 as a multi-venue music festival, Riot Fest has evolved into a three-day outdoor extravaganza since 2012. After three years in Humboldt Park, Chicago, the festival shifted to its current venue, Douglass Park, in 2015.
Riot Fest is renowned for its knack for reuniting iconic bands and staging full-album performances. The festival has hosted unforgettable reunion shows featuring bands like Jawbreaker, The Replacements, Naked Raygun, and the Misfits. Founded by Mike Petryshyn and the late Sean McKeough, the festival maintains its distinction as one of the largest independently owned music festivals in the United States!
Who's Topping the Bill at Riot Fest 2023?
Riot Fest 2023 is set to be headlined by a star-studded lineup including Foo Fighters, The Postal Service/Death Cab for Cutie, Turnstile, The Cure, The Mars Volta, and Queens of the Stone Age. 
Who Else Will Be Taking the Stage at Riot Fest 2023?
The festival's roster also boasts an array of notable acts such as Mr. Bungle, 100 Gecs, Tegan and Sara, Godspeed You! Black Emperor, The Gaslight Anthem, The Black Angels, The Used, Death Grips, Kim Gordon, PUP, Sleep Toke, Say Anything, Parliament Funkadelic featuring George Clinton, and more!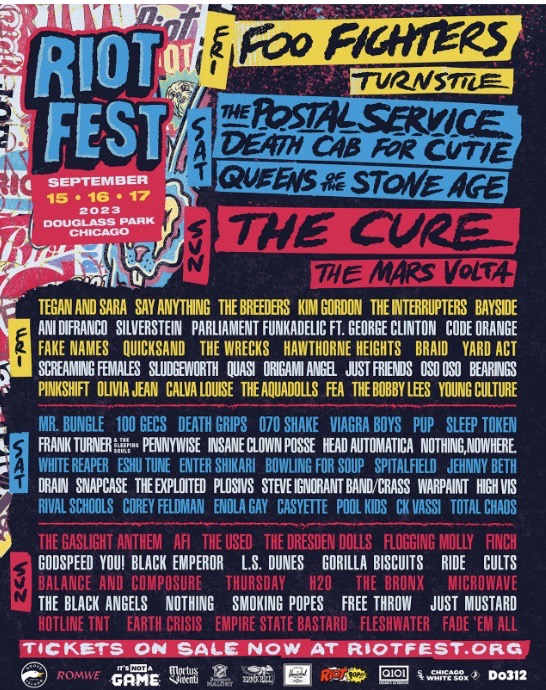 How Can You Secure Tickets for Riot Fest 2023?
Tickets for Riot Fest 2023 are currently up for grabs. You can purchase them through this link.
What's Included with Each Ticket Category?
A General Admission ticket provides access to the festival grounds from September 15 to 17, 2023, granting you the opportunity to enjoy performances on any of the stages throughout the park. Remember to keep your ticket as it will be used for entry on each day!
Re-entry isn't allowed for General Admission ticket holders, meaning that once you're inside for the day, you can't exit and re-enter within the same day. Those are the established guidelines.
Looking for a more elevated experience? Check out the Riot Fest Ticket Page for a comprehensive list of ticket choices! This includes VIP, Deluxe, and the innovative Deluxe+ pass.
Is Ticket Upgrading Possible After Purchase?
Absolutely! If you wish to upgrade your 2023 ticket, simply start by buying the new ticket category. Subsequently, get in touch with Tixr Fan support by completing a Tixr Fan Support request form or sending an email to support@tixr.com. They will assist you in this process. It's important to provide both order numbers, and they will arrange a refund for the initial order!
Do bear in mind that upgrades are only feasible within the same ticket types!!!! (e.g., 3-Day to 3-Day; 1-Day to 1-Day).
Are you ready?