10 BEST BARS IN MUNICH TO FIND TRADITIONAL LAGERS AND ALES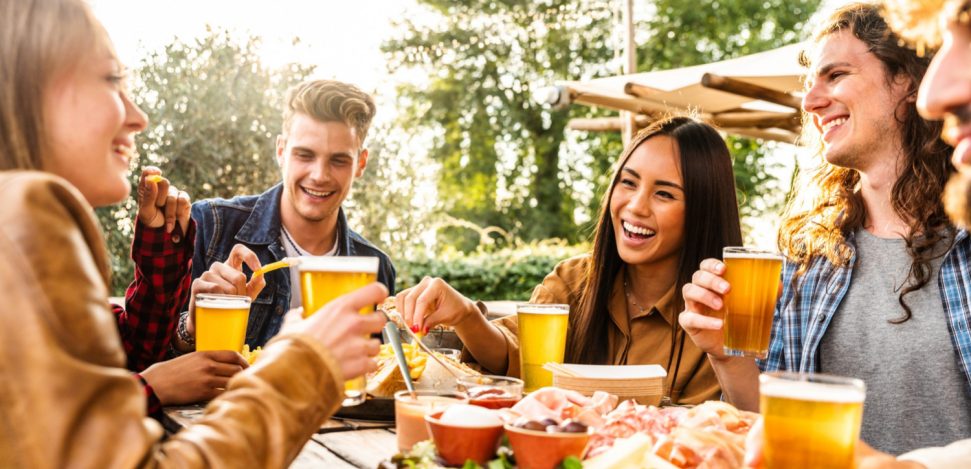 They wouldn't blame you if the first thought that comes to mind when you think of drinking in Munich is beer. For centuries beer is and has been, an important part of the culinary and cultural heritage of Munich. Thirsty? These are ten of the best bars in Munich!
10 Best Bars in Munich
Hofbräuhaus
We can't start this list with any place other than the best-known brewery in town. Hofbräuhaus is a must to see in Munich; It's a 16th-century gem spread over three floors of wooden tables with high ceilings.
It's popular, especially when the summer beer garden is open, and on weekend afternoons it's not easy to find a place!
The history of this bar began in 1589 and it has become the best beer hall in Munich and one of the most famous in the world. It's also considered a tourist site, so you have to try it!
 

 

 

Ver esta publicación en Instagram

 

 
Schumann's Bar
Schumann's Bar is perhaps the most popular in Munich due to the influence of Charles Schumann, Germany's best-known bartender. Schumann lives up to its reputation, as they make the best cocktails in Munich!
If you're lucky, you might get a chance to meet 80-year-old Charles, as he rarely happens to make drinks. Ask for his recommendation and an autograph too! 😉
Augustiner Keller
Augustiner Keller is a very popular brewery! It has a great traditional interior and a lively garden. It's considered one of the largest Biergarten in Munich.
It has a gigantic diner capacity and their great beer makes this "beer garden" one of the best in the entire city. It´s not only a drinks menu, as they offer perfectly toasted ribs, fantastic baked pretzels, and, obviously, high-quality local beers! Good prices and good service, check it yourself!
Zephyr Bar
Did you know that gin is also a very popular alcoholic beverage in Munich? There is plenty of it at Zephyr Bar! The gin selection on the menu is extensive and their gin cocktails are super popular.
Come to Zephyr Bar for their ever-changing cocktail menu, but you have to try the Duke Munich Dry Gin!
 

 

 

Ver esta publicación en Instagram

 

 
Weinhaus Neuner
Weinhaus Neuner is the oldest wine bar and has an extensive list of international and German wines! You have to go there to enjoy a glass or bottle of wine, it's a must if you visit Munich!
With such a long wine list, feel free to ask the friendly bar staff to help make a recommendation for you!
We can only say three things: excellent food, excellent wine, and excellent service.
Der Pschorr
Der Pschorr is the brewery of the Munich Hacker-Pschorr institution. Although it's located on the Viktualienmarkt, it should not be confused with its beer garden. Der Schorr has a great indoor restaurant and outdoor seating that you will enjoy for sure!
The wooden barrels are placed for hours under blocks of ice until they are hit, ensuring that each cup is cold and has a thick layer of foam.
While Edelhell is Hacker-Pschorr's specialty, you can also choose from variations of Dunkel or Wheat Beer, Hefe Weise, and Sternweisse!
 

 

 

Ver esta publicación en Instagram

 

 
StammBar
This hipster brewery in the trendy central Maxvorstadt district breaks the mold with a wall of self-service beer taps, powered by chargeable chips and a "pay-as-you-drink" system!
You have to put a few euros and fill it with traditional Bavarian beers like Tegernseer, Augustiner, Andechs, and imports. The "indoor beer garden" concept means that guests can bring their groceries or even order them!
🌲 If you are planning your trip to Germany, or are open to new experiences, check out the best bio hotels in Germany!
Zum wolf
Taking inspiration from "classic American cocktail bars and southern music bars," Zum Wolf is a great bar that will make you fall in love! Lit in a red glow, this unassuming bar is a popular hangout for people in Glockenbach, a trendy suburb for a sizable LGBTQ+ community.
Most of the things that they offer are imported from Tennessee and Kentucky. There are some beers and wines available, while the soundtrack encompasses the soul and blues of the 50s and 60s.
 

 

 

Ver esta publicación en Instagram

 

 
Paulaner Brauhaus
Located on Kapuzinerplatz, Paulaner Brauhaus, is a beer garden, combining a traditional German brewery atmosphere with a dash of Bavarian modernity.
It's placed in an 1892 building which was reconstructed, the interior is awesome! It's complete with arched windows, colossal pillars, and vaulted ceilings. You will surely love the beer garden, it offers different picnic-style tables, perfect for enjoying a beer on sunny days. This locally brewed beer has been produced in Munich since 1989!
Schneider Bräuhaus München
This charming tavern is in Schneider Weisse, Germany's most popular wheat beer. Traditional adornments include wood-paneled walls and sepia photos, spanning a maze of halls.
There is a designated hall for regular clients, Munich locals, and there also are student gatherings! Beers include Schneider Weisse, their most classic wheat beer, and Hefeweizen, a yeasty wheat beer with a mild, light flavor.
 

 

 

Ver esta publicación en Instagram

 

 
Which of them would you try first?