AERIAL SILK ACROBATICS: TIPS FOR BEGINNERS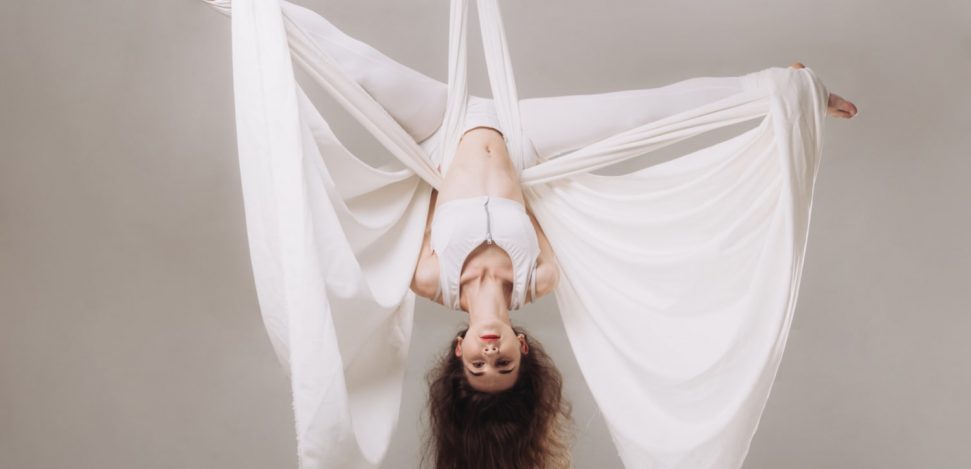 If a little while ago we talked about extreme water sports such as canyoning, today we want to talk about an "aerial" sport: Aerial silk acrobatics! If you are a beginner and need the best tips, read on! 
What is aerial silk training?
The first thing to take into account is that it's a sport that involves height, it's practiced at a height of seven meters or more, on a sturdy support, which can be beams or trees with thick branches. The ideal height for hanging the canvas should be three meters or more.
Cloths about 20 meters long and a meter and a half wide are hung in half on these beams. The most commonly used fabrics are those that don't stretch, such as silk jersey or acetate.
It's these two lines of fabric that allow you to give free rein to an activity that is somewhere between sporting and artistic, where the limit is set by you, as it combines aspects of climbing and gymnastics with other more aesthetic aspects such as dance and circus acrobatics. 
What do you need to get started in aerial fitness?
Regardless of lack of flexibility, this is something that can be developed at any age. It's never too late to start toning up and becoming more flexible. The limits are set by each one of you, it's all a question of deciding and taking risks. All you need is "the desire to live a unique experience" during your aerial silks class 😉.
The best tips for beginners 
Warm-up!
Don't forget to warm up well before starting and stretch properly after the activity. In this way, you will avoid injuries and reduce the muscular pains of the exercise.
Breath! 
Control your breathing and take advantage of the figures to work on your flexibility, trying to keep them as long as possible and looking for more stretching with each exhalation.
Don't be afraid
Feel comfortable with the aerial fabric, play, sway, don't be afraid of it, and don't confront it, it's a dance, not a war.
Rest
Rest as much as you can, use the postures in which you feel more comfortable to make longer pauses, if a foot hurts make a figure that doesn't strangle it, if you are tired of arms make a figure in which you don't need them, etc.
Don't hit the ground!
Don't climb too high at first, try the figures at a height where the person accompanying you can help you in case you get into trouble. When you try the falls, make sure you are high enough so that you don't hit the ground when you fall.
Be clear about the steps
Read the explanation of the figure you are going to test, look at the pictures, and if you can watch a video! Do this several times until you are clear on the details, and once you get the figure, try to memorize the steps, so you can do it as you go along. 
Protect yourself
For your safety, put a mat underneath or something to protect you in case you fall. If you are tired, scared, or your foot is sore, before jumping onto the mat or onto the ground, it's best to take a deep breath, undo your figure and go to a resting position. 
Protect your neck in the falls
When you fall, don't forget to stiffen your body and protect your neck by lowering your head, as well as protect your lower back and spine by closing your ribs (curving your back inwards). 
Ready to experience one of the coolest sports and feel like you are in Cirque du Soleil? 😉