CREAMFIELDS FESTIVAL: UK IS WAITING FOR YOU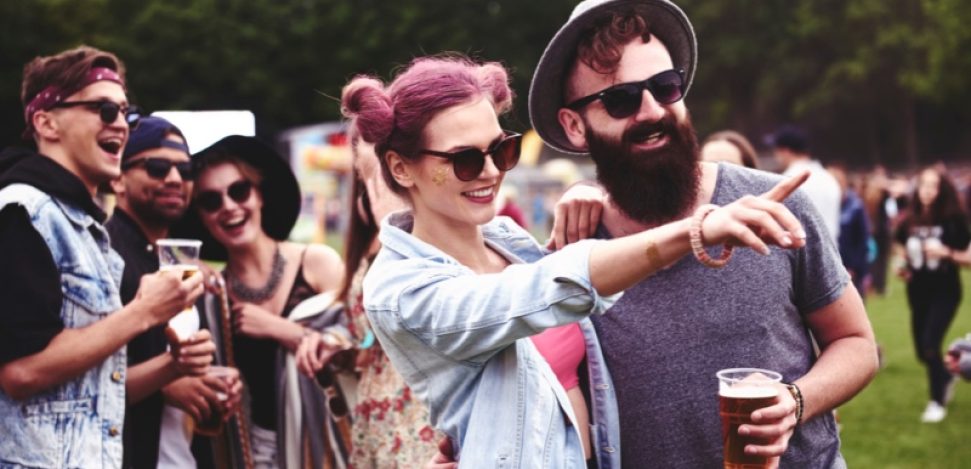 Creamfields is one of the must-attend festivals for all electronic music fans. But what justifies this status of a must-attend event, what makes this festival like no other?
What is Creamfields Festival
Held annually in Liverpool, it's one of the electronic music festivals you can't miss.
It started in 1998 and is still going strong today. This electronic music festival has the particularity that it has been celebrated outside the United Kingdom, in different countries of Latin America and Europe.
This festival has no reason to disappoint you, since in previous years it has successfully brought artists such as Sven Vath, Armin Van Buuren, Nervo, Calvin Harris, David Guetta, The Mind, Dubfire, and The Chemical Brothers, among others. The artists who will attend this year weren't left behind either!
🎉 WHAT IS TOMORROWLAND? THE BEST ELECTRONIC MUSIC FESTIVAL IN THE WORLD?
History of Creamfields Festival
The Creamfields Festival began simply by the desire to offer electronic music and fun in free spaces, being born officially in England in 1998.
The festival has developed exponentially over the years, reaching the point of having one of the largest dance floors in the world.
But that's not all: It has been one of the few music festivals in the world that has managed to be seen in countries other than its origin, which has allowed it to have a greater global reach.
Besides that, it has also received attention for being a festival in which more than 90 artists participate on average each year, including both DJs and electronic music bands.
In its first presentations in Liverpool, it managed to attract 40 thousand people, 120 thousand people in Argentina in 2013, and 8 thousand people at least in Chile in 2006. In Andalusia, even 55,000 people attended in 2008.
As a curious fact, Argentina is the only country in the world that has managed to have editions of the festival with so many attendees, thanks to the existence of racetracks with a colossal capacity.
Creamfields Festival 2023
A thunderous first lineup of artists has been confirmed for the new edition. 
Beginning with the world-renowned Calvin Harris, who will kick off the party on Saturday. Following his worldwide tour, Swedish House Mafia will arrive at Creamfields on Sunday, while Dutch legend Tiësto will be on Friday. Not least joining this first phase are important techno figures such as Carl Cox (Hybrid Live) and Nina Kraviz.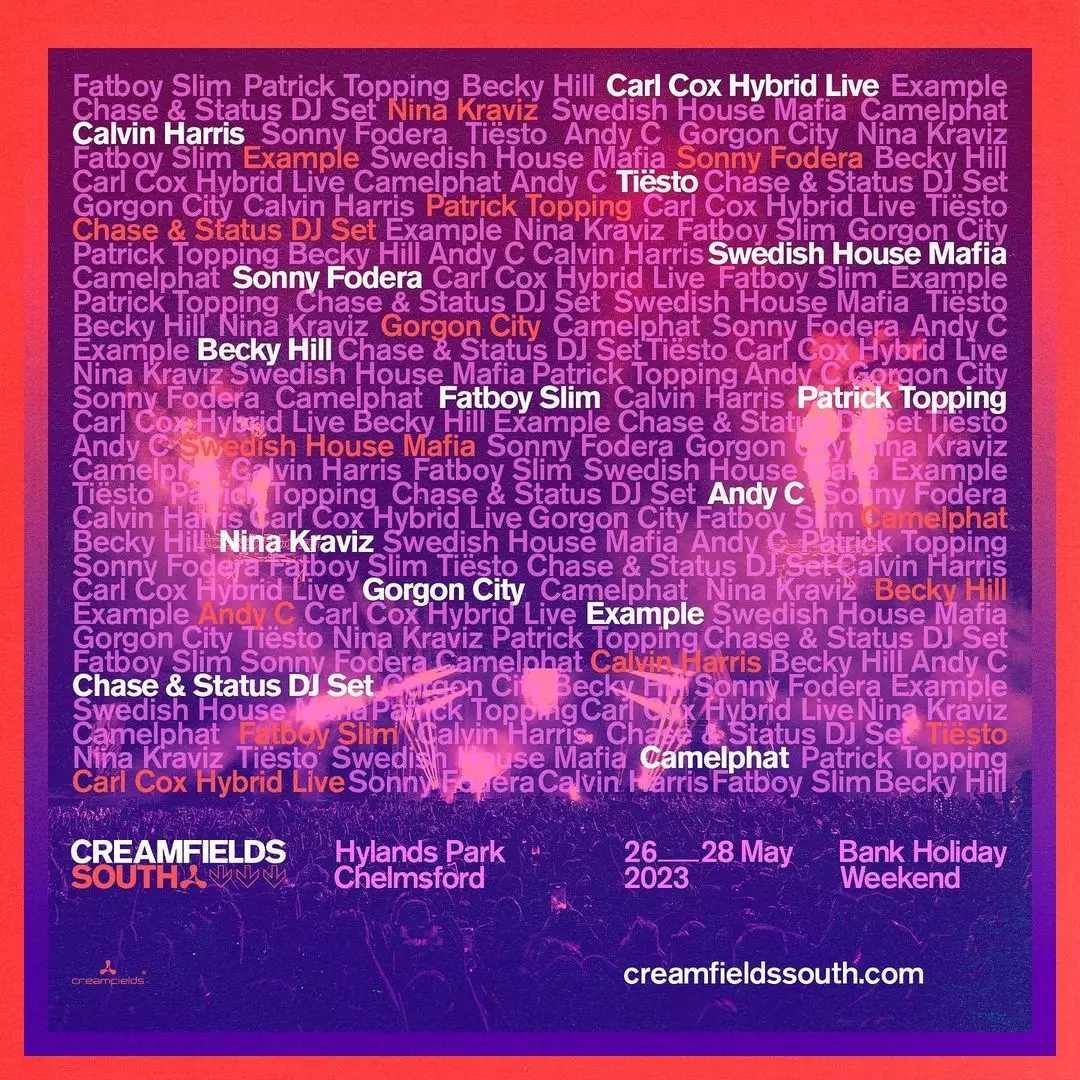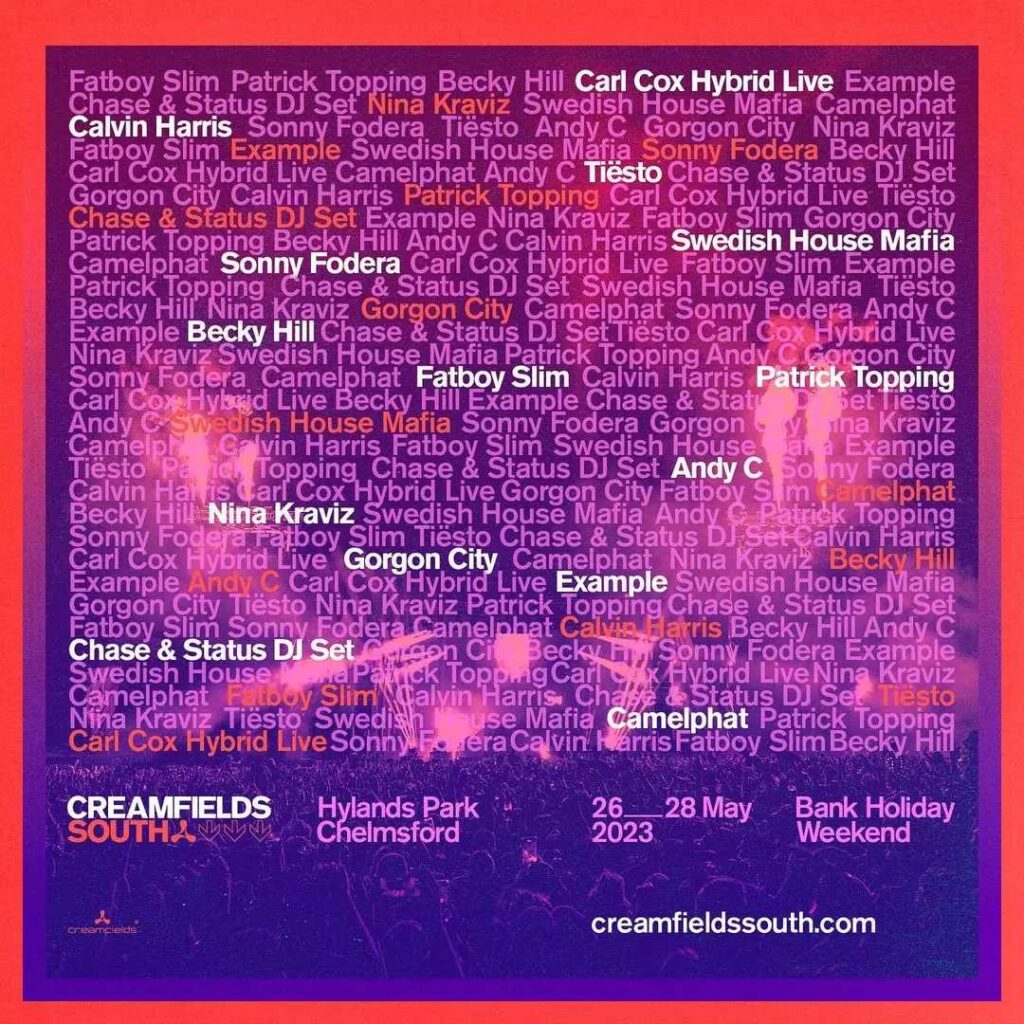 Creamfields South 2023 tickets
Tickets for Creamfields South 2023 are now available. You can opt for daily tickets or two or three-day camping packages. Prices start at £255.00.
Creamfields South has become a significant destination for many festival-goers from all over the world. There are many ways to get to Chelmsford, such as by car, train, plane and bus. Creamfields, meanwhile, offers bus packages to Chelmsford train station. Check prices here.