GLASS BOTTLE RECYCLING: THE BEST IDEAS TO MAKE A SECOND USE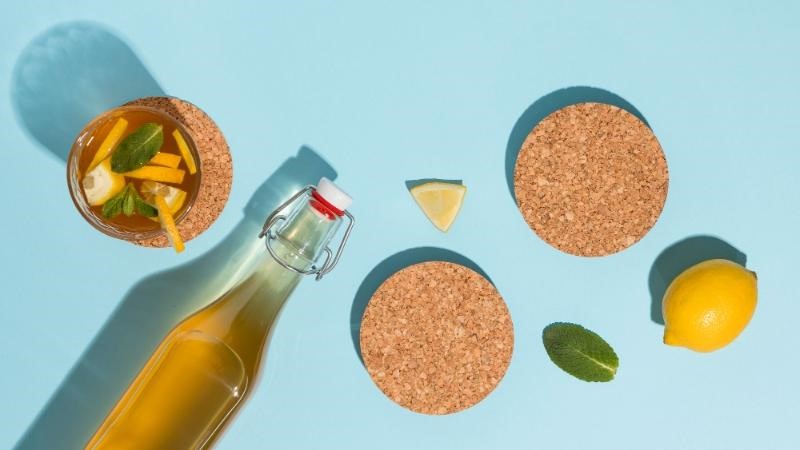 Glass is a very common material in our daily lives; we find it in bottles, windows, glasses, and more. Some of these objects can be recycled specially, and in the case of glass bottles, they can even be given a second creative use!
In this guide, we will show you how to recycle glass and how to give a new life to glass bottles and jars. Did you know that most glass is 100% recyclable?
How Glass Recycling Works
Recycling glass is an easy process, but it's essential to follow some steps before doing so:
Clean the Glass Before Recycling:
It is recommended to use a mixture of water and Cif BIO Active, which now has a more concentrated formula for better performance.
Remove All Labels and Stickers:
You can do this by rubbing with an abrasive sponge. Labels should soften with water and detergent. Check our guide on how to clean glass and remove stains and labels.
Soak the Glass:
Soak the glass in water and detergent for some time to further soften the labels and make removal easier.
Place the Glass in the Green Recycling Bin or Take It to a Nearby Recycling Center:
Ensure that the glass is suitable for recycling, as not all types of glass are processed the same way. You can get specific information on how to recycle glass in your local area.
Exercise Caution with Broken Glass:
Although it is also recyclable, there are additional considerations to take into account before disposing of it.
Why Glass Recycling is Important
Here are the key reasons why glass recycling programs are great for you and the planet:
Less Waste: By recycling, you prevent waste from ending up in landfills, which is a relief for the planet.
Less Pollution: By reducing packaging production, you decrease the creation of new products, thereby reducing the need for smoke-emitting and polluting fuels.
Less CO2: For every ton of recycled glass, you save around 300 kg of CO2 in the atmosphere, which is great news for combating climate change.
Energy Savings: Recycled glass requires 20% to 30% less energy than raw materials to make new containers, meaning less energy expenditure!
Natural resources Preserved: Every 3000 recycled glass bottles save more than a ton of materials such as sand, limestone, and sodium carbonate, which won't be needed to make new glass.
Glass recycling not only helps the planet but also has many advantages for your wallet and energy consumption. So, keep on recycling!
Ideas for Recycling Glass Bottles
Here are some of the best ideas for recycling those glass bottles you have at home:
Make Them Look Great! Paint over the labels and use them as decoration. Add a creative design to the label, and you'll have a unique bottle that will add a special touch to your home.
Aquatic Plant Pots: Depending on the size of the bottle, you can turn it into a pot for aquatic plants. Just remove the label so you can see the inside of the plant.
Add a Splash of Color: Cover the bottle with brightly colored fabric. You can leave it as decoration or use it as a pot with the fabric.
Stone Rainbow: Fill the bottle with different colored stones and create a striking rainbow to decorate your home.
Liquid Storage: Reuse it to store liquid foods such as honey, flavored oil, or vinegar. The bottle will keep everything fresh and well-preserved!
Dry Food Storage: Depending on the size, you can also use it to store dry foods like pasta, legumes, or nuts.
Candleholder: Cut the bottle in half, and you'll have a perfect stand for candles. Add a candle, and you'll have cozy decor.
Mini Aquarium: If the bottle is sturdy enough, you can turn it into a small aquarium. A watery corner in your home!
Wall Hook: Cut the top of the bottle and hang it on the wall to create a unique and functional hook.
Dish Soap Dispenser: Add a dispenser to the bottle's neck and use it to dispense dish soap when washing dishes. Makes the task easier!
These creative ideas will help you make the most of those glass bottles instead of discarding them. Get to work!
POTASSIUM SOAP: HOW TO USE THIS NATURAL PESTICIDE
How to Reuse Glass Jars
Here are some clever ways to reuse those glass jars!
Toothpick Holder: Punch holes in the lid with a hammer to create holes, and you'll have a handy toothpick dispenser. Easily grab one at a time.
Versatile Storage: Use them to store small items, from screws to tiny sandpaper pieces or any other items you need to organize.
Rustic Lamps: Turn a jar into a small lamp to add a rustic touch to any space. You only need a small candle inside.
Food Containers: Glass jars are perfect for storing food, even soups or stews. They are sturdy and keep your meals fresh.
Cutlery Organizer: Place jars vertically to allow cutlery to dry after washing or to keep them organized in a drawer.
Reusable Cups: The simplest and most useful option! Wash the jars and use them as cups for your favorite beverages.
Toothbrush Holder: Keep toothbrushes tidy and accessible in the bathroom by using a jar as a holder.
Pen and Writing Tools Organizer: Place jars on your desk to have all the elements you need for writing, erasing, and organizing.
Ready to become a handy person after reading this post?