HOW TO RIDE AN ELECTRIC SKATEBOARD!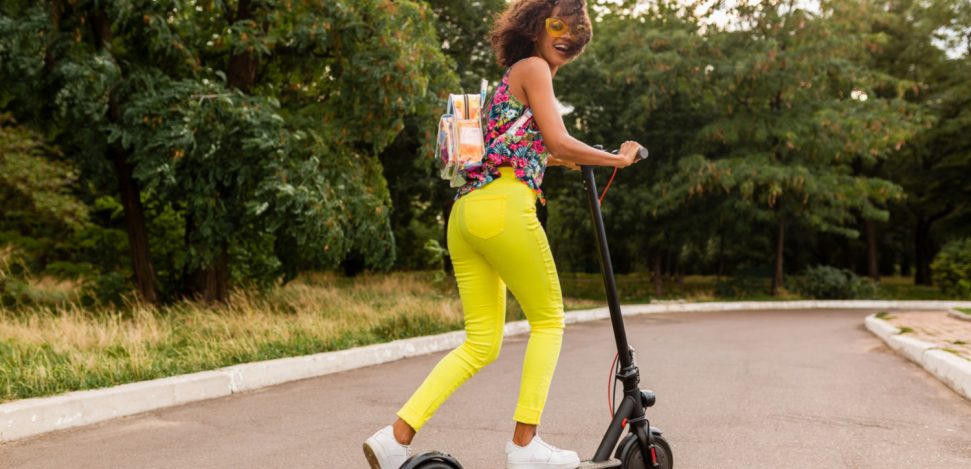 If we recently talked about the basic tricks for skateboarding, today we want to talk about how to ride an electric scooter. Surely if you have never tried it, you have thought: "I would kill myself riding this". We thought so too, but today we are going to help you see how easy it really is, ready?
Do your homework before leaving!
Find out about the different regulations that each municipality has imposed for the use of this type of vehicle. 
Verify that your electric scooter has been properly maintained. Checking the condition of the wheels, brakes or lights will prevent certain unforeseen events that may arise while driving.
Wear a helmet and proper equipment – wearing a helmet can save your life! 😉 If you don't feel very safe you can include knee pads, elbow pads, etc.
Examine the place where you are going to ride. Although handling the electric scooter is usually quite easy from the first moment. A bumpy or rainy road can cause unforeseen situations for the most novice riders.
How to ride an electric scooter without messing up
If it's your first time, you may think that the electric scooter is too dangerous, fast or difficult to handle. Don't panic! Learning to ride is no big deal!
The moment to start
Stand on a smooth surface with no slope.
Turn on the scooter.
Make sure the handlebar is up. Or you will fly off before you start!
Start the motor and start riding. It's as simple as pushing the scooter with your foot, and using the accelerator.
Some models need to reach a certain speed. That is, for the motor to work. It's necessary to push with the foot a little. Although there are others that do not need it to start.
How to ride an electric scooter with the correct posture
Next you need to learn how to distribute your weight. In other words, how to use the correct posture! 
Using the handlebars correctly
When riding, you'll use the handlebars to help you maintain your balance. Avoid pushing or gripping the handlebars too hard. Position yourself in the center of the scooter. At a comfortable distance from the handlebars. And so that you can maintain your balance easily.
Hand placement is important
The placement of your hands on the handlebars is critical. If you place them firmly, you'll be making sure your arms and hands don't get more tired than usual. And you'll even be protecting them from injury.
Avoid back injuries while riding your electric scooter!
The back should be upright but relaxed to avoid any type of contracture or pain.
How to position your legs
Your legs will be the parts of your body that do the most work, so listen! To prevent injuries or accidents, place one foot in front of the other and slightly bend your knees. This will greatly facilitate your ability to maneuver when you are driving.
There are different positions to use. We recommend that you have one foot in front of the other. The "goofy" stance uses the dominant leg in front. And the other (with which you'll step on the ground) in the back. It's one of the easiest postures to learn, don't worry! 😉 
You may find it a good idea to bring both feet together in the direction of the movement to keep your balance. You'll be less stable and you won't be able to shift your weight properly for balance. In addition, your ability to react won't be fast enough!
Some may prefer to use the "goofy" stance, others may prefer to put the dominant foot behind, use the typical skateboarding stance, etc. There are many different stances, use the one you feel most comfortable and confident with!
How to accelerate safely
Now that you're enjoying your first ride on your scooter and maintaining good posture. The next thing is to learn how to accelerate correctly!
When you press the throttle, especially on powerful scooters, check that your feet are in a balanced position and bend your knees a little to lower your center of gravity. This will help you maintain stability. Also, use the handlebars to keep you stable but most of your balance should come from your legs.
Remember to accelerate slowly! Otherwise you could end up accelerating too fast. And end up having an accident.
How to turn safely
After using your new electric scooter for a while. It 's time to turn!
At very low speeds, ideally use the handlebars to steer the scooter and adjust your weight to keep your balance.
From a certain speed, (>8 km/h), keep the handlebars more or less straight and use your weight and tilt to be able to maneuver and turn properly.
Now that you know how to ride an electric scooter, are you going to start using one for transportation?