NORTHERN LIGHTS OF ALASKA: GAZE AN AURORA BOREAL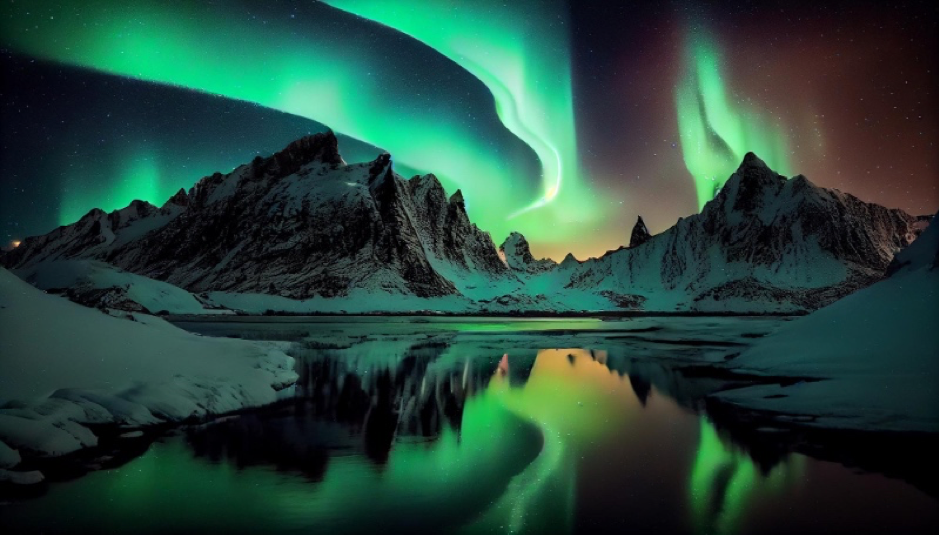 Alaska stands out as a prime destination globally for witnessing the northern lights, offering picturesque locations, tours offers, cruises, and distinctive hotel experiences tailored for observing this natural phenomenon. Continue reading to explore the array of choices available for observing the northern lights in Alaska, along with insights into the optimal time for a visit!
The best time to see the northern lights
As per the Alaska Travel Industry Association, the best time to catch the northern lights, or the Aurora Season, runs from August
21 to April 21
. Usually, the sweet spot for viewing is between 10 p.m. and 2 a.m., although the aurora can pop up any time during the night.
For an extra-awesome northern lights experience, you might want to aim for the winter solstice, which happens sometime between December 20 and 23. 
This is the shortest day of the year, meaning less daylight and more opportunities to soak in the aurora vibes. In different parts of Alaska, the amount of daylight during the winter solstice varies, ranging from about six hours in Anchorage to less than four hours further up in Fairbanks. 
And if you find yourself in Utqiagvik (formerly Barrow), around 320 miles north of the Arctic Circle, there's a whopping 67 days of darkness from November 18 to January 23, giving you even more chances to catch those northern lights.
Here are the top resources recommended by experts for forecasting the northern lights before and during your trip:
Aurora Tracker: Whether you're new to aurora chasing or a seasoned pro, Explore Fairbanks' real-time Aurora Tracker is a valuable resource
This online tool provides up-to-the-minute information on temperature, weather conditions, and the likelihood of witnessing the northern lights in Fairbanks. 
The data is sourced from one of the world's leading aurora research centers, the Geophysical Institute at the University of Alaska–Fairbanks. To enhance your search, you can also download the My Aurora Forecast & Alerts app on your smartphone.
Aurora nightly forecast: 

For regions outside Fairbanks, the

Aurora Forecast

 on the Geophysical Institute website offers daily forecasts of geomagnetic activity for up to three days in advance, with readings taken at three-hour intervals. 
The webpage also provides a summary indicating whether the aurora is expected to be active or not, along with information on the best visibility spots in Alaska.
Where to see the northern lights in Alaska
Here are some of the prime destinations to consider when choosing where to witness the northern lights in Alaska:
Fairbanks:
Often referred to as the Golden Heart of Alaska, Fairbanks is situated at 65 degrees north latitude, making it an ideal spot for aurora enthusiasts, especially those new to the experience. 
Easily accessible, Fairbanks provides a range of accommodations, restaurants, and unique attractions. Beyond the city, you can quickly find excellent locations for northern lights viewing spots just minutes away from Fairbanks.
Your chances of witnessing the aurora display in Fairbanks are excellent due to its strategic location under the ring-shaped zone known as the auroral oval. Local experts suggest that on clear evenings with very dark skies, you can expect to see the northern lights light up the sky about four out of five nights in Fairbanks.
Where to stay:
Aurora Villa: Situated on the outskirts of Fairbanks, Aurora Villa provides luxurious guest rooms with floor-to-ceiling windows, offering a cozy and private space for viewing the northern lights. The modern wooden cabin is nestled on 10 acres surrounded by forested hills, yet it remains close enough to the city (less than 15 miles northeast) for convenient exploration of Fairbanks.
Pike's Waterfront Lodge: Located along the Chena River, Pike's Waterfront Lodge is just minutes away from Fairbanks International Airport. 
The property offers 180 rooms and 28 cabins, providing accommodations for aurora-hunting adventurers. Guests can request alerts from the front desk when the northern lights make an appearance, regardless of the time of day or night. Pike's Waterfront Lodge also offers amenities to keep guests warm while enjoying the light show outdoors.
Talkeetna:
Talkeetna, positioned about 115 miles north of Anchorage in south-central Alaska, is situated at the base of Denali, the tallest mountain peak in North America. 
This historic town, with its charming old buildings and log cabins dating back to 1917, offers plenty of outdoor activities beyond aurora chasing. Main Street is bustling with galleries, shops, restaurants, and a brewery. 
If you visit in December, the monthlong Winterfest features a parade of lights, a tree lighting ceremony, the Taste of Talkeetna food festival, and entertaining events like the Bachelor Auction and the Wilderness Woman Competition.
When seeking the aurora lights, local experts recommend venturing out of town to locations such as Christiansen Lake or Beaver Road past the airport. If you prefer staying close to Talkeetna, direct your gaze north into the sky from Talkeetna Riverfront Park towards Denali
Where to stay:
Alkeetna Alaskan Lodge: For a breathtaking experience, book a Mountain View room at Talkeetna Alaskan Lodge and enjoy panoramic views of Denali and the Alaskan Range. This cozy lodge boasts multiple dining venues, including the acclaimed Foraker Restaurant, providing a delightful culinary experience.
Talkeetna Lakeside Cabins: If you prefer tranquility by a private lake just 12 miles from Talkeetna, consider Talkeetna Lakeside Cabins. These cabins offer peace and quiet, allowing you to immerse yourself in the serene surroundings.
Denali National Park:
Denali National Park is not only a captivating tourist attraction but also an incredible location for observing the northern lights in Alaska. 
The National Park Service assures minimal city light pollution throughout the park. Under favorable conditions—clear and dark skies—you can anticipate witnessing the aurora borealis, especially when gazing towards the northern horizon.
During the winter season from September or October through April, accessing certain parts of Denali National Park becomes more challenging, despite the park being open year-round. Additionally, it's important to note that lodges closest to the park are typically closed from mid-September to mid-May.
Where to stay:
Less than 15 miles from the Denali National Park entrance, the Aurora Denali Lodge provides year-round accommodations featuring queen-sized beds, smart TVs, and private bathrooms. 
Lodge rates include a continental breakfast, free Wi-Fi, complimentary parking, and hot drinks. The property promises abundant wildlife sightings, including bears, moose, lynxes, owls, and snowshoe hares, right outside your door.
Coldfoot Camp:
Situated above the Arctic Circle in the Brooks Mountain Range, Coldfoot Camp is close to the Gates of the Arctic National Park and Preserve and the Arctic National Wildlife Refuge. 
This remote wilderness destination is well-suited for aurora viewing, nestled directly under the auroral oval. It also offers opportunities for backcountry snowshoeing, wildlife observation, and dog mushing.
Where to stay:
The Inn at Coldfoot Camp provides rustic accommodations in trailers that once housed Alaskan pipeline workers. Rooms feature two twin beds, a private bathroom, and shower. 
Guests can dine at the on-site Trucker's Cafe, offering breakfast and dinner buffets during the summer and all-day a la carte dining in the winter. The Frozen Foot Saloon on-site serves Alaska-brewed beer. 
For camping enthusiasts with their own gear, camping is free on the property during the summer. Coldfoot Camp organizes a variety of year-round Arctic adventures, including trips to the nearby village of Wiseman for aurora viewing.
Wiseman
This remote wilderness retreat has just 13 full-time residents. Wiseman, positioned in Alaska's Brooks Range, is approximately 15 miles north of Coldfoot Camp, 60 miles north of the Arctic Circle, and 270 miles away from Fairbanks. Situated directly beneath the auroral oval, it stands out as one of Alaska's premier locations for observing the northern lights. The celestial spectacle graces the skies over Wiseman around 250 nights a year, particularly from late August to mid-April.
Where to stay:
Arctic Hive: Distinguished as the northernmost yoga studio in the U.S., Arctic Hive offers a communal fiberglass lodge for gatherings, cooking, and meals. The geodesic dome hosts meditation, educational events, and other activities. Arctic Hive also organizes retreats that feature opportunities to view the northern lights in February and March.
Arctic Getaway: Nestled between the middle fork of the Koyukuk River and Wiseman Creek, Arctic Getaway is a bed-and-breakfast with three cabins. Guests can experience life above the Arctic Circle, partaking in outdoor activities such as dog sled rides across the expansive wilderness, cross-country skiing, pack rafting, and scenic flights by bush plane.
Boreal Lodging: Accessible by vehicle, Boreal Lodging provides various rental options, including lodge rooms and larger cabins with living areas and kitchens.