WHAT ARE SMART GLASSES? AI FOR YOUR VISION 😎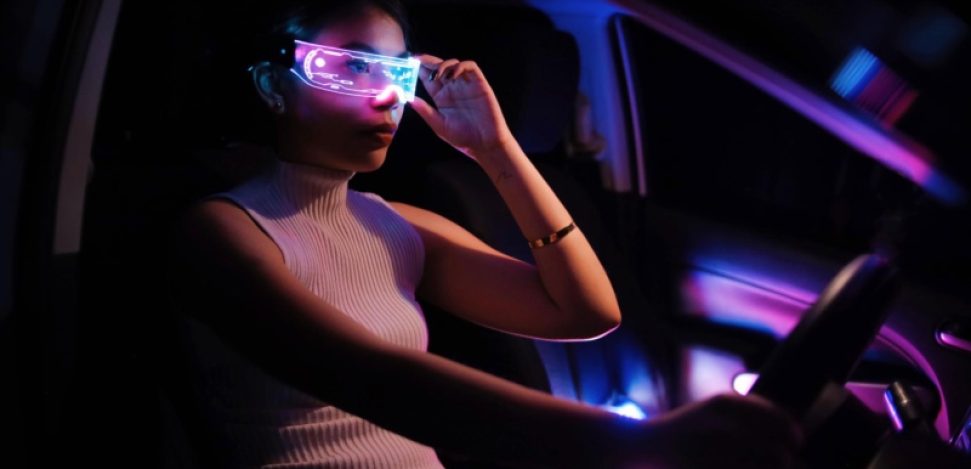 Smart glasses are trending again, and this time, it seems that they are back to stay!
In today's post, we'll tell you all about smart glasses, a technological breakthrough that will undoubtedly make you look at the future differently. Read on!
Smart glasses, start seeing the future
Smart glasses are lenses with built-in technology that allows various smartphone functions to be transferred to our eyesight.
This technology can take the form of augmented reality, in the form of a screen on which information is projected or reflected onto the lens. Smart glasses are those that don't incorporate augmented reality technology in the lens but do have other smart mechanisms in the temples.
In 2014, Google launched the first augmented reality glasses on the market: Google Glass. Their main purpose was to show users smartphone information hands-free, through voice control and the visible display on the lens.
However, either because of its design or its price, this model wasn't so successful among users, although technology and healthcare companies did find in these glasses a device that made it easier for workers to carry out their daily tasks.
But what can you do with these smart glasses?
Depending on the type of glasses, they have different functionalities: Some allow you to take photos and videos and post them directly to social networks, listen to music or make calls, and the most advanced ones offer the possibility of seeing a version of the smartphone screen on the lens.
The control of this system is done through your voice, with finger swipes on the temple, or even through signs. Different models are available with different numbers of built-in cameras, GPS, wireless connectivity modules, microphones, buttons…
As with any technological device, the functions depend on the type of glasses and their manufacturer. Here are the most popular ones!
Types of smart glasses
To analyze the types of smart glasses on the market, you should know that those that have a built-in screen projection on the lens are considered to be augmented reality glasses, therefore, the rest wouldn't have this technology, although they are still considered "smart".
Brands such as Xiaomi or Apple are already developing their smart glasses, but for the moment we'll mention those that were already on sale in 2022!
Google Glass
As we have mentioned, Google was ahead of its time, and it was back in 2014 that they launched their first smart glasses. They are currently still on sale for businesses, under the name "Google Glasses Enterprise Edition 2".
This model, designed specifically for businesses, features the Android operating system, a built-in 640×360 pixel screen, an 8MP camera, and other functionalities such as Bluetooth connection or the Android development kit, with which companies can create their applications.
After the conference on 11 May 2022, Google announced that the new model will be based on two of the company's great strengths: transcription and translation.
The new Google Glass, which isn't yet on sale, will incorporate transcription and translation capabilities in its line of sight, making it easier for the user to no longer have language barriers.
Microsoft Hololens
Like its competitor, Microsoft has developed smart glasses designed for businesses, in its case for sectors such as engineering and construction, manufacturing, healthcare, and education.
These glasses have several very useful functionalities for companies, such as connecting remotely with colleagues and working together on a holographic canvas superimposed on the physical environment, or sharing an event, video, or photo in real-time and with mixed reality.
Another feature of note is hand-tracking holograms, which allows you to touch, grab and move holograms in ways that feel completely natural. These holograms respond like real objects.
The design is somewhat bulkier than Google Glass because the technology offers more possibilities. These smart glasses have a front component that directly affects vision and a rear component that is attached to the head.
Magic Leap
With its first model, launched in 2018, virtual images can be projected onto the real world via a screen on the head. It stands out for its patented technology that makes the combination of the real and the virtual almost undetectable.
Currently, model 2 is about to be launched, more focused on companies such as Google and Microsoft's smart glasses with a lighter and slimmer design.
Smart glasses without augmented reality
Ray-Ban Stories
Ray-ban and Facebook, already known as Meta, have entered into a collaboration to develop the first smart glasses with leading sunglasses brand Ray-ban and social media giant Facebook providing the technology.
The Ray Ban Stories integrate multiple styles and lens options, offering a camera-integrated design that is difficult to notice at first glance. Their main function is to share content such as photos and first-person videos on Meta's main social networks: Facebook, Instagram, and Whatsapp. On the temples is the shutter button as well as the microphones, which are sound-isolated.
Other functions of these smart glasses include listening to music and controlling multimedia with the touch panel on the temples, calls and voice commands, and receiving notifications about battery and content storage.
Huawei X Gentle Monster Eyewear
Like the Rayban Stories, Huawei's smart glasses have a built-in microphone and speaker but no camera. It offers two models of sunglasses and two models of prescription glasses, with an elaborate design in which you can't tell the difference between these smart glasses and normal glasses.
With the latest model, the Eyewear II, you can listen to up to 5 hours of music playback, great sound quality through reverse sound waves which will allow only the user to listen to their conversations, and voice assistant with a simple and effective control thanks to the touch screen on the temple.
Echo Frames by amazon
The Echo Frames smart glasses are an Amazon invention using Alexa technology. Their main function is to offer you hands-free: make calls, listen to music, podcasts, or Audible books, create reminders or set VIPs and call them with a single touch. These glasses don't have a camera.