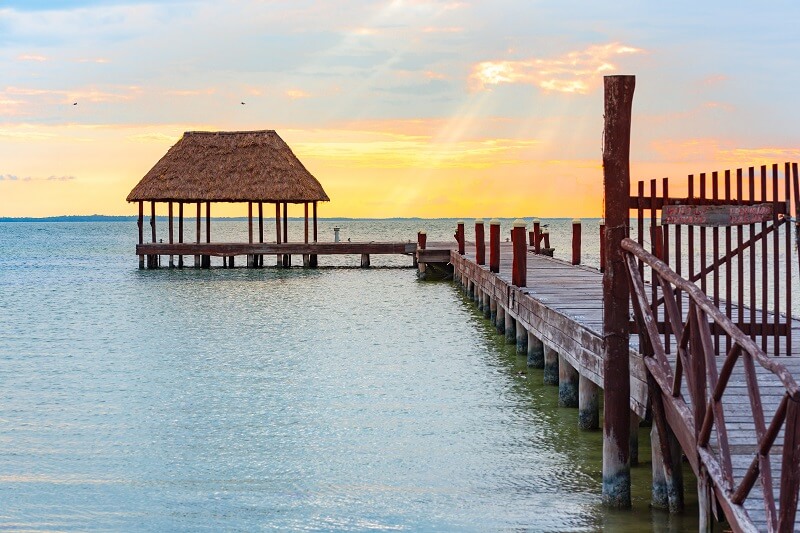 Stepping onto the sun-drenched shores of Isla Holbox Mexico is like entering a secret club you wish you'd heard about years ago. Sandy streets, buildings bathed in Caribbean colors and the sound of golf carts -the only means of transportation on the island- set the tone for a place unlike many others in Mexico.
Truth be told, Isla Holbox is no longer the rustic getaway it used to be. The Instagram-worthy appeal of its hammocks, yoga pavilions and palapa bungalows worked well, and today there are many more tourists and hotels than there were years ago. Still, this sun-drenched sandbar, where cars are not welcome and bare feet are preferred, is a worthy escape from the crowds of Cancun, Playa del Carmen and Tulum.
Where is Mexico's Holbox Island?
Just over 40 km long and only 2 km wide, this slender nail of an island lies off the northern coast of the Yucatan Peninsula in the state of Quintana Roo, right where the turquoise Caribbean Sea merges with the green Gulf of Mexico.
Holbox Mexico isn't only far away, but also a bit isolated from the tourist centers and therefore not so easy to reach.
Whatever the starting point, the trip usually consists of the following: First fly to Cancun in Mexico, then arrive at the port of Chiquilá on the coast of Quintana Roo, and from there take a ferry to the island of Holbox. Voila! Now all you have to do is get chauffeured to your accommodation in one of the usual golf cart cabs and enjoy your vacation.
Yum Balam Flora and Fauna Protection Area
Yum Balam (Lord Jaguar in Mayan language) is a natural protected area in the Mexican state of Quintana Roo. Specifically, it extends through the municipalities of Lázaro Cárdenas and Isla Mujeres. It is home to authentic natural wonders, although the vast majority of tourists who travel to the Riviera Maya are unaware of its existence.
The Yum Balam area has been protected since 1994, since it has a great biodiversity that includes animals such as jaguars, manatees, and several species of sea turtles, including the bearded and hawksbill turtles. It is also home to different types and zones of vegetation: an area of mangroves, wetlands and low and medium jungles.
The Yalahau cenote is also located here. Don't confuse it with the lagoon that separates the island of Holbox from mainland Mexico. Its waters are predominantly salty and rich in nutrients. That is why it is a refuge and feeding ground for various marine animals.
What to do in Holbox Island, Mexico?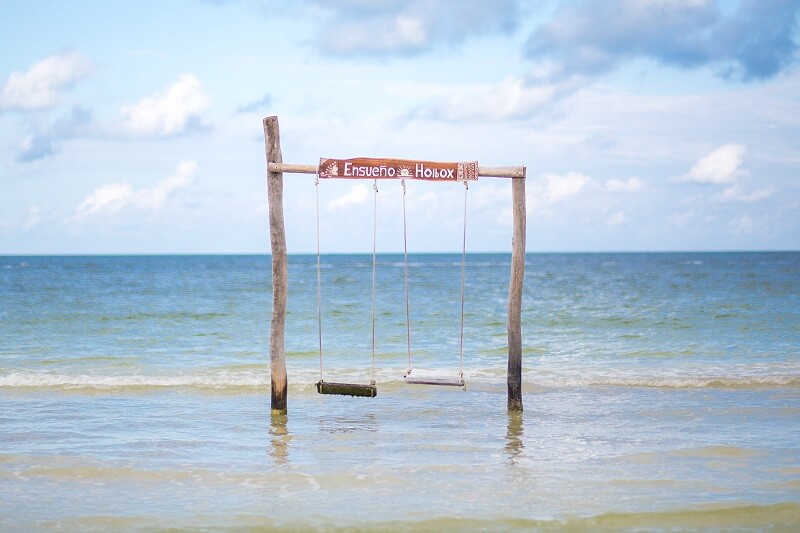 Go to the beach, go to the beach, go to the beach, go to the beach! Seriously, Holbox is all about being in nature, in an amazing environment, and doing things in and around the water and white sand. It's a great place for swimming, kayaking, paddle boarding and even kitesurfing, of which there are schools on the island. Biking around the island is also a must, and can be a bit extreme, but the reward is jumping into the water at whatever beach you've gone to.
The beaches of Punta Cocos and Punta Mosquito are two of the most popular, but there are others worth exploring. In short, the sandbars that run along the beaches are long and wide, and the water is incredibly beautiful. It's also nice that in many areas you can walk quite far while still keeping the water shallow and scenic.
Another thing to do in Holbox is to do some hiking. The Island Tour takes you to some of the smaller islands around Holbox, including Isla Pájaros and Isla Pasión, and although it is not an island, Cenote Yalahau is very worthwhile.
Isla Pasión
A small, but relaxing island, located just 15 minutes from Holbox Mexico, Isla Pasión is a true tropical paradise, far from civilization and noise.
The atmosphere and vibes on this island are extremely relaxing. Here you will only be accompanied by white sand, birds and palm trees, you will not find golf carts, bikes, stores, streets or restaurants. Here you will enjoy relaxing moments in front of the beautiful and calm sea, if you wish you can bring some snacks to enjoy in the company of family or friends and enjoy the peace and tranquility.
Isla Pájaros
This is a small islet located in the Yalahau lagoon, refuge of a great diversity of birds, such as pelicans, frigates, white ibis, ducks, herons, storks and flamingos at certain times of the year.
This island is a protected area, since the fauna of this place is very important and we do not want to disturb the natural habitat of the species that reside here. For this reason, access on foot to any part of the island is not allowed, it is only possible to observe the birds from the lookout point.
Cenote Yalahau
It's an eye of water that is surrounded by incredible mangroves and lush vegetation. It's possible to admire it from the top of the viewpoint, and if you want a close-up view you can also swim in its cold, sweet and crystalline waters. According to legend, the waters of this cenote have healing properties, which is why it is known as the "fountain of eternal youth".
Spectacular photos of Holbox Island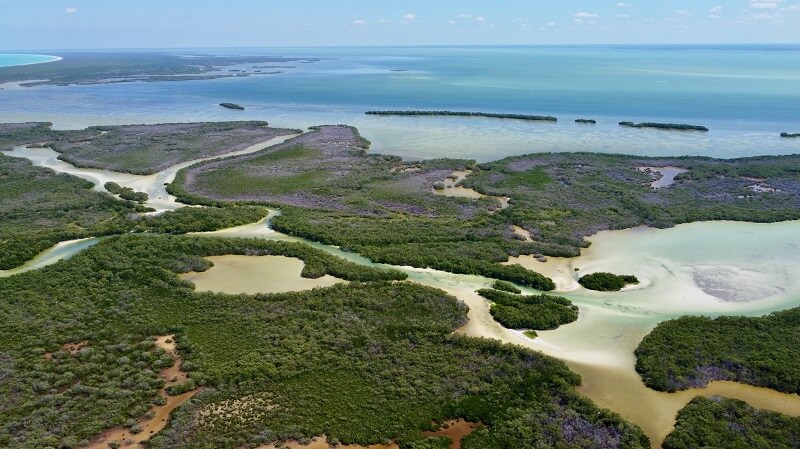 In this incredible paradise you will be able to take spectacular pictures, the kind you see on postcards. No matter where you are, nature will offer you the perfect frame for a picture.
The photos of Holbox Island Mexico will be the best souvenir you can take with you, you won't need anything else, just the scenery.
If you don't believe us, take a look at these amazing pictures of Holbox Island and prepare your bags to be the one to take them.