THOR NEW MOVIE: A SOMEWHAT PECULIAR GOD
Recently we talked about the best movies about black history, today we come up with something rather different: the new Thor movie, and we tell you all about it! 
If you are a fan of the Marvel Cinematic Universe, and especially of the Thor franchise, we bet you have already seen this film! If not, after reading this post, you will want to!😉
Thor: Love and Thunder
We were all caught off guard by the surprising revelation at the 2019 San Diego Comic-Con. Marvel is always ready to surprise! 
And, as always, they have succeeded once again, thanks above all to a big revelation: the return of Jane Foster – Natalie Portman 💜- to the MCU, and in the most fantastic way possible. 
Taika Waititi warned us: "There's always new things to see and do, and I think we're going to fold a lot into that and make it bigger, bolder, and brighter. There's going to be some crazy stuff in the movie."
And Thor, Chris Hemsworth (sorry!) seconds him when he said that we're in for a truly insane movie: "It's one of the best scripts I've read in years". 
Thor: Love and Thunder Release date
The film was released on 8 July 2022. It was originally going to be November 5, 2021, but due to the Coronavirus crisis, Marvel has moved their entire release schedule and left the November date free for the release of 'Eternals'.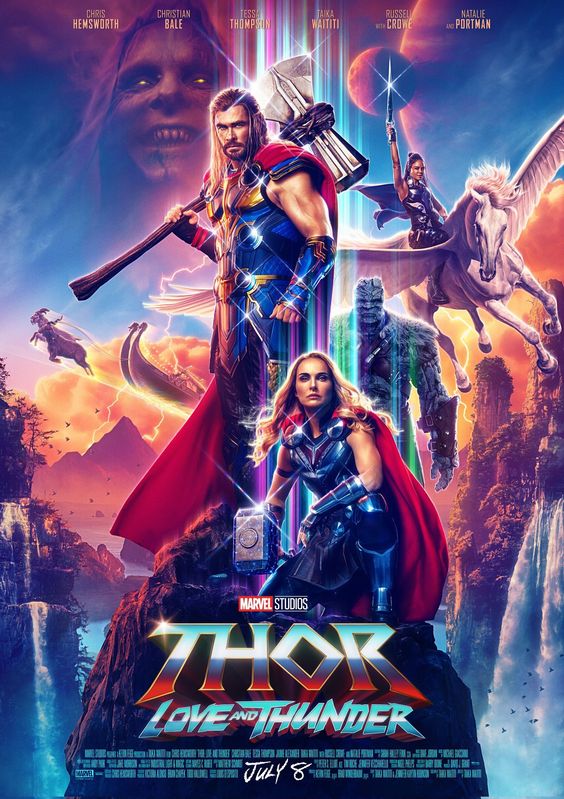 Font: Pinterest
Thor: Love and Thunder' Synopsis
This film is based on 'The Mighty Thor' comic book series created by Jason Aaron and Russell Dauterman. In this comic book series, Jane Foster, Thor's love interest, has cancer, and the only way to be cured is through Thor's hammer.
So, Jane Foster becomes the Goddess of Thunder and replaces Thor, as he is no longer considered worthy of carrying the hammer. The director himself, Taika Waititi, has confirmed that he is taking inspiration from the comic book series for his film.
At the end of 'Avengers: Endgame', Thor joins the Guardians of the Galaxy, so anything is possible, including a more minor role in the film! Meanwhile, Valkyrie, who we last saw as Queen of New Asgard, will finally be openly bisexual (becoming the first LGBTIQ character in a Marvel film) and will be actively seeking a queen to accompany her. We love her! 🏳️‍🌈
Thor: Love and Thunder' Cast
Thor: Love and Thunder is the fourth Thor movie, and it features, of course, the God of Thunder himself, Chris Hemsworth.
Tessa Thompson also returns as Valkyrie, gaining prominence. "She has strange abilities, to be honest. She can sense when someone is going to die" the actress comments in an interview published in W Magazine. 
"She can bring people back to life. But when she revives people, sometimes she ends up in their bodies. It's a strange thing. It can be quite erotic. And then he has superhuman strength, and she's essentially God."
And the most unexpected and surreal return is that of Natalie Portman, playing Jane Foster. The famous actress was in the first two 'Thor films but decided to walk away from Marvel because she didn't feel comfortable in the cinema with such a big budget and so many green screens. But it seems she has had second thoughts, and Marvel has taken the opportunity to bring her back to us.
It also features Christian Bale as the film's main villain. Gorr the God butcher, is a guy disillusioned with the gods and out to ravage Asgard, whatever is left of the once mighty realm today.
Russell Crowe, who in an oversight revealed that he will play Zeus, has also been one of the new additions to the cast, which will also see the return of Jaimie Alexander as Sif.
Among the Guardians, we will see at least Star-Lord (Chris Pratt), Nebula (Karen Gillan), and Kraglin (Sean Gunn).
Thor: Love and Thunder's Director
New Zealand director Taika Waititi repeats as director, and screenwriter together with Jennifer Kaytin Robinson, of Thor: Love and Thunder, after the critical and public acclaim of Thor: Ragnarok, one of the favorite films of Marvel fans, which managed to give a new look to the character and, why not, to the whole MCU.
Thor: Love and Thunder Trailer
Here you can watch the official trailer for Thor: Love and Thunder, where we see Thor signing up for an intergalactic meditation course, the Guardians going about their business, and a giant monster, in a shot that will delight the original comic by Jason Aaron fans.
In the trailer, we find the god exercising his mind and body to achieve peace with himself (even if it means giving up fighting battles that aren't his own). The teaser also gives us our first look at the superheroic Jane Foster, and boy, does she look good. Here it is: