WHAT IS PAINTBALL? THE BEST PAINTBALL FIELDS IN THE US!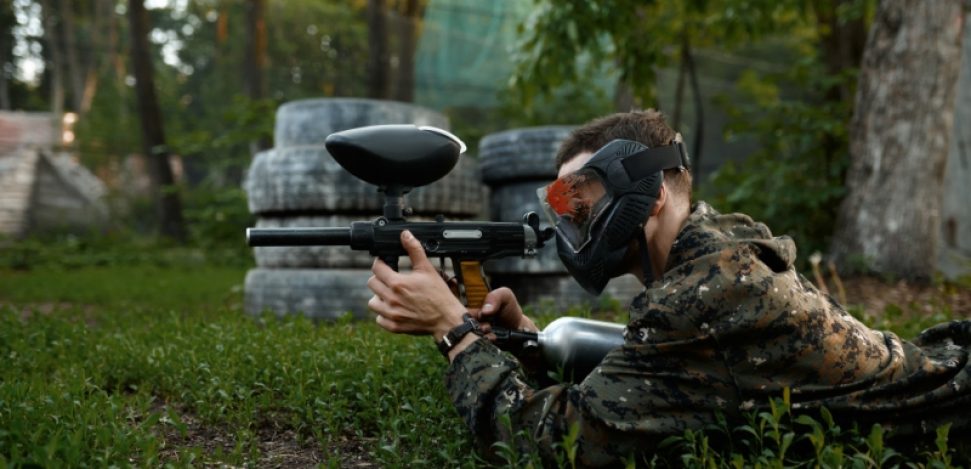 The enjoyment level of paintball largely depends on the quality of the playing field. Playing on a poorly constructed or mismanaged paintball field with inadequate refereeing will result in a negative experience. 
However, playing on a well-built, well-managed field with attentive referees who prioritize player satisfaction will likely result in a positive experience. To provide an idea of what a great paintball field entails, we've compiled a list of the top paintball fields in the United States!
What is paintball?
Paintball is a strategic shooting game that can be played for both fun and training purposes. It was first developed in May 1981 in New Hampshire, America by an outdoorsman and stockholder. 
The game originated as a bet to determine which was better suited for survival in a wooden territory, a countryman or a city guy. The game was played using a paint gun typically used by farmers to mark trees and cattle. Teams of 10 people each were formed, but the winner of the debate remains unknown. 
The purpose of the game is to capture the flag, eliminate opponents, attack or defend a designated spot or area, or capture hidden objects in the playfield. The game can be played indoors or outdoors, and the field sizes may vary from natural to artificial. The duration of the game varies depending on the game type, which can range from minutes to hours, or even days for some "scenario play" games.
You will need to wear protective equipment and learn to use the compressed air gun. Are you ready?
Where to play Paintball?
Skirmish Paintball | Pennsylvania
Skirmish Paintball, located in Albrightsville, Pennsylvania, is known for hosting the popular Invasion of Normandy scenario paintball game, which attracts over 4000 players annually, making it the most attended WWII-themed scenario on the East Coast.
Spanning over 750 acres on Pocono Mountain, Skirmish is one of the largest paintball fields in the world and features 50+ themed paintball maps, including the famous three-story Tippmann Castle with its siege tower. 
Skirmish also has other cool fields like Tippmann City, Fort Skirmish, Tunnels, Cyclone, Shadowlands, Hemlock, and more. With a variety of terrains like open fields, dense woods, creeks, bridges, swamps, forts, villages, two castles, cargo containers, tanks, airplanes, speedball arenas, and inflatable bunkers, Skirmish Paintball offers endless opportunities for paintball enthusiasts!
Wayne's World of Paintball | Florida
Wayne's World of Paintball is a 60+ acre scenario field located in Ocala, Florida that offers a great experience for wood ball players. This place has three fields specifically designed for playing speedball, various forts, a village located on the South American coast containing 26 huts and a hacienda, an Incan pyramid, a two-story church, sentry towers, speed trails, small and large outposts, as well as an airstrip.
The field also boasts a large forest that is perfect for playing woods ball. Although it may not have as many themed fields as other paintball venues, Wayne's World has fun sections of the map like the Boat Basin, Railway Tower, Pyramid, and Sinkertown, a large wooded sinkhole that is ideal for snipers.
OSG Paintball | New Hampshire
Looking for an unforgettable paintball experience? Look no further than OSG Paintball in Barnstead, New Hampshire. This 43-acre field offers 12 incredible themed fields, including Star Wars, Area 51, Empire Castle, Pirate Cove, and more. 
The Star Wars field features a two-story AT-AT, X-Wing Fighter, and Ewok village, while Pirate Cove boasts a full-size tri-mast pirate ship, six boats, and a lighthouse. 
Other fields include First Contact, Halo Village, Tombstone Western Town, and more. OSG Paintball recently opened a restaurant called The Bunker, serving fresh and high-quality food.
D-Day Adventure Park | Oklahoma
Oklahoma D-Day at D-Day Adventure Park in Wyandotte, Oklahoma used to be the world's largest paintball scenario attracting over 4000 players to participate in the World War II reenactment of the Invasion of Normandy. Although there won't be any more Oklahoma D-Day events after 2021, the park will remain open for paintball and airsoft games. 
With over 740 acres of land, D-Day Adventure Park is the largest paintball field in the world, and getting lost is a possibility. The park features tanks, bazookas, and even helicopters flying overhead during their WWII-themed scenario paintball games!
Paintball Explosion | Illinois
If you're getting bored by playing at ordinary paintball fields, make your way to East Dundee, Illinois, and experience one of the most incredible theme parks ever created — Paintball Explosion!
This park boasts a variety of themed paintball fields, including Biohazard, Code Black, Mutiny, Nam, World at War, and my personal favorite, Nuketown. It takes inspiration from the popular first-person shooter game Call of Duty and includes various elements such as sandbags, target mannequins, automobiles, a bus, and even two-level houses.
At Paintball Explosion, you can also rent a wide range of paintball guns, such as the Tippmann 98 Custom Platinum, Tippmann X7 Phenom, and the Planet Eclipse Etek 4 with Dye Rotor. It's tough to find better rental options than this!
For those with kids, the park also offers laser tag and low-impact paintball, or if you don't mind disowning them, they can play airsoft as well!
Hollywood Sports | California
Hollywood Sports in Bellflower, California is a top-notch paintball facility with movie set props from popular films like Godzilla, Starship Troopers, and Saving Private Ryan. Its location near Los Angeles makes it a hotspot for celebrities like Arnold Schwarzenegger, Kendrick Lamar, Travis Scott, and Justin Bieber.
It's a great sport where you will have fun for sure, but remember that the place also has a lot to do, choose well and win!