WHO ARE THE MOST FAMOUS 3D CHALK ARTISTS?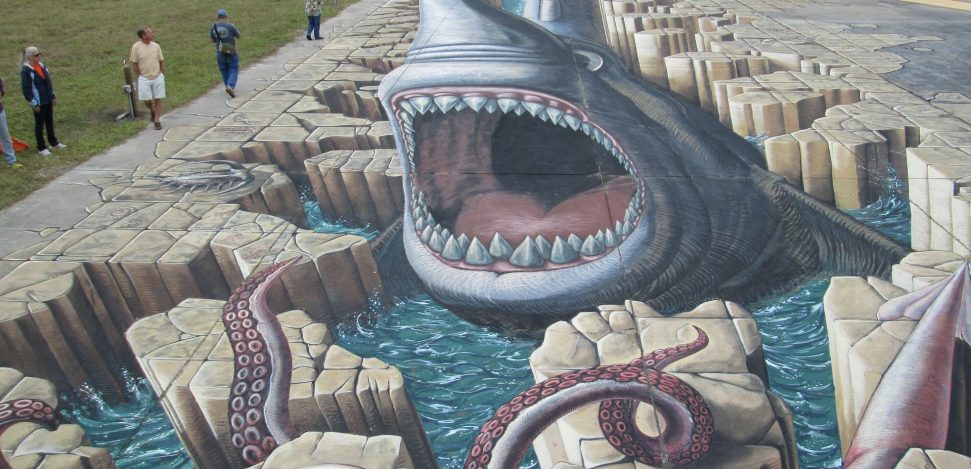 As we have already mentioned in previous articles such as "These 3D street art paintings are absolutely stunning", 3D street art is a new artistic expression that is constantly evolving and consists of using different techniques to create visual works in public places.
The aim is to surprise the viewer by creating in them an optical illusion capable of deceiving the mind.
The masters of 3D sidewalk chalk art
Art in 3D has become increasingly important all over the world and therefore, they are becoming street artists who have decided to capture their works of art about countries and objects in 3D in public places.
The technique that these artists use and that makes it possible to achieve the fantastic result is called anamorphosis and through this, they achieve an artistic technique capable of challenging perspectives.
Next, we want to discuss with you the best artists or 3D sidewalk chalk art.
The first artist we want to comment on is Julian Beever, he was born in the United Kingdom and is currently considered by various critics as one of the most prominent and important artists in the entire field of urban art, and specifically of art in 3D. He is an artist who is characterized by having created replicas of great masters of art and this has led him to exhibit his style and works in many countries around the world.
The next artist, Kurt Wenner, is considered to be the father of urban 3D painting and was one of the first to be inspired by the technique, commenting previously on anamorphosis. He began to create great works when he was only 16 years old and from there he has developed his style to create a brand new geometry to achieve a personal effect in his works and also very recognized.
"Through the use of this invention, I can make images in small spaces appear to have great depth. This technique I call "3D Pavement Art" creates a harmonious balance between the painted surface, the participants interacting with the artwork, and the surrounding environment."
Kurt Wenner
One of his latest projects is called Lost World and it is a spectacular work where illusion works like never before. For this type of work, Wenner is considered one of the greatest creative influencers in the arts until receiving the Kennedy Center Medallion for his work.
Tracy Lee Stum is an American artist known for her 3D street paintings and chalk drawings. Tracy began drawing at a very young age and obtained a BA from the Tyler School of Art in Philadelphia. Later, she continued her studies in naturalism at the Florence Academy of Art in Italy.
His fascination for painting led the next artist, Edgar Mueller, to become a great reference as a street painter. Mueller is known for his great three-dimensional illusionary effects. Mueller can be considered to work in the artistic discipline known as madonnari. These artists are the ones who use chalk to create paintings on the floors of cities.
In addition to being known for his great works, Edgar Mueller earned a Guinness World Records for creating the greatest work ever painted on the pavement.
Stader began to become a well-known artist from 1985 thanks to an urban art competition that was held in Italy. In addition to all the street art that he made on the more popular streets, Manfred Stader has also done numerous ceiling murals, both in churches and in public buildings and even private houses.
He began to paint in the streets and get into street art during his art studies in the early 80's. And as we have mentioned, in 1985 he became a recognized artist as he was one of the few to be considered as a teacher of street painting achieving the title of "Maestro Madonnaro", a title awarded in the largest international street painting competition in Grazie di Curtatone in Italy.
Mandred Stader has become such a well-known artist that he has worked for big brands well known worldwide such as Smart, Costa Coffee, or Grants.
Finally, we want to comment on the artist and cartoonist Eduardo Rolero. Rolero is an Argentine artist who travels around the world drawing 3D images throughout the streets. It stands out above all for creating very surrealistic works where many times it is not possible to distinguish between reality and the surrealism of its characters since it uses animals and real people to mix in the series