APPLE VISION PRO: APPLE'S NEW SMART GLASSES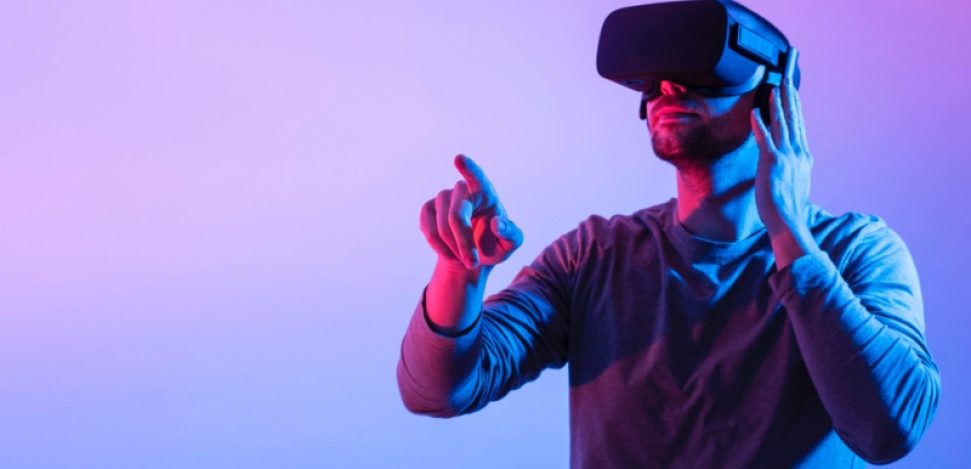 Apple rarely introduces entirely new products on a regular basis. Most of the time, they release updated versions of their existing products, as was the case with the recent iPhone 14. However, today marks a significant milestone as Apple unveils a groundbreaking XR headset that combines virtual reality (VR) and augmented reality (AR) capabilities. This marks Apple's first major product launch since 2015 when they introduced the original Apple Watch.
The newly launched headset is officially named Apple Vision Pro. Judging from the launch event, it's evident that Apple has invested considerable effort into developing this device, and its success holds substantial importance for the company. Here's everything we currently know about it!
Apple Vision Pro
Apple has introduced its inaugural mixed reality headset, known as the Apple Vision Pro, which the company touts as ushering in a new era of "spatial computing." 
These glasses from Apple primarily emphasize augmented reality, seamlessly integrating digital content into the user's real-world surroundings. According to Apple, the Vision Pro provides a constant blend of the digital and physical realms, creating an immersive experience.
An intriguing aspect of the Apple Vision Pro is its lack of traditional controllers. Instead, the device relies on voice commands, eye-tracking technology (which we will explore further), and hand gestures for control. This design choice holds particular significance in the context of office-based usage scenarios.
Design
The initial XR headset offering from Apple stands out from the competition with its distinctive design, bearing closer resemblance to cutting-edge ski goggles rather than a conventional virtual reality (VR) system.
Remaining true to Apple's commitment to high-quality craftsmanship, the Vision Pro boasts premium materials. The front panel is a single piece of meticulously 3D-cut glass, complemented by aluminum accents that add a touch of elegance. To enhance comfort, the headset incorporates custom-designed fabric.
One of the most captivating elements of the overall design is the front portion. It houses an external display that utilizes internal cameras and sensors to present the wearer's eyes—an innovative feature named EyeSight by Apple. Although initially disorienting, this characteristic renders the Vision Pro truly unique, as no other product on the market offers a similar experience.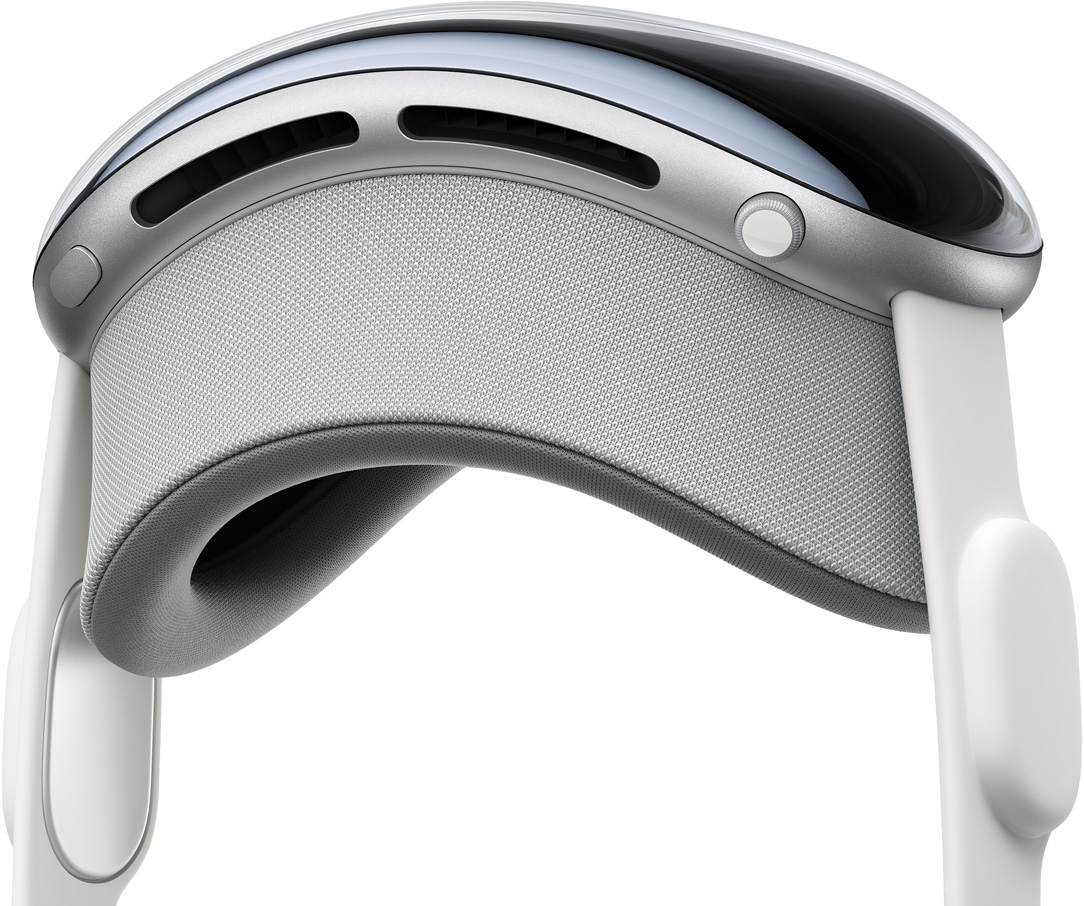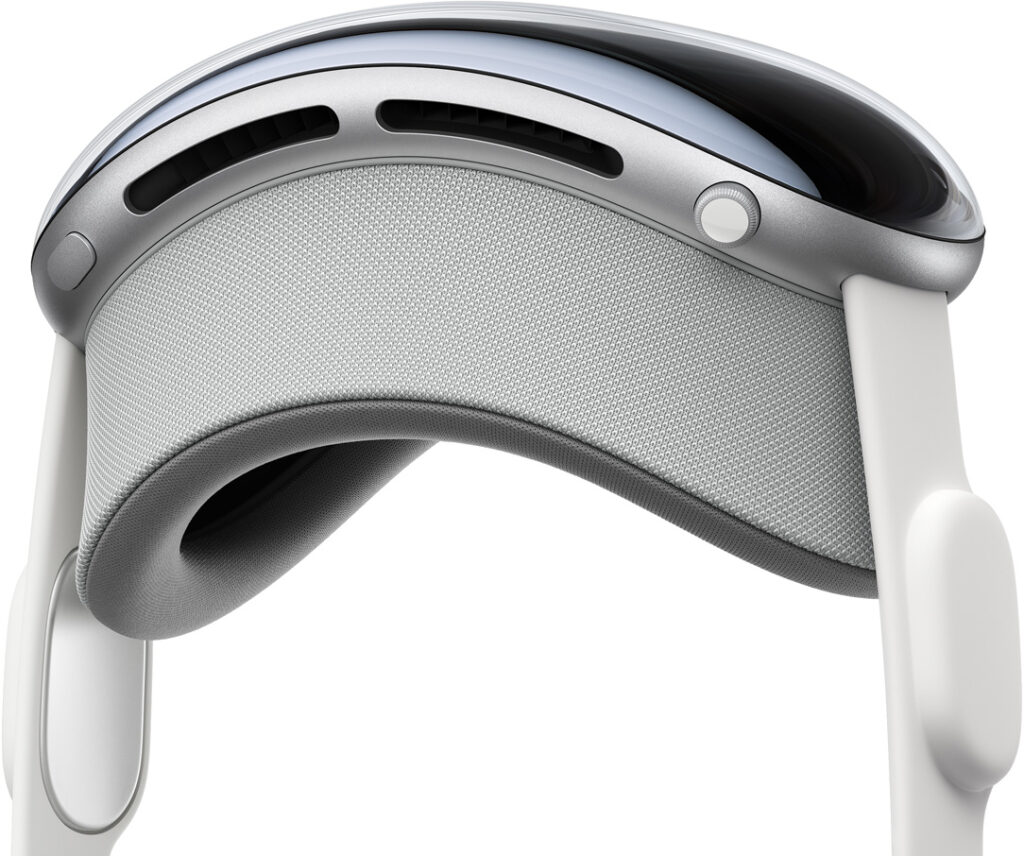 Font: Apple
The external display facilitates more natural in-person interactions by employing multiple external cameras, enabling full-color video passthrough. In simpler terms, wearers can perceive the physical world surrounding them even when not engaged in VR content. This feature allows them to see the people around them, and likewise, others can observe their facial expressions.
As a result, engaging in real-time conversations with others becomes effortless, eliminating the need to remove the headset.
Specs and features
The Vision Pro is a standalone headset, meaning it operates independently without the need for a smartphone or computer connection. Everything required for its functionality is included with the purchase.
Powering the Apple Vision Pro is an M2 processor, which is accompanied by a new chip called R1. The R1 chip handles real-time sensor processing, while the M2 chip alone makes the Vision Pro one of the most capable standalone XR headsets available in the market. Furthermore, the M2 chip ensures compatibility with a wide range of apps and services typically enjoyed on iPads and iPhones. Naturally, Siri is also integrated into the headset's functionalities.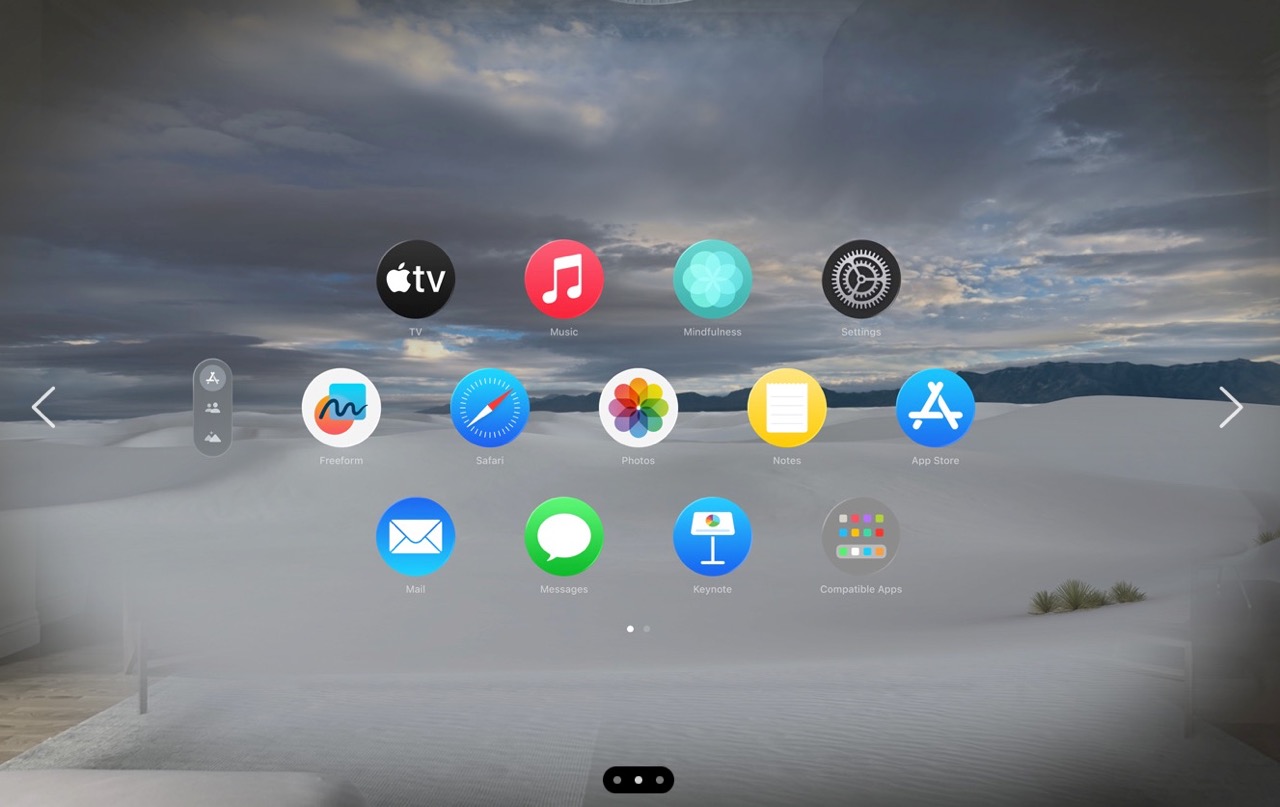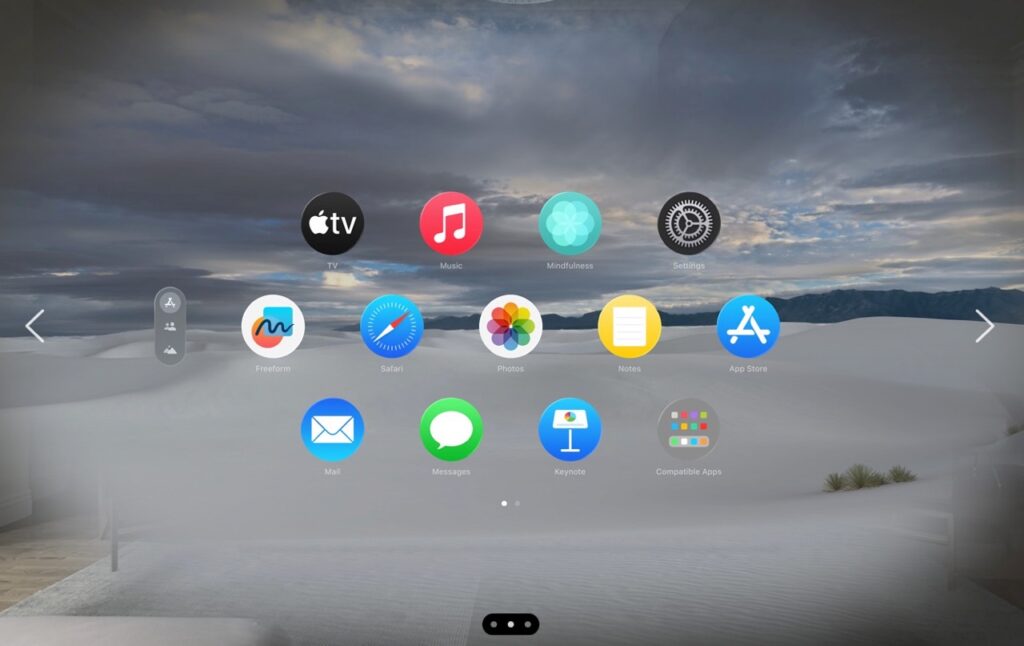 Font: Apple
The displays housed within the headset are capable of 4K output, promising a highly detailed visual experience, albeit at the potential cost of battery life. Interestingly, due to its slim design, wearing prescription glasses while using the Apple Vision Pro is not possible. Instead, users with vision issues will need to attach prescription lenses to the device. This may present a significant barrier for those interested in trying or purchasing the headset, as well as making it challenging to share the Vision Pro with others.
Audio is delivered through speakers positioned near the user's temples, eliminating the need for headphones while still providing spatial audio support. However, the device can be synchronized with AirPods if desired, especially useful when using the headset for watching movies. While doing so, users can create a virtual TV in their space and adjust its size according to preference. Additionally, the Vision Pro supports full 3D capabilities, allowing for the viewing of 3D movies.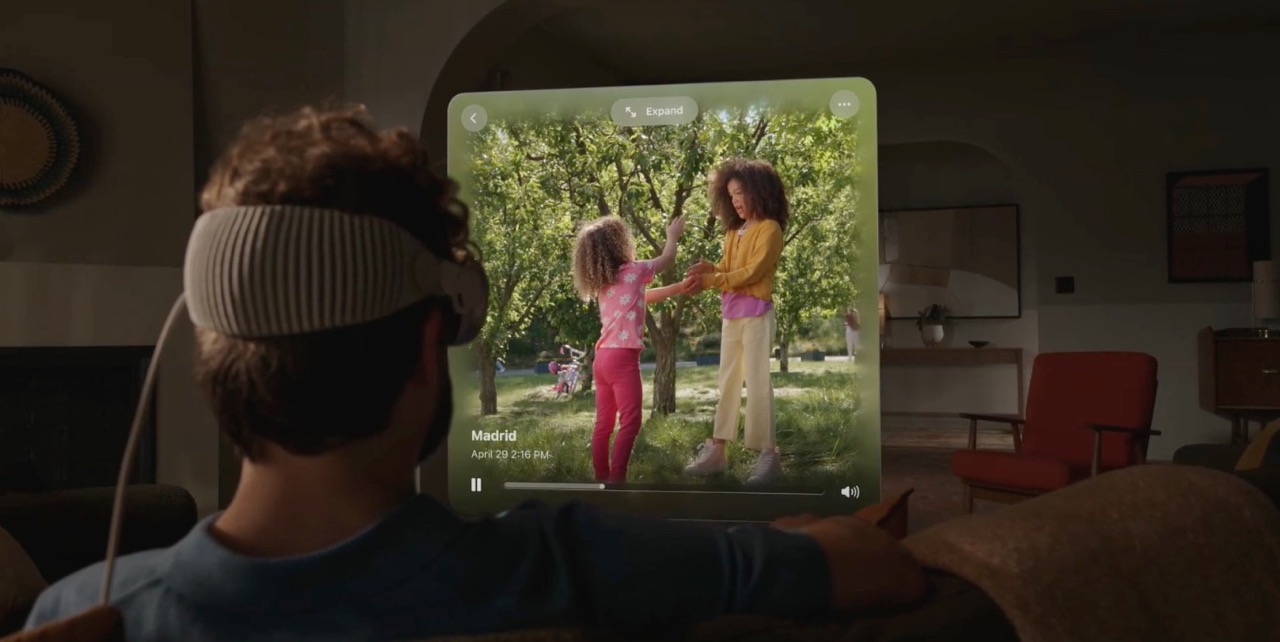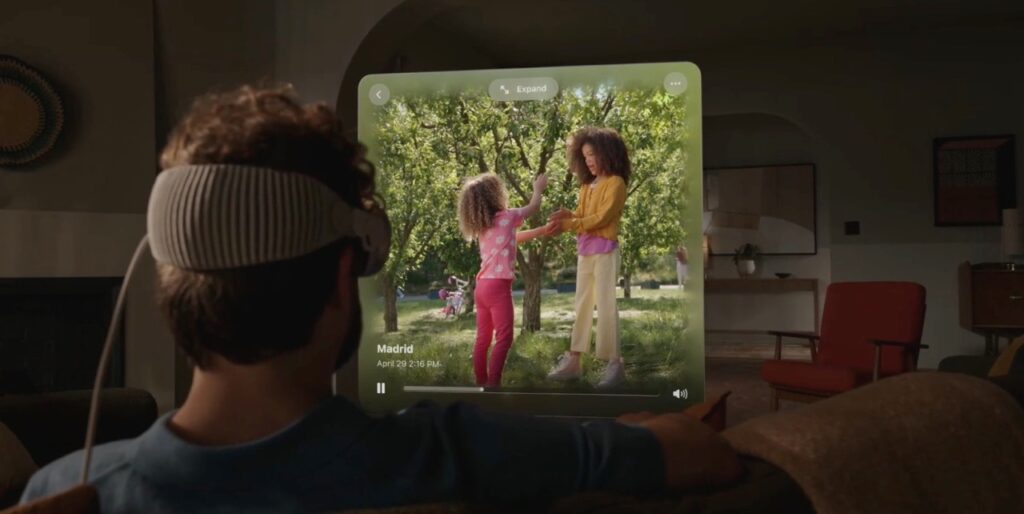 Font: Apple
The Vision Pro goes beyond content consumption and also serves as a content capture device. It features Apple's first 3D camera, which enables users to capture 3D images and videos by pressing a button on the outside of the device. These captured media can then be viewed in 3D within the headset and seamlessly sync with the user's Apple ID, making it easy to view and share them, much like with an iPhone.

Use cases and apps
With the Vision Pro, you have the flexibility to place apps anywhere within your field of vision, whether in the real world, like on a coffee table, or in a virtual world.
Theoretically, this allows you to read a book, check your email, watch an Apple TV Plus show, and even play video games by simply manipulating the apps—all without needing to remove the headset.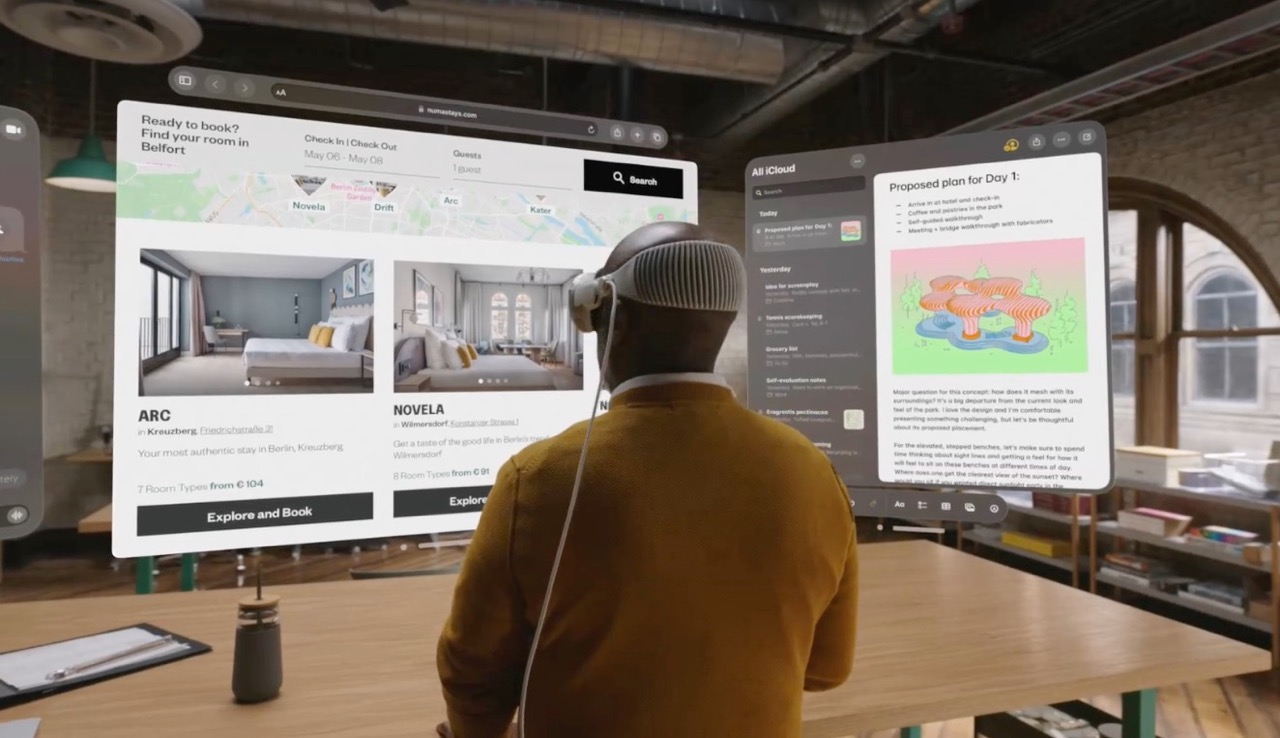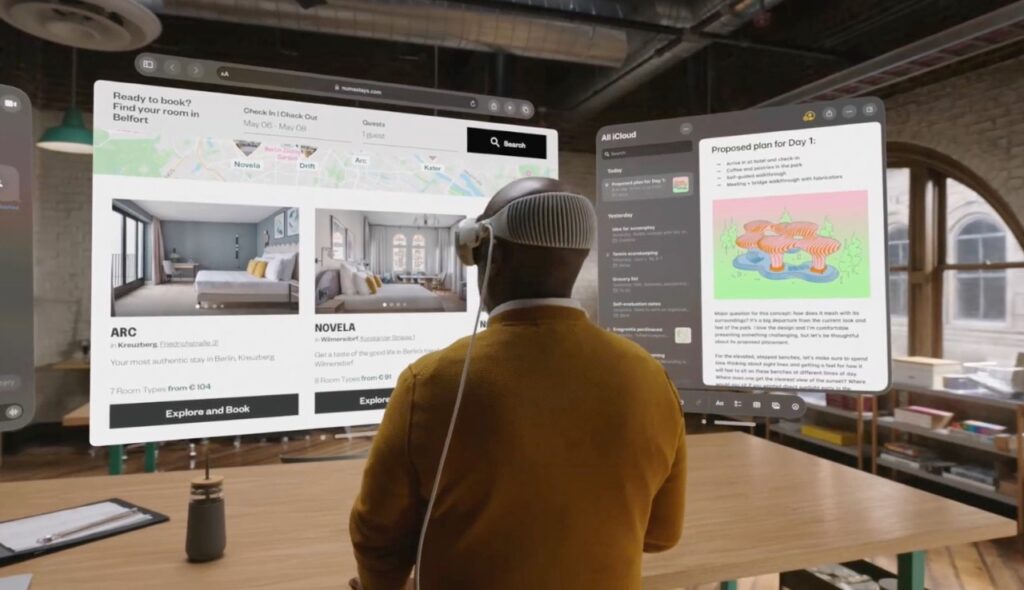 Font: Apple 
This potential integration of apps could prove to be the crucial factor that leads to the success of the Apple Vision Pro. However, it essentially offers an enhanced experience of what consumers can already do on their iPhones and iPads, albeit with the addition of an expensive and sophisticated headset. Only time will tell if this unique combination can win over buyers.
visionOS
To power the Vision Pro, Apple recognized the need for a dedicated operating system that could fully support spatial computing. Thus, they developed visionOS, which they claim is the first OS specifically designed for this purpose.
Apple has taken steps to facilitate app development on visionOS, making it easy for developers to adapt their existing iOS/iPadOS apps to the Vision Pro. They aim to create a seamless experience for developers by allowing them to use familiar composition tools like Swift to build new apps for this operating system.
One of the standout features of the Vision Pro is its immediate access to popular apps from day one. Unlike other VR/AR systems, users won't have to wait for an extended period with a limited app store while the manufacturer attracts developers. As soon as users put on the headset, they can instantly access their favorite and most frequently used apps.
visionOS also introduces Optic ID, a feature similar to Face ID but utilizing eye recognition for identity verification. In terms of security, visionOS prioritizes user privacy. For instance, eye-tracking is not recorded until a selection is made. This means that when users browse through a selection of apps, only the specific selection they make is tracked, while their actions before that point remain private.
Price and availability
The Meta Quest 3 is the latest VR headset targeted at consumers, starting at $499. In stark contrast, the Apple Vision Pro will have a starting price of $3,499, approximately seven times the cost of the Quest 3, and $2,000 more expensive than the enterprise-oriented Meta Quest Pro. This significant price difference will make it extremely challenging for the Vision Pro to appeal to regular consumers, placing it in a realm closer to Microsoft's HoloLens line.
If you have your sights set on owning a Vision Pro, luck will be a crucial factor. The headset won't be available until 2024, and even then, the quantity will be very limited.
Rumors suggest that Apple might be selling the Vision Pro at zero or even negative profit margins, which is uncommon for the company known for its high-profit products achieved through shrewd supply chain negotiations.
If these rumors hold true, the Vision Pro could be viewed as more of a statement of intent from Apple rather than a triumphant entry into the XR market. It could serve as a means to showcase Apple's ambitions and provide developers and a select group of consumers with an opportunity to test it out. Over time, Apple could refine the product, lower its price, and continue with its usual business approach.
The success of Apple's leap into the XR space remains uncertain. Apple is not known for taking excessive risks, but the Vision Pro represents a bold step into an unproven market. However, if any company has the ability to shape an industry, it's Apple.