BEST PLACES TO SNOWBOARD IN THE US 🏂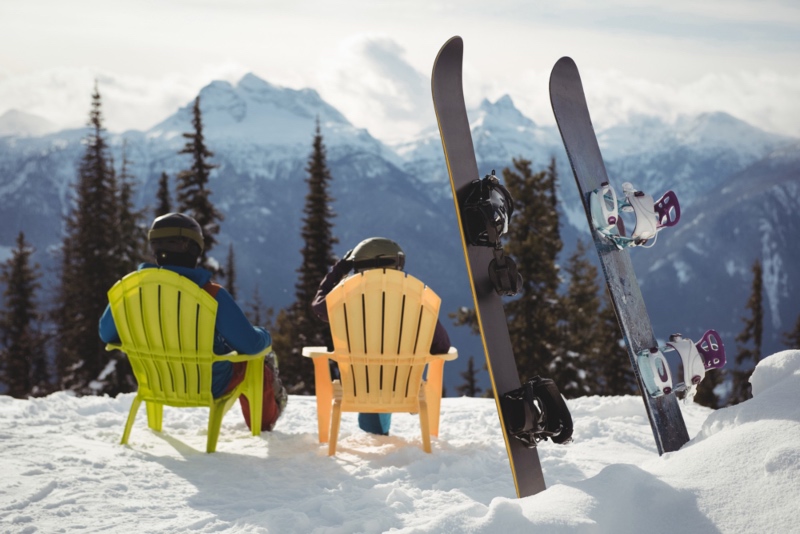 With no less than 500 ski resorts spread across some 40 American states, the United States is one of the best winter vacation destinations in the world, along with Japan, France and Austria.
In fact, there is no shortage of options, you just have to choose the right destination. So if you're planning to combine a mythical trip with a ski vacation, it's best to know where and when to go snowboarding in the United States. Here are some places you shouldn't miss!
BEST PLACES TO SNOWBOARD IN THE US 
Aspen (Colorado)
Aspen is the superstar resort in North America with 480 km of runs, 3 snowparks and 4 pipes. It's composed of four resorts: the famous Aspen Mountain and the no less famous, Aspen Highlands, Snowmass and Buttermilk. 
The last two have gentle slopes. The first two are for a more athletic crowd. For off-piste skiing, Highland Bowls is the most famous safe site in Colorado, and sometimes at $200 a day.
But Aspen isn't just about sports: stunning scenery, colorful Victorian architecture, famous restaurants, trendy bars, and a host of American celebrities!
Telluride (Colorado)
There are nearly 150 different runs, and a summit at 4008 meters for a vertical drop of 1349 meters: Telluride is a must for American skiing, perfect for all styles, including and especially for thrill seekers, all in the middle of breathtaking scenery (not forgetting Telluride's Main Street, survivor of the Wild West!).
Vail (Colorado)
Opening every year very late (mid-April), the Vail resort is at 2474 meters, and it's another great "must-see" of Colorado. The tourist town is big, and it has a little "Austria-seen-by-Disney" side: created in 1966 to welcome skiers. But its slopes are a must.
Breckenridge (Colorado)
If you like heights, here you can climb to 3900 meters, and access it by the highest chairlift in North America. While you won't be challenging the gods, even with your family, Breckendridge is much more authentic than other Colorado resorts.
Lake Tahoe (California and Nevada)
A three-hour drive from San Francisco, all visitors to this region go to Lake Tahoe for its beauty in both summer and winter (but there is no snow in summer). There are six ski resorts around the lake (including Heavenly and Diamond Peak), popular with international visitors as well.
Alyeska Resort (Alaska)
Girdwood, Alaska is 61 km southeast of Anchorage, the state capital. It's certainly one of the smallest of the "big" U.S. resorts, but it's one of the most beautiful, with views of the Turnagain Arm and its seven glaciers. 
The ski area is 566 hectares, with 9 lifts for a total of 73 runs. Really we also put it in the list of the best resorts in the country. The 300 room resort of the same name gives a bit of a feeling of being in the hotel from the movie The Shining!
🏂 SNOWMOBILE RIDING: ALL THE TIPS TO ENJOY THE RIDE ON THE SNOW
Beaver Creek (Colorado)
150 runs and 1045 m of vertical drop at Beaver Creek, a resort that also has many fans for its village atmosphere.
Alta and Snowbird (Utah)
Both resorts have the reputation of having "the best snow in the world". They are among the best ski resorts in Utah. Alta is more for pure skiers. Snowbird has many more side activities.
Palisades Tahoe and Alpine Meadows, CA
Breathtaking views of Lake Tahoe and the Sierra Nevada Mountains are just two of the reasons snowboarders from around the world flock to Palisades Tahoe (formerly Squaw Valley) and Alpine Meadows in winter. Other reasons to love the area: 45 inches of annual snowfall, 271 days of sunshine a year, 4,000 acres of open runs, six peaks, 29 lifts, six parks and a halfpipe. Need we say more?
Park City (Utah)
976 meters of vertical drop on an absolutely huge area : more than 300 ski runs, and for all levels : it's the biggest ski area in the United States!
Mammoth Lakes (California)
944 m of vertical drop with 150 ski runs and other snow sports. And Mammoth Lakes is open until the end of June !
Whitefish, MT
On the edge of Glacier National Park in Montana's Rocky Mountain range lies a bustling little town called Whitefish and the adjacent Whitefish Mountain Resort, just a few minutes' drive north. Over 3,000 acres of wilderness can be accessed, with breathtaking views of mountains, forests, lakes and rivers. 
The slopes are nice and wide, and there is enough on offer to satisfy the most enthusiastic enthusiasts. In addition, there is a free shuttle bus service between town and the resort, so you can return after a hard day on the slopes and enjoy a well-deserved meal and a drink at one of the town's many restaurants and bars.
Big Sky (Montana)
This resort is just north of Yellowstone National Park, which is also very impressive to visit in winter, so you can combine the two. Big Sky has 36 lifts and 250 trails, over a very large area.
Sun Valley, ID
Sun Valley attracts snowboarders from all over the country with not one mountain, but two: as the name implies, both are frequently bathed in sunshine. Beginners can glide down Dollar Mountain's smooth, open slopes or have fun at the park's 76 slopes and a 20-foot-high superpipe (the largest in the Northwest). 
Bald Mountain, meanwhile, has everything advanced riders crave, including groomed runs, glades and a spectacular 1,000-meter vertical drop.
Deer Valley Resort (Utah)
About 50 kilometers west of Salt Lake City, Deer Valley is a rather luxurious but very nice place to stay and ski.
Crystal Mountain, WA
Southeast of Seattle in the mighty Cascades, Crystal Mountain treats snowboarders to some of the best powder on the West Coast. The resort, the state's largest ski and snowboard lodge, has more than 50 trails spread over 2,600 acres, all with unobstructed views of Mount Rainer, one of the country's largest active volcanoes. 
It also has four different freestyle parks to take in whatever air you're in the mood for. If you can tear yourself away from the slopes for a few minutes, you'll also find plenty of other activities at Crystal Mountain, including snowshoe trails, mountain restaurants and a gondola that travels 2,400 vertical feet to the summit.