7 COMMON MISTAKES PHOTOGRAPHERS MAKE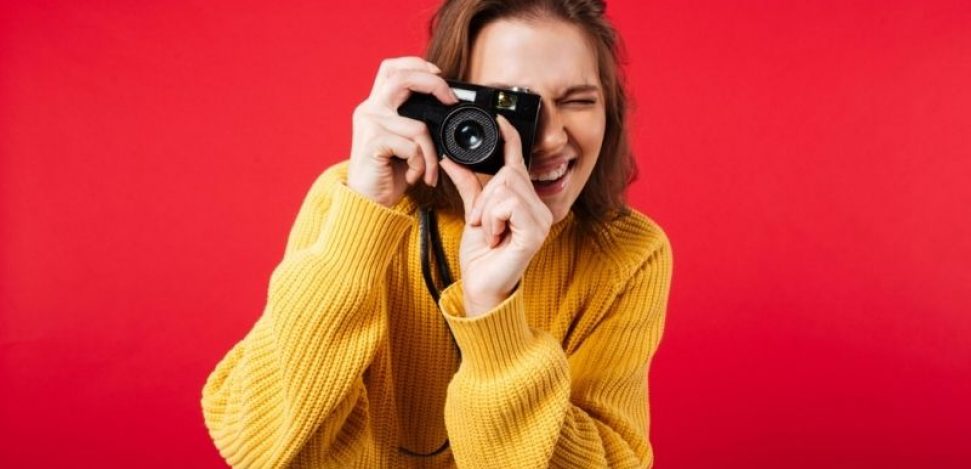 A little while ago we gave you the best tips for food photography… We're sure it was helpful, wasn't it? Well, what we think is also very useful is to know the mistakes, that's how we learn! So today, we are going to talk about the most common mistakes that some photographers make!
What common mistakes do photographers make?
Using the wrong shutter speed
Using a shutter speed that is too slow is the number one cause of blurred or unsharp photos. Shutter speed is the length of time the shutter stays open letting light into the camera's sensor, so the shorter the shutter speed the less chance of movement in the shot. In either case, the longer the shutter speed, the more likely it's that the image won't be as sharp as we had hoped.
To avoid this, it's always recommended that the fraction of a second user is above the focal length you are using. If you are shooting with a 50 mm, a speed of 1/60 would be sufficient, while if you are shooting a 200 mm telephoto, a speed of 1/250 sec. would be the best.
This rule of thumb works quite well in most cases, but practice will help us to better understand at what speeds we can work without problems, as well as teach us other things such as how our own pulse is or how well the stabilization system that our camera or lens is probably equipped with performs.
Choosing the wrong focus point
Apart from something moving, the second cause of blur is a focus in the wrong place! This is also quite common in certain situations, such as when capturing scenes with a lot of dynamism. In this case, it's important to be familiar with the different types of AF that exist and the different ways of focusing that cameras offer.
Familiarizing yourself with your camera and knowing how far it can go is essential because if the camera you are using cannot track moving objects, you will be "sold" if you want to focus on sporting or similar scenes. For these and other situations, it may be better to use manual focus! 
Not metering light well
Knowing how to expose is another of those keys to photography that you have to master and which you learn above all with practice. But in addition to adjusting the speed, aperture and ISO values according to the moment, you have to be very aware of where you are measuring the light and which metering mode you are using for each shot.
These metering modes are a great help to evaluate the light in a scene and to be able to decide the exposure values in a more precise way. For example, by measuring the brightness only at a specific point, because that is the one we want to be correctly exposed. A typical mistake made by beginners photographers is to limit themselves to the matrix mode that comes by default in the vast majority of cameras, an option that usually works well as a general rule, but that shouldn't be used on all occasions! 
By the way, another mistake a novice can make is to discard shooting in RAW format. This has its drawbacks, of course, but it can be a great help for a beginner who starts out! 😉
Don't squeeze the ISO
We all know that the highest image quality is obtained using the standard sensor sensitivity (usually 100 ISO), but today's cameras are perfectly capable of working at higher values with virtually no noticeable effect. Thus, a noise-obsessed novice might be tempted never to raise the ISO and, in a low light situation, would most likely have to shoot at a low speed. This, as we mentioned at the beginning, can result in a lack of sharpness or shakiness that could easily have been avoided! 
So, the most important thing is to know your camera to know what sensitivity values it can reach without noise being a problem!
📱Are you more into iPhone photography perhaps? Read our article about the best iPhone photography tips! 
Always use large apertures
A photographer, with little experience and a very bright lens in his hands, usually has a tendency to always use the maximum brightness in his shots, either because he loves the bokeh effect that can be achieved with it, or because it allows him to take photos without trepidation in very low light situations.
But this isn't recommended by professional photographers for several reasons: firstly because making the background of all your photos appear out of focus will make the results monotonous, not to mention that a shallow depth of field isn't suitable for all types of shots.
Using a tripod and image stabilizer
Nowadays, almost all cameras on the market include an image stabilization function, and if they don't, it will most likely be implemented in the lens. This useful feature is great for not having to use a tripod in certain situations but you should remember, as a general rule, to switch it off if you are going to use one!
If you use image stabilization when the camera is mounted on a tripod, you'll have the opposite effect to the one you are looking for!
Forgetting the previous setting
A fairly common and frequent mistake made by novice photographers is to leave certain settings from the previous photo on the new one without realizing it. This can happen with almost every camera setting, from exposure compensation, to light metering mode, to ISO setting of course.
It's more common than it may seem, even for inexperienced photographers! And that's why it's advisable to pay attention and check all the settings of the photo before taking it. Something that if we get used to doing from the beginning will help us to avoid wrong shots.
Do you think we have forgotten any typical mistakes of photographers? What mistakes do you usually make?