EPHEMERAL TATTOOS: WHAT ARE THEY, AND HOW LONG DO THEY LAST?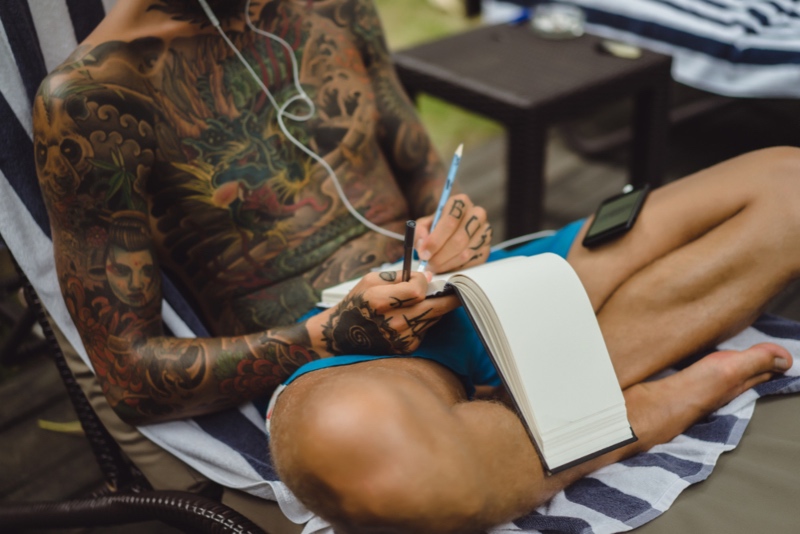 You already know what tattoo you want to get this summer and on what part of your body, but you still have some doubts, because "a tattoo is for life"? Why don't you test your idea with an ephemeral tattoo this summer? 😉.
Temporary or ephemeral tattoos
Whether they last a few days or several months, ephemeral tattoos come in a wide variety of designs and techniques. Gone are the stickers hidden in the famous pink chewing gum, the ephemeral tattoo is back with a vengeance: gold, and silver, with motifs taken directly from African or Asian cultures, the collections, sometimes by major designers, are surprising for their originality and diversity. 
But what is a temporary tattoo, and what does it bring in comparison with its big brother, the permanent tattoo? First, ephemeral tattoos generally last from 2 to 10 days, like decals, which are becoming more and more fashionable. They have the advantage of offering a plethoric choice of designs, but also of colors, such as fluorescent or shaded. This isn't possible with real tattoos.
Hand poke tattoo: everything about this traditional tattooing
Disappointed with the result? Well, in a few days, it's gone! Using a stencil and a cosmetic ink spray, or Amazon ink or henna, the ephemeral tattoo will stay for a good part of the summer. Don't forget that tattoos can last longer or shorter depending on your skin, whether it's dry or a bit oily, the environment you are in, and whether you go to the beach, to the pool, or to a party… 
Not to mention the location of the ephemeral tattoo, which is also important. The rubbing may be more frequent and the mark may be less pronounced in certain areas of the body. Although not permanent, the ephemeral tattoo isn't always a decision to be taken lightly, but it's a great option for those who don't dare to take the step of a permanent and regular tattoo.
Where to get an ephemeral tattoo?
With ephemeral tattoos, there is no need to run to the tattoo parlor, they can be done at home. At least, this is the case for most of the techniques currently offered by the brands. 
Tattoo stickers, ink pads, markers, or stencils are ephemeral tattoos available to everyone. The ephemeral tattoos, jewel skin, or girly style, can be purchased directly online on generalist sites, or specialized sites. You can also find them in specialized stores.
As for henna tattoos, which last about a month, it's better to turn to specialists to get a quality result. Some salons perform them professionally, with non-allergenic ink. 
If you wish, you can always prepare the henna powder (never black henna, as it is dangerous for the skin) with hot water. It's applied with a nozzle or a syringe. It's up to you to draw what you want, but keep in mind that it's a rather complex application for those who aren't used to it!
Finally, semi-permanent tattooing guarantees that your designs will last about 6 to 15 months: plant pigments are injected into the surface of the skin using a needle. However, be careful with this last technique: it should only be done by a professional, otherwise, you run the risk of staining… For life, this time!
How to put on and remove an ephemeral tattoo?
How to use the decal
Ephemeral tattoos in the form of a decal are very easy to apply. Just wet it, apply it and you're done! 
First, make sure the skin to be tattooed is dry, clean, and free of creases to facilitate adhesion.
Using warm water, wet the pre-cut tattoo, place it, and then press it for about thirty seconds on the skin.
Gently remove the paper and let it dry for one minute.
To remove an ephemeral tattoo, nothing could be simpler: use oil to massage the affected area (olive, coconut, argan, etc.), soak the tattoo in soap, and then rub it with a cotton pad soaked in oil. The tattoo will disappear easily, and your skin will remain soft!
Ink pad or applicator
As before, it's important to have dry, clean, wrinkle-free skin for the temporary tattoo to set properly. Adhere the stencil to the area. 
Again, watch out for wrinkles. The stencil shouldn't move at all. Shake the applicator or bottle well and apply it to the skin until it's no longer visible. Let the stencil dry for a few minutes before carefully removing it. 
To protect the tattoo during the first few hours, you can use talcum powder. To remove the tattoo, simply rub it with warm, soapy water or modified alcohol.
Henna
First, you should choose henna for the body and not for the hair, i.e. with the BAQ, or Body Art Quality seal. 
You need 1 g of henna powder for 3.5 ml of hot water at 70 °C. Mixing the powder with the water produces a kind of homogeneous paste, similar to a spreadable paste. 
Although it's usual to apply the henna on the skin with a cotton swab, it's also possible to do it with a nozzle or a syringe. The thicker the application, the darker the tattoo will be. It's possible to leave it overnight, protecting it with a bandage. 
The henna will come off by itself once it has dried. It can be scratched a little, but never apply water to remove it. The henna tattoo will fade over time. You can speed up the process by rubbing gently.
So, how long does an ephemeral tattoo last?
When we talk about ephemeral tattoos, we mean a design that lasts between 2 and 10 days. Decals are the tattoos that last the least and the most fragile, up to 5 days. 
Tattoos made with a stencil and an ink pad or applicator usually last longer, about eight days. 
Ephemeral henna tattoos can last from 20 days to a month. Essential oils can extend their duration. 
As for semi-permanent tattoos, they can last up to 5 years, but the technique remains controversial. In short, whether for an evening, a weekend, a long vacation, or a wedding-type event, ephemeral tattoos allow you to "bejewel" your skin in an original and non-permanent way.
Remember to protect your tattoo when you go to the shower. 
Each technique has its advantages and disadvantages, it's up to you to choose the ephemeral tattoo that best suits your skin and the trend!