FIGURE OUT THE 8-KNOT CLIMBING AND OTHERS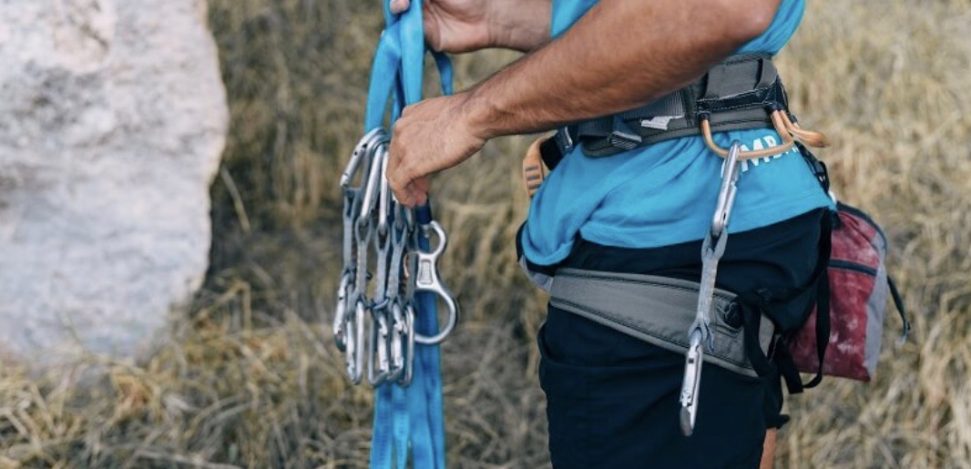 The Most Important Climbing knots
In climbing, different types of knots and variations can be useful in specific situations. It's important to learn simple and basic knots first, and then continue expanding your knowledge as you gain more climbing experience.
Remember to practice the knots regularly and verify their correct execution before each climb.
Today, you'll learn about some of the most important knots, such as the Figure Eight Knot, Alpine Butterfly Knot, UIAA Knot, Fisherman's Knot, and Sliding Knot, among others.
Figure Eight Knot for Climbing
The Figure 8 Knot is the most commonly used in climbing to secure the harness to the carabiner or rope. It provides a secure and reliable connection. Here's how to tie the Figure Eight Knot:
Starting Step: Take the free end of the climbing rope and pass it through the carabiner from bottom to top, leaving approximately 20-30 centimeters of excess rope.
First Loop: Then, take the free end of the rope over the body of the rope and bring it down.
Second Loop: Next, pass the free end of the rope over the carabiner, creating a loop.
Final Step: Finally, pass the free end of the rope back through the loop you just created and pull to tighten the knot. Make sure both loops are well-formed and tightened.
Remember that it's important to check the knot before you start climbing to ensure it is properly tied and tightened. Additionally, it's recommended to leave enough space on the free end of the rope to prevent the knot from coming undone.
It's essential to practice and familiarize yourself with the technique of the Figure Eight Knot before using it in real rock climbing situations. Safety is paramount when engaging in climbing activities, so it's crucial to receive proper instruction and supervised practice before venturing into climbing.
Ballestrinque Knot
The Ballestrinque Knot, also known as the Overhand Knot or Loop Knot, is a knot used to secure a rope to a carabiner or anchor. This knot provides a secure and reliable connection.
UIAA or Dynamic Knot
The UIAA or Dynamic Knot provides a method for belaying and rappelling without a belay device. It's an important knot that climbers should know. It works best with large pear-shaped carabiners and should only be used with a locking carabiner.
When belaying with the UIAA knot, make sure the working end of the rope is next to the spine of the carabiner. Properly place this knot because someone's life is on the other end of the rope. This knot can cause twists or kinks in the rope.
Gaza Knot
The Gaza Knot is a knot used to join two ropes. It's formed by holding two rope ends together and tying a knot over them as if they were a single rope.
There is a significant debate about its safety as it can fail under heavy loads, and some American climbers refer to it as the European Death Knot (EDK). Some sources discourage its use.
Machard Knot
The Machard Knot is a type of self-locking knot that grips the rope when strong tension is applied. This allows for safe rappelling on double ropes, preventing rope burns. Autoblock knots can also be used for ascending fixed ropes and emergency operations by tying the rope around the rope and securing it to the harness with a carabiner.
Alondra Knot for Climbing
The Alondra Knot, also known as the Figure Eight Follow Through or Double Figure Eight Knot, is one of the most commonly used knots and one of the most basic ones. It is used to tie oneself to the rope and secure oneself to the harness.
Fisherman's Knot
The Fisherman's Knot, also known as the Double Fisherman's Knot, is a knot used in rock climbing and other outdoor activities to join two ropes or create an end-to-end splice in the rope.
Simple Climbing Knot
This climbing knot can be used to connect cords and form loops.
Sliding Knot
The Sliding Knot, also known as the Slip Knot or Running Knot, is a very useful and simple knot. It is used to create an adjustable loop that slides along a rope and locks in place when tension is applied.
How to Tie Climbing Knots? Tips
Here are some tips for tying climbing knots safely and effectively:
Learn and practice: Familiarize yourself with the basic knots used in climbing, such as the Figure Eight Knot, Alondra Knot, Fisherman's Knot, and Prusik Knot, among others. Learn how to tie them correctly and practice until you can tie them quickly and accurately.
Check your knots: Before each climb, carefully check your knots to ensure they are correctly tied and tightened. Even the most common knots can have errors if not given enough attention. Safety is paramount.
Leave enough rope: When tying a knot, make sure to leave enough rope at the end to prevent the knot from coming undone or slipping. A good margin is to leave at least 15-20 cm of the free end.
Learn safety knots: In addition to the basic knots, also learn safety knots such as the autoblock knots or backup knots like the Prusik Knot or Machard Knot. These knots will allow you to secure yourself in emergencies or perform specific maneuvers.
Remember to untie knots properly: Once you're done climbing, make sure to untie the knots properly. Pull on the rope ends and untie the knots in an orderly and controlled manner.
Remember that safety is essential in rock climbing, and knots play an important role in it. Always check your knots before climbing and trust in them to maintain your safety!